Daily Comment (March 25, 2020)
by Bill O'Grady, Thomas Wash, and Patrick Fearon-Hernandez, CFA
[Posted: 9:30 AM EST]
For the first time in ages, it actually feels right to say, "Happy Wednesday," given the historic surge in U.S. stocks yesterday (the Dow's rise of more than 11% was its best daily gain since 1933).  Just as important, Republicans and Democrats in the Senate early this morning reached a deal on a $2 trillion economic support package aimed at mollifying the effects of the COVID-19 pandemic (see below).  As always, we review all major news related to the pandemic below.
COVID-19:  Official data show confirmed cases have risen to 436,159 worldwide, with 19,648 deaths and 111,847 recoveries.  In the United States, confirmed cases rose to 55,238, with 802 deaths and 354 recoveries (though the recovery data is lagging badly).  Here is the latest chart of infections from the Financial Times: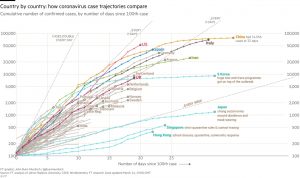 The rate of infections continues to grow exponentially as does the economic disruption from containment measures.  Spain has now become a key center of infections, with hundreds dying daily.  In the U.K., Prince Charles has tested positive for the virus; officials refused to say whether Queen Elizabeth has been tested since she last visited with the prince on March 12.  There are increasing signs that Russia is systematically underreporting its cases.  Fortunately, however, there are welcome signs of fiscal and monetary support being put into place.
A $500 billion fund to provide low-interest loans to large businesses and state and local governments, some of which will backstop Fed loans; the fund will be overseen by an inspector general and five-member congressional panel

Some $50 billion will be channeled specifically to the passenger airline industry
Airlines are banned from buying back stock or paying CEO bonuses while receiving funds and for one year after

Some $367 billion in low-interest loans to small businesses
Some $150 billion in additional resources for healthcare providers
Increased unemployment benefits of $600 per week for workers who lose their job, along with four extra months of benefits beyond the normal 26 weeks; jobless benefits would be extended to nontraditional employees like gig workers and freelancers
Checks in the amounts of $1,200 per adult and $500 per child paid directly to many U.S. citizens, with reduced amounts for those with higher incomes
Bans on any funds being used to support businesses owned by President Trump, Vice President Pence, members of Congress or other high government officials
Odds and ends:  Some Russian oil firms are reportedly pushing back against President Putin's effort to boost production in his market share war with Saudi Arabia.