Daily Comment (March 23, 2020)
by Bill O'Grady, Thomas Wash, and Patrick Fearon-Hernandez, CFA
[Posted: 9:30 AM EST]
It's Monday.  Global markets remain in risk-off mode after the Senate's first swing at the third phase of the rescue package fails.  BREAKING: FED GIVEN BROADER POWERS TO INTERVENE IN FINANCIAL MARKETS—MORE BELOW—S&P FUTURES RECOVER.  We update the COVID-19 virus news. Here are the details:
COVID-19:  The world now has 349,211 reported cases of COVID-19, with 15,308 fatalities and 100,165 recoveries.  Here is another link to a new site we have found on tracking the virus, along with a chart of infections from the FT: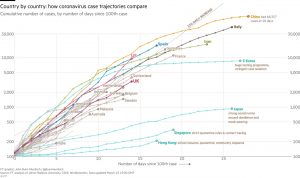 The U.S. pace of infections is rising rapidly; this is probably more about increased testing. Sadly, there is no evidence of the bend we usually see when a country is getting on top of the spread.
The virus news:
The policy news:
The economic news:
Odds and ends:  The Marines are retooling their planning, preparing for war in the Asia-Pacific and reducing training for the Middle East.  Saudi Arabia intends to maintain the oil share war through borrowing.