Daily Comment (March 22, 2017)
by Bill O'Grady, Kaisa Stucke, and Thomas Wash
[Posted: 9:30 AM EDT] Yesterday saw the first 1% decline in the S&P since October.  We have seen a strong rise in equities since the Trump election, with much of it coming from expectations of stronger economic growth due to fiscal spending, tax cuts and deregulation.  It does appear that expectations have become elevated; as we noted yesterday, Q1 GDP is now forecast by the Atlanta FRB to come in less than 1%.  Of course, we should see economic growth pick up later in the year but, so far, we have mostly just seen improving surveys.  The actual data has been modest at best.
However, the bigger reason why we saw the selloff yesterday was due to a growing realization that it's going to be a lot tougher to get legislation passed than election comments suggested.  History shows that passing meaningful legislation is always hard.  As the process has become more transparent and earmarks have fallen out of favor, it's getting even more difficult to pass bills.  The dispersed media means that any action taken by a member of Congress can now be scrutinized; in fact, it can be framed by the blogosphere and the punditocracy in the harshest terms.  The inability to offer "goodies" in the form of district or state spending makes it even more difficult to cobble together majorities.[1]  There was a reason Otto von Bismarck has been attributed with the quote, "laws and sausages are two things one must not watch being made."[2]
The American Health Care Act (AHCA) is expected to come up for a vote tomorrow.  The president was on Capitol Hill yesterday lobbying for its passage.  Media reports suggest the bill doesn't have enough votes to pass in the House.  The Freedom Caucus is generally opposed; it mostly just wants to see the ACA repealed and sees the new bill as "Obamacare lite."  Others among the GOP worry that the new bill will lead to fewer Americans being able to acquire affordable insurance.  If it fails, it will be characterized as a loss for the president.  However, even if it passes, it has no chance in the Senate.
We will be watching how the president deals with defeat.  Will he simply accept the loss and move on to tax reform?  One reason the GOP leadership in Congress wanted to work on health care first is that they anticipated it would reduce spending, which will make it easier to make tax cuts revenue neutral.  That will be harder with the ACA in place, but it won't necessarily stop tax reform from proceeding.  Although the deficit hawks will be concerned about revenue-neutral tax cuts, we doubt the president will share those concerns.  If he simply pivots to tax reform and infrastructure spending, losing on health care isn't a big deal.  The financial markets were always more concerned about taxes and fiscal spending; health care was mostly a side issue.
Another issue probably weighing on market sentiment is the president's conduct thus far.  Today's WSJ has a critical editorial on his behavior.  We expect the other major national newspapers to be critical; however, when the WSJ turns on a GOP president, it signals a problem.  The personal conduct issues, especially the loose regard for facts, undermines the credibility of the president.  We view this as the unnecessary consumption of political capital, the most precious of assets for a new president.  If it turns out that tax reform and infrastructure spending fail to materialize because of ill-timed legislative efforts and conspiracies, it will be difficult for equities to hold their gains.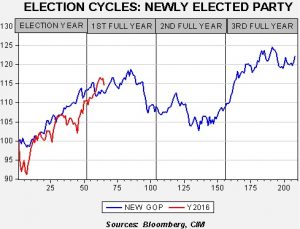 This charts shows the S&P 500, indexed to the beginning of the election year.  The blue line shows the average index behavior for a new GOP president.  So far, Trump's presidency has mostly been following the average pattern, which would suggest that disappointment will set in in the fall.  It should be noted that this is simply an average and deviations are possible.  But, we believe this mostly reflects the normal cycle of sentiment as there is great hope that a new Republican president will be market-supportive until reality sets in about nine to 10 months into the first year in office and the market pulls back.  If the administration fails to move forward on taxes and infrastructure, disappointment may set in.
________________________________________
[1] A classic example was the so-called "Cornhusker Kickback," where Sen. Ben Nelson (D-NE) was offered $100 mm in Medicaid funding for Nebraska for his support of the ACA.  To be fair, the funds were eventually withdrawn due to public outcry.
[2] Actually, this was probably misattributed to him.