Daily Comment (March 20, 2019)
by Bill O'Grady and Thomas Wash
[Posted: 9:30 AM EDT] Happy Fed Day!  The FOMC finishes its meeting today.  Other than that, markets are very quiet.  Here is what we are watching this morning:
The FOMC: As we noted on Monday, the financial markets have the Fed on hold for the foreseeable future.  This is a quarterly meeting, so we will get dots; the financial markets will be looking to see if their position on steady policy is confirmed by the committee.  There are also expectations that the Fed will establish a terminal level for the balance sheet.  While we continue to have doubts that the balance sheet matters all that much (excess reserves sit idle on bank balance sheets, earning just below fed funds), it will matter psychologically.  The market hopes QT ends in the fall.  We would expect a modest downgrade in economic expectations and no change in the inflation target.[1]  We do have one concern about today's meeting—expectations have turned so dovish that there is almost no chance of a bullish surprise and any hint of worry about inflation or disappointment on the balance sheet could lead to a bearish reaction.  It's not a long-term issue, but it could affect today's trade.
Kazakhstan: Nursultan Nazarbayev, the only president in the 28-year history of the country, announced his resignation yesterday.[2]  Although he had indicated he was planning to resign at some point, his signals were generally ignored given that he is in good health.  At the same time, the news isn't all it seems.  Nazarbayev intends to maintain control over the security apparatus, meaning the next president will not have the same degree of control.  Kazakhstan has a resource-dependent economy; oil represents about 35% of the country's GDP and 75% of its exports.  The currency has steadily depreciated during Nazarbayev's reign, with a large drop in 2015 as oil prices fell.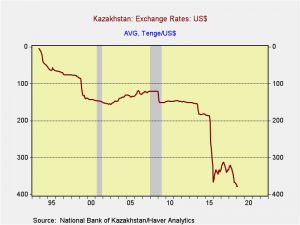 Geopolitically, Kazakhstan faces two major threats, Russia and Uzbekistan.  Russia likes to keep its former Soviet regions under control (see Belarus, Georgia and Ukraine as examples), and Uzbekistan has the largest population of any of the "stan" nations.  Recent regulatory changes in Uzbekistan, which make foreign investing easier, are lifting the Uzbek economy and may pose a threat to Kazakhstan's economic dominance of the former Soviet "stan" states.
Nazarbayev has stayed in power by balancing various powerful factions within Kazakhstan, including the head of the energy sector and the security forces.  He is expected to promote the status of family members in the transition.[3]  As long as Nazarbayev remains active in the country's political system, Kazakhstan will remain stable.  However, once he exits the scene, a period of instability is likely.
Brexit: PM May's plan to keep running her Brexit deal in front of MPs until they blinked was scotched by Speaker Bercow yesterday.  May announced she would see a 90-day extension simply to avoid a chaotic exit.  May's government is trying to determine how to get around Bercow's decision.  They could ask MPs to secure a majority and ask Bercow to allow for a third vote.  Although we expect Bercow to allow another vote in the face of a majority, it isn't obvious that May can muster one.  May could end this parliamentary session and call another one.  Or, the Queen could prorogate the current parliament and bring a new session.  All these outcomes are possible, but long shots.  The market's take is that an extension will occur but, with the deadline looming in a mere nine days, the chances of a hard break are still active.
Chinese debt defaults: China's private sector debt defaults jumped in 2018 to $23.8 bn, up fourfold from 2017.[4]  Although the increase is a bit jarring, total non-financial corporate debt is around $13.0 trillion, so the amount, on its own, is clearly manageable.  However, credit quality in China remains a concern because the government tends to foster growth levels that require increasing levels of debt.
Japan downgrades economy: Japan downgraded its assessment of the economy for the first time in three years, citing the U.S./China trade dispute.[5]  Global growth has been slowing and Japan's announcement simply confirms the weakness.
---
[1] For our take on the inflation target issue, see the Asset Allocation Weekly (3/8/19).
[2] https://www.ft.com/content/7bff2594-4ab8-11e9-8b7f-d49067e0f50d
[3] https://www.ft.com/content/beeb26dc-4af9-11e9-8b7f-d49067e0f50d
[4] https://www.cnbc.com/2019/03/20/chinese-companies-had-record-amount-of-corporate-bond-defaults-in-2018.html
[5] https://www.reuters.com/article/us-japan-economy-report/japan-government-downgrades-economy-view-as-u-s-china-trade-war-bites-idUSKCN1R10SD?stream=business&utm_campaign=newsletter_axiosmarkets&utm_medium=email&utm_source=newsletter