Daily Comment (March 19, 2020)
by Bill O'Grady, Thomas Wash, and Patrick Fearon-Hernandez, CFA
[Posted: 9:30 AM EST]
Today is the spring equinox; it's hard to say if this is a good or bad omen.  We update COVID-19 news.  Although there is much to say about the financial markets, to some extent, it can be summed up succinctly—there is a dash for cash.  Equities are falling again this morning.  Congress is working on a $1.0 trillion stimulus bill.  Don't be surprised in a few weeks when we will marvel at how timid this action was.  We are paying close attention to today's initial claims data as it is expected to show a massive increase in layoffs.  The weekly energy report is updated on our website.  Here are the details:
COVID-19: The world now has 222,643 reported cases of COVID-19 with 9,115 fatalities and 84,506 recoveries.  Here is a chart of infections from the FT: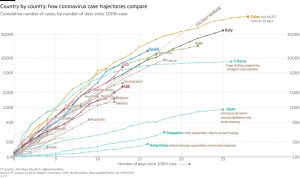 The U.S. pace of infections is rising rapidly; this is probably more about increased testing.
The virus news:
And now, financial market news related to COVID-19:
Odds and ends: The journalism spat between the U.S. and China continues, with Beijing expelling some U.S. reporters.  The trade war continues as the U.S. increases tariffs on European aircraft.