Daily Comment (March 15, 2021)
by Bill O'Grady, Thomas Wash, and Patrick Fearon-Hernandez, CFA
[Posted: 9:30 AM EDT] | PDF
Good morning, Monday!  We have an additional sign of spring, the semiannual clock adjustment.  March Madness begins this week, all in one city.  U.S. equity futures are ticking higher this morning as Treasury yields are steady to lower.  Our coverage leads off with international news; German regional elections were negative for the ruling CDU/CSU coalition.  Economics and policy are next, with a focus on bank leverage ratios and Treasury yields.  Immigration is also a growing issue.  China coverage is next, and we close with the pandemic update.
International news:  German regional elections and Myanmar lead our coverage.
Economics and policy:  All eyes remain on the Treasury market.
Last year, the Fed relaxed the supplemental leverage ratio (SLR), sort of an extra leverage ratio that banks have that acts as a restraint on bank balance sheets. In addition to the capital assigned to various bank assets, the SLR is an overall leverage ratio for all bank assets.  Essentially, it measures the assets relative to cash and equity, including common equity and some forms of preferred equity.  Last March, the Fed granted temporary relief to banks from the Treasuries they held, in that the Treasuries on the balance sheets of banks would not count against the SLR.  In addition, banks had restrictions on dividends and stock repurchases.

The dividend and stock repurchase restraints have been eased. The SLR adjustment is scheduled to end on March 31.  Senators Warren (D-MA) and Brown (D-OH) oppose extending the measure.
The fear is that if the SLR reverts back to its previous rules, banks will reduce their Treasury purchases. In fact, banks may be forced to reduce their holdings to comply with SLR rules.  This raises questions on who will buy to clear the Treasury markets and at what price (yield).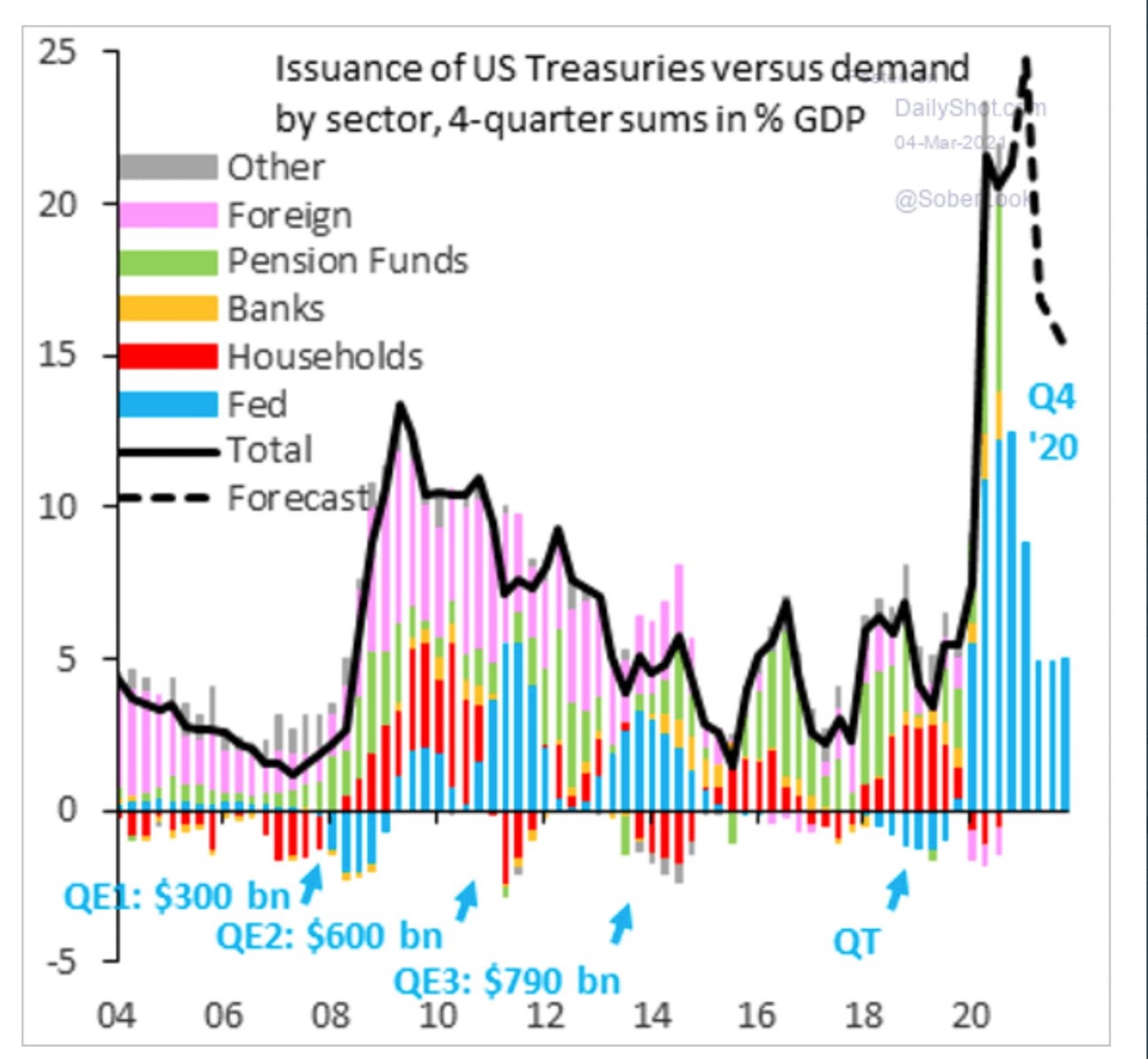 One source of demand could be foreigners. Although foreigners have been net sellers recently, recent moves in the dollar have led to favorable hedging conditions.
Despite opposition from the left-wing populists, the Fed could extend the waiver; that idea is apparently under consideration. The tradeoff might be restrictions on dividends and buybacks.
A complicating factor is that as relief checks hit accounts as deposits, the corresponding increase in assets (at least initially, in reserves) will further stretch leverage ratios, leading to the paradoxical problem where stimulus leads to banks selling assets (and, given the liquidity in Treasuries, that will likely be the first asset sold), lifting interest rates and unsettling markets. Already, there is talk of banks applying a negative rate to commercial deposits or simply refusing to accept them.  Of course, the SLR itself seems unreasonable; it seems odd that a safe asset like Treasuries would be included in a leverage ratio anyway.
We do expect this situation to be resolved, but it may require a crisis first.
In anticipation of a change in immigration policy, there has been an influx of migrant children on the U.S./Mexican frontier. The Biden administration finds itself in the middle of controversy on this issue.  Left-wing populists are pushing hard for a more open border, but the White House fears that uncontrolled immigration will be a potent political point for the midterm elections.  The administration has been slow to overturn Trump-era immigration policies, likely trying to weave a middle road between the left and right.  The House will hold a couple of votes this week as a test of what might be possible.
With the passage of the stimulus bill, the focus has shifted to infrastructure. Given the widening deficit, there is growing talk of tax measures to fund at least part of the spending.  It's not clear to us if this will pass; centrist Democrats know that tax hikes will make reelection difficult in 2022.  There has been consideration of a wealth tax; OECD analysis of wealth taxes are that they are mostly ineffective because wealth can move around.
One of the positive surprises is that state and local government coffers have held up during the pandemic. There was great fear, that we shared, that a drop in tax revenue would lead to a situation similar to what occurred in 2010-11, where cuts in state and local government spending more than offset federal spending.  So, why did the states do so well?  Taxes on pot sales.
The U.S. is rethinking its cybersecurity policy in the wake of numerous recent failures.
The Fed meets this week. Although no change in policy is expected, the markets will be watching to see if there is any concern about inflation.  We don't expect any worry to be expressed.
Florida has been experiencing a flood of outsiders moving in, and former residents moving out. The net result is that the state actually lost population last year.  The influx is being driven by the usual goal of retiring to a warmer climate and low taxes; the outflow is being driven by increasing temperatures, a reluctance to deal with hurricanes, and rising home prices.
In the 1980s, New Zealand led the practice of central banks targeting inflation. The RBNZ may be starting a new trend; the central bank is starting to monitor home prices in formulating policy.  For the most part, developed market central banks have studiously avoided using asset prices to set policy.  This stance has tended to lead to policies that have fostered asset price inflation.  We will be watching to see if this becomes a new trend.
China:  CPC meetings are finished; now, we see how the policy is implemented.
COVID-19:  The number of reported cases is 119,942,311 with 2,655,161 fatalities.  In the U.S., there are 29,439,057 confirmed cases with 534,889 deaths.  U.S. case counts are the lowest since early October.  For illustration purposes, the FT has created an interactive chart that allows one to compare cases across nations using similar scaling metrics.  The FT has also issued an economic tracker that looks across countries with high frequency data on various factors.  The CDC reports that 135,847,835 doses of the vaccine have been distributed, with 107,060,274 of doses injected.  The number receiving a first dose is 69,784,210, while the number of second doses, which would grant the highest level of immunity, is 37,459,269.  The FT has a page on global vaccine distribution.
Virology