Daily Comment (March 13, 2018)
by Bill O'Grady and Thomas Wash
[Posted: 9:30 AM EDT] CPI came in on forecast.  Financial markets were fearing faster inflation and so we are seeing the dollar ease and equities rally on the news.  Here is what we are watching this morning:
NEC Chair: Shahira Knight has signaled she doesn't want the job, and Chris Liddell didn't move the president.  Instead, Larry Kudlow has emerged as the front-runner.  Kudlow has become a well-known television personality, positioned as a defender of free markets and low taxes.  He has an undergrad degree in history from the University of Rochester and did begin a master's program at the Princeton Woodrow Wilson School of Public and International Affairs but left before completing his degree.  According to reports, the president is impressed with how he handles himself on television.  Kudlow, if appointed (and until he is announced and seated nothing is certain), will be a relief to the financial markets.  Although we still expect the president to lean toward trade protection, Kudlow will act as a counterpoint to that sentiment.
Tillerson out: Rex Tillerson, the former Exxon (XOM, 75.24) CEO, is out as Secretary of State and will be replaced by CIA Director Pompeo.  This isn't a huge shock; Tillerson has never really gotten along with the president and was expected to leave sometime this year.  We will be watching to see who gets the CIA position.  Tom Cotton, the GOP senator from Arkansas, is a likely candidate.  Pompeo will require Senate approval but that shouldn't be a major issue.
48 hours: PM May has accused the Russian government of involvement in the recent assassination attempt of a former Russian spy in the U.K.  Although the Putin regime has denied the report, it should be noted that the nerve agent used was Novichok, a Soviet-era nerve agent said to be 10x more powerful than VX.  The use of such a weapon makes it almost certain that the Russian government, in some fashion, was involved.  It is possible that this was a rogue operation, but we doubt that is the case.  First, this is another brazen act by Russia to intimidate its critics that live in the U.K.  Britain has become a haven of sorts for Russian capital flight and discontented Russians.  This isn't the first attack; a former Russian security member was killed with Polonium in 2006, and other Russians and fellow travelers, either critical of Putin or thought to be involved in money laundering, have also died under suspicious circumstances.[1]  The use of a military-class nerve agent that was only formulated in Russia suggests that whoever was involved was not concerned about plausible deniability.  Second, PM May is clearly angry, giving Russia 48 hours to explain itself.  The Russians have denied involvement, as one would expect.  Britain has been trying to generate international support but, so far, the Trump administration has been mostly quiet outside of Tillerson's indication of likely Russian involvement (see above).  At the same time, most other NATO states have also remained mostly quiet.  We expect some diplomatic expulsions and U.K. sanctions on Russia, but major sanctions won't be possible without international support.
Broadcom (AVGO, 262.84) and Qualcomm (QCOM, 62.81): The White House has stepped into this proposed merger and quashed it on national security grounds.  At first glance, this reasoning looks tortured; Broadcom is based in Singapore, a nation that is no national security threat to the U.S.  However, Qualcomm has made a major R&D investment in 5G technology and it was feared that the merger would undermine that investment and give the lead in the next generation of wireless to China's Huawei (CNY, 7.71).  It appears the administration may be taking the position that high tech is a key military industry and the U.S. intends to prevent foreign firms from owning these key assets.  In other words, globalization is starting to be curtailed as industries are going to become off limits to foreign buyers.
Slovakia in turmoil: Slovakia's government is teetering on collapse after a journalist working on tax evasion and corruption was assassinated in a gangland fashion.  For good measure, the killers also shot and killed the journalist's fiancée.  The attack was so blatant that it has triggered mass protests in the country and it appears new elections may be coming.
Fed policy: With the release of the CPI data we can update the Mankiw models.  The Mankiw rule models attempt to determine the neutral rate for fed funds, which is a rate that is neither accommodative nor stimulative.  Mankiw's model is a variation of the Taylor Rule.  The latter measures the neutral rate using core CPI and the difference between GDP and potential GDP, which is an estimate of slack in the economy.  Potential GDP cannot be directly observed, only estimated.  To overcome this problem, Mankiw used the unemployment rate as a proxy for economic slack.  We have created four versions of the rule, one that follows the original construction by using the unemployment rate as a measure of slack, a second that uses the employment/population ratio, a third using involuntary part-time workers as a percentage of the total labor force and a fourth using yearly wage growth for non-supervisory workers.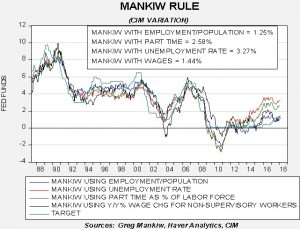 Using the unemployment rate, the neutral rate is now 3.27%.  Using the employment/population ratio, the neutral rate is 1.25%, a 28 bps rise over last month.  Using involuntary part-time employment, the neutral rate is 2.58%.  Using wage growth for non-supervisory workers, the neutral rate is 1.44%, a 19 bps rise over last month.  Although inflation remains steady, the sharp improvement in the employment/population ratio and the modest rise in wages suggest that some of the slack is leaving the labor market.  However, the differences are still very wide between the wage growth and employment/population ratio variations compared to involuntary part-time employment and the unemployment rate.  If the FOMC is using the former two variations, policy is essentially neutral.  Overall, the CPI data does not suggest anything unusual in price levels and thus, monetary policy will likely continue to tighten on its current cautious path.
---
[1] https://www.buzzfeed.com/heidiblake/from-russia-with-blood-14-suspected-hits-on-british-soil?utm_term=.pkzDdmmwZr#.ygJqyRRv8a