Daily Comment (March 12, 2020)
by Bill O'Grady, Thomas Wash, and Patrick Fearon-Hernandez, CFA
[Posted: 9:30 AM EST]
Welcome to the bear market.  The Dow Jones Industrials entered a bear market yesterday and the other two major indices, the S&P 500 and the NASDAQ, will certainly enter bear market territory on the open.  We cover COVID-19 this morning.  The ECB is meeting at the time of this writing; capital restrictions have been eased and QE was lifted but rates were not cut.  We also have the Weekly Energy Update report, where we have expanded our thoughts on the market share war.  Here are the details:
COVID-19:  The number of confirmed cases has reached 127,749, with 4,717 fatalities and 68,305 recoveries.  This handy chart from the FT gives a glimpse of what the U.S. will be facing over the next couple of weeks.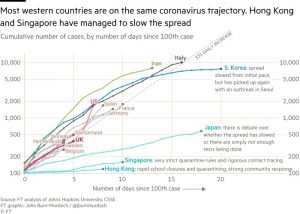 If we follow the general trend seen elsewhere, we will be at 8k to 10k cases by the third week of March.  The U.S. currently has 1,323 cases.  The experience seen overseas suggests exponential growth in infections in the coming days.  We note that Dr. Brian Monahan, the attending physician for Congress, warned lawmakers that 70-150 million (yes, millions) of Americans will be infected.  However, he didn't give a time frame, so this headline may not be as dire as its seems.  And, in behavior similar to bond rating agencies, the WHO has declared a pandemic.
Not what we were looking for: The president held a rare address to the nation to announce measures to counter COVID-19.  The speech began at 8:00pm EDT.  This chart of the overnight S&P 500 futures shows the reaction.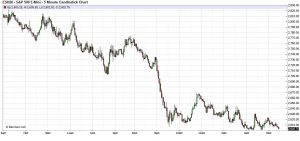 The financial markets were looking for "shock and awe."  They wanted to see payroll tax holidays, grants to households, loans and lots of spending.  They got a travel ban from Europe, a tax deadline delay and talk that something might be coming.  In fact, the speech initially suggested that air cargo trade with Europe would be halted; that had to be clarified.  Needless to say, it didn't go well.  What we are experiencing is why Western democracies have shied away from fiscal policy and relied on monetary policy for the past 40 years; in a polarized political environment, getting fiscal policy done is nearly impossible.  It is important to note that the first time TARP was put before the House it was voted down.  It was only when conditions were spiraling into another Great Depression that Congress acted.  The House Democrats have introduced a package of measures which mostly focus on households.  The proposal includes food assistance and sick leave pay.  There isn't much help for businesses at this point, although industries being hit will likely, at some point, get relief.  We do expect the White House and Congress to get something together in the coming weeks but, if history is any guide, it will only happen when conditions deteriorate further.  Meanwhile, pressure on the Fed is mounting; there is increasing talk that the policy rate will fall to zero.
What others are doing on economic support policies: In the U.K., the Johnson government and the BOE are combining efforts to support the economy.  We note that to offset some of the spending, businesses are losing an important tax break.  This action, by a Conservative government, shows how populism is shifting the "Overton Window" on policy.  Australia announced fiscal measures.  Germany has announced it will boost spending.
Meanwhile, on combatting COVID-19, here is a list of headlines that have affected sentiment:
We are getting increasingly worried about the economy; our position has been that a recession would likely be avoided. However, two developments have increased the likelihood of an official downturn.  First, the oil collapse will put pressure on investment, which is already depressed.  Second, it appears that fiscal support is probably farther off than we expected.  Even without these developments, the risk of recession was increasing.  We are facing both a supply and demand shock.  The other worry is in credit.  Credit spreads have widened; although banks are in good shape, their businesses are taking a hit as rates fall.  The non-bank financial sector is another matter.  The Fed is boosting operations to support the repo markets to try to maintain liquidity.  There are reports that companies are tapping bank credit lines, which normally sit dormant as a liquidity backstop.  So far, this downturn isn't triggering a financial crisis, but tensions in repo and the use of credit lines are a worry.
Iraq:  A rocket attack at Camp Taji killed two U.S. soldiers and one U.K. soldier.  It isn't certain who was responsible for the attack; however, a similar attack in January led to the counterattack that killed Iranian Gen. Qassem Soleimani.  Given the current situation, we are not sure we will see a similar level of retaliation to this attack.
Energy update: We are now updating our weekly energy recap from the DOE in a separate document published on our website, the Weekly Energy Update. Going forward, we will be linking to the report here after the data is released.