Daily Comment (March 1, 2018)
by Bill O'Grady and Thomas Wash
[Posted: 9:30 AM EST] Risk assets are coming under pressure this morning as equities struggle.  Here is what we are watching today:
Powell, Part 2: Chair Powell testifies before the Senate Banking Committee today.  Usually, the second testimony is not closely watched; after all, we have already seen the formal testimony and Q&A either a day or two before and accordingly there shouldn't be much new information.  However, we have seen instances when a Fed chair, concerned that the financial markets misunderstood the earlier message, attempts to adjust market expectations.  Thus, if Powell didn't intend to signal that a fourth hike is possible this year, look for him to make a point that inflation remains under control despite economic strength.  He can make this case fairly easily with the Fed's preferred measure of inflation, core PCE, remaining below target (see discussion below).
Energy recap: U.S. crude oil inventories rose 3.0 mb compared to market expectations of a 2.0 mb build.

This chart shows current crude oil inventories, both over the long term and the last decade.  We have added the estimated level of lease stocks to maintain the consistency of the data.  As the chart shows, inventories remain historically high but have declined significantly since last March.  We would consider the overhang closed if stocks fall under 400 mb.
As the seasonal chart below shows, inventories are usually rising this time of year.  What we are seeing is very bullish—the usual seasonal build in stockpiles isn't occurring this year.  The longer this continues, the more fundamentally bullish this becomes; thus, even with the higher than expected build this week, it is important to realize that the change in stockpiles is well below where it should be.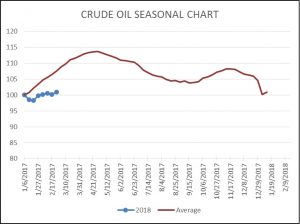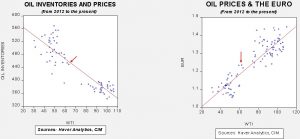 Based on inventories alone, oil prices are undervalued with the fair value price of $66.37.  Meanwhile, the EUR/WTI model generates a fair value of $75.32.  Together (which is a more sound methodology), fair value is $72.55, meaning that current prices are below fair value.