Daily Comment (March 1, 2017)
by Bill O'Grady, Kaisa Stucke, and Thomas Wash
[Posted: 9:30 AM EST] Although political analysts continue to dissect the president's speech, the markets have clearly rendered a verdict—it was a winner.  The Trump trade of higher interest rates, stronger dollar and equities is back in force this morning.  Our take on the speech was that it was more polished than most of his previous remarks and less dark than the inaugural oration.  There wasn't a lot of detail but there were some hints at the direction of policy.  On health care, elements of Speaker Ryan's plan emerged.  The focus seemed to be on "access to coverage" rather than "coverage," which would suggest that households could refuse to buy insurance without penalty.  One of the more popular elements of the ACA is the pre-existing condition issue; access could be met with high-risk pools, which have had a rather mixed record.  An expansion of tax credits and health savings accounts were also floated, a Ryan principle.  On the other hand, the president did suggest a goal to "bring down the artificially high price of drugs and bring them down immediately."  That might entail allowing Medicare to directly bargain on drug prices, which would create an oligopsony and effectively allow the government a major role in setting drug prices.  On infrastructure, he called for public-private partnerships for funding, which will limit the level of spending; the private sector will only participate in spending that will directly generate revenue and there isn't much of that coming from freeways.
Although some have noted that the lack of detail is troubling, historically, such speeches are usually light on detail.  We view the speech as little more than a mere campaign speech and thus accounts for the market's strong reaction this morning.  The optimistic tone and the improved delivery were clearly taken as a positive.
With the speech out of the way, the focus now shifts to the FOMC.  A rising number of members of the committee are hinting at a March rate hike; the odds of a March hike, based on the fed funds futures, is at 84% this morning.  On Friday, Chair Yellen is scheduled to speak.  If she confirms the comments of the other members, a hike on the 15th will approach certainty.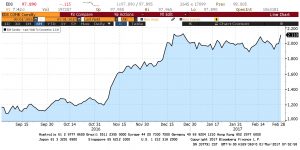 This chart shows the implied yield from the Eurodollar futures for three-month LIBOR out two years.  The implied yield is approaching its December highs; this level is consistent with fed funds of 1.84%.
In France, Conservative candidate François Fillon reiterated that he would stay in the race for president despite the decision to postpone a campaign event at a Paris farm show.  Fillon has been under investigation for hiring family members for what prosecutors are saying were make-work jobs.  He is scheduled to testify to judges on the matter on March 15th.  Current betting sites are giving Emmanuel Macron 10-11 odds to win the second round compared to Marine Le Pen at 2-1.