Daily Comment (March 9, 2023)
by Patrick Fearon-Hernandez, CFA, and Thomas Wash
[Posted: 9:30 AM EST] | PDF
Good morning! Today's Comment begins with a discussion about the growing appeal of the U.S. dollar. Next, we examine what the potential impact could be for companies as governments move away from neoliberal policies. Finally, we review why the recent decline in commodity indexes should not dampen investor outlook on the sector.
The Dollars Back: Hawkish talk from Federal Reserve Chair Jerome Powell has investors piling back into the greenback.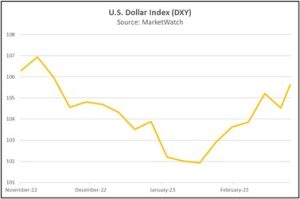 The Biden Shuffle: The White House has begun to shift from neoliberal economic policy to a world that favors equity.
It's Complicated: Uncertainty of supply and demand for commodities has made it difficult to gauge the bottom of the market, but the long-run outlook for the sector remains favorable.