Daily Comment (March 29, 2023)
by Patrick Fearon-Hernandez, CFA, and Thomas Wash
[Posted: 9:30 AM EDT] | PDF
Our Comment today opens with an update on the U.S. banking crisis, where the Senate Banking Committee took testimony yesterday from Federal Reserve Vice Chair for Supervision Barr and other top bank regulators.  We next review a wide range of other international and U.S. developments with the potential to affect the financial markets today, including this week's big break-up of a major Chinese internet-commerce company and increasing weakness in the Russian economy.
U.S. Banking Crisis:  In his testimony to the Senate Banking Committee yesterday, Fed Vice Chair for Supervision Barr revealed that the central bank regulators had issued numerous warnings to Silicon Valley Bank (SIVB, $106.04) about its asset and liability risks over more than a year, virtually up until the time that the bank failed earlier this month.  Nevertheless, the Senators on the committee castigated the Fed for not following through on those warnings and not forcing the bank to take action.  Barr and other top bank regulators will testify today before the House.
When asked how quickly a bank should respond to supervisory directives from the Fed, Supervisory Chair Barr, incredibly, said he didn't know the time frame for such action.
The hearing showed that legislators are not only considering making more banks subject to the stricter regulatory regime imposed on the biggest banks, but they may also consider new supervisory rules and procedures for the Fed itself.
U.S. Labor Market:  With multiple state and local governments now requiring that job listings include pay ranges, new research suggests the added information can incentivize employees to work harder, so long as they believe the pay system is fair.  The research helps ease some employers' concerns that the new pay transparency could spark tension in their workforce and cause lower productivity.
U.S. Artificial Intelligence Industry:  Elon Musk and more than 1,000 other technology executives and researchers have signed a public letter calling for a six-month pause in the development of advanced artificial intelligence systems, such as OpenAI's ChatGPT, in order to halt what they call a "dangerous" arms race.  According to the letter, the advanced AI systems which are now being developed so quickly are beyond what humans can understand, predict, or reliably control.
The signatories hope that a break would allow for the development of safety protocols and other controls for the technology.
If the pause can't be put into place voluntarily and verifiably, the signatories urge a government-mandated moratorium.
While we doubt such a pause will be implemented, we think the letter does reflect the extraordinarily rapid development of the technology, which is already transforming everything from key industries to military strategy.
China-Taiwan-United States:  As Taiwanese President Tsai Ing-wen prepares to embark on her 10-day visit to the U.S. and Central America, the Chinese government warned that her planned meeting with House Speaker McCarthy would be "another provocation" and that China would "resolutely hit back".  When then House Speaker Pelosi visited Taiwan last year, the Chinese responded with an aggressive series of military exercises around the island.  The coming "transits" through the U.S. and the meeting with McCarthy could well spark a repeat of those exercises or other potentially dangerous responses.
China:  Internet commerce giant Alibaba (BABA, $98.40) announced yesterday that it will reorganize into a holding company with six independently-run units for cloud computing, Chinese e-commerce, global e-commerce, digital mapping and food delivery, logistics, and media and entertainment.  Each of the units could seek their own initial public offerings of stock.
In all probability, the breakup was ordered by the Chinese government as part of President Xi's continuing effort to rein in the country's technology giants and bring them to heel. While that effort has diminished the companies' power, it could also be a positive for investors.  Alibaba's shares have surged in response to the reorganization.
Government officials and investors here at home have also called for some big U.S. technology giants to be broken up on antitrust and freedom of speech concerns, which could likewise unlock a lot of value. However, authoritarian governments like the one in China have much more power to do so.  In a democracy like the U.S., bringing such break-ups into effect can be much more difficult due to the diffuse power structure and multiple political actors that would need to agree.
United States-Russia:  Attempting to retaliate in a calibrated manner against Russia's recent decision to suspend its participation in the New START nuclear arms control treaty, the U.S. yesterday said it will stop sharing certain detailed data on its strategic nuclear forces with Russia.
The move will likely lead to a further weakening of the last remaining Cold War-era arms control agreement between the U.S. and Russia.
Full abrogation of the treaty would allow the U.S. to boost its nuclear arsenal to account for China's rapid nuclear build-up, but that would also likely set off a risky nuclear arms race between the U.S., China, Russia, and potentially other countries.
Russia:  Although the Russian economy initially appeared to be weathering the Western sanctions imposed after the Kremlin launched its invasion of Ukraine, it now appears that it is starting to suffer more substantially.  Since global oil and gas prices have retreated from their post-invasion highs, the resulting revenue declines and big military expenditures have left the government with huge budget deficits.  The ruble has also started to decline sharply, while emigration and mass conscription have produced labor shortages.
The intensifying difficulties are likely a harbinger of continued economic weakness in the long term.
As we have long argued, Russia's economic problems will also force it ever more deeply into China's embrace, making it a key-but-junior partner in China's evolving geopolitical and economic bloc.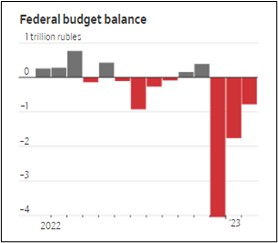 Source:  Russian Finance Ministry via CEIC Data
United Kingdom:  Yesterday, the pro-independence Scottish National Party narrowly elected Humza Yousaf to replace Nicola Sturgeon as its leader.  The election also puts Yousaf in line to be elected as Scotland's first minister in the coming days.  Because of the narrowness of Yousaf's win and the attacks he endured over his past roles as Scotland's transport, justice, and health minister, he may not be a strong advocate for independence in the coming years.  If he does prove to be a weak leader for the SNP, the resulting political stability could be a positive for British stocks.
Brazil:  Former President Bolsonaro plans to return to Brazil tomorrow for the first time since he fled to Florida after losing his bid for re-election in last year's elections.  Bolsonaro will face a number of probes into corruption and his role in the post-election takeover of the capitol by rioters, but he will also reportedly attempt to re-energize Brazil's right-wing movement and undermine his successor and political nemesis, leftwing leader Luiz Inácio Lula da Silva.  Any resulting political instability would likely be negative for Brazilian stocks.