Daily Comment (March 28, 2023)
by Patrick Fearon-Hernandez, CFA, and Thomas Wash
[Posted: 9:30 AM EDT] | PDF
Our Comment today opens with an update on the U.S. banking crisis.  Federal Reserve Vice Chair for Supervision Barr will be testifying on the crisis before the Senate today.  We next review a wide range of other international and U.S. developments with the potential to affect the financial markets today, including at least a temporary truce in Israel's unrest over judicial reforms and news of an important new U.S.-Japanese trade deal on critical minerals.
U.S. Banking Crisis:  Fed Vice Chair for Supervision Michael Barr will testify before the Senate today on the failure of Silicon Valley Bank (SIVB, $106.04) and the broader U.S. banking crisis.  In his written testimony, Barr is expected to paint Silicon Valley as a "textbook case of mismanagement."  However, the Senators are also likely to grill Barr intensively over the regulators' failures to discipline the bank before it failed.  Meanwhile, calmer financial markets continue to suggest that the overall banking crisis in the U.S. has dissipated, at least for now.
European Union-Germany:  Over the weekend, Germany and the European Commission reached an agreement under which Germany will lift its opposition to a new EU law banning the sale of automobiles with internal combustion engines starting in 2035.  In return, the EU Commission has committed itself to finding a legal way to allow the sale of such engines if they burn synthetic "e-fuels."  The deal diffuses an EU governance crisis and may also help preserve tens of thousands of jobs in Germany's auto-centric economy.
France:  Prosecutors have raided several large French banks today as part of Europe's broad "cum-ex" tax evasion scandal.  The targeted institutions include BNP Paribas (BNPQY, $28.05) and Société Générale (SCGLY, $4.32).
Russia-Ukraine War:  Russian President Putin still hasn't announced another "partial" mobilization of troops like he did last fall, probably because of the political risks in doing so. Reports indicate, though, that the government is still making a concerted push to generate new volunteers for the military to replace the enormous casualties in the war to date.  Potential volunteers are being offered a wide range of incentives, including lucrative combat pay, educational assistance, tax breaks, and debt assistance.
Separately, the Hungarian government approved Finland's accession to the North Atlantic Treaty Organization yesterday, furthering the strengthening and expansion of NATO that was touched off by Russia's invasion.
However, Turkey and Hungary continue to stall their approval of Sweden's bid to join NATO, based on Turkey's concern that Stockholm hasn't been tough enough on what it calls Kurdish terrorists that have sought refuge in Sweden.
Saudi Arabia-China-Russia:  Saudi state oil company Aramco (2222, SAR, 32.15) said it has signed deals to supply a total of 690,000 barrels per day of Saudi crude oil to Chinese refiners.  Aramco will also take a 10% stake in a major Chinese oil refiner.  The deals illustrate how the Saudis are fighting to retain their market share in China even as Russia boosts its cut-rate sales to the country in response to the sanctions imposed on it because of its invasion of Ukraine.  That sets up an intensifying Saudi-Russian competition to supply China, which will likely help cement China's influence over the two countries.
Israel:  Faced with mass protests and the risk of military opposition, which we described in our Comment yesterday, Israeli Prime Minister Netanyahu has agreed to postpone the initial voting on his controversial judicial reforms.  However, he also vowed to have the Knesset take up the legislation again at the end of April, following its spring break.  That suggests the crisis isn't necessarily over and may heat up again later in the spring, which would likely be detrimental to Israeli equities.
United States-Japan:  The U.S. and Japan today plan to sign a trade agreement covering critical minerals used in electric-vehicle batteries.  Under the deal, the two countries will refrain from imposing export duties against each other for lithium, cobalt, manganese, nickel, and graphite. They will also share information on potential labor violations in the supply chain for those critical minerals and "identify opportunities to build their respective capacities."
The deal provides further evidence of how the U.S. and Japan are strengthening their ties in the face of growing geopolitical and economic threats from China.
With the critical-minerals trade deal in place, Japanese electric vehicles made with metals processed in Japan could become eligible for the tax incentives included in last year's Inflation Reduction Act. That would further improve U.S.-Japanese ties.
U.S. Commercial Real Estate Industry:  New data show that employees working from home and rising interest rates are now even putting financial stress on "Class A" office buildings, which until now had been holding up well.  The data shows that these buildings, which are often well-located and rich with modern amenities, are now facing reduced occupancy, falling rents, and even several mortgage defaults.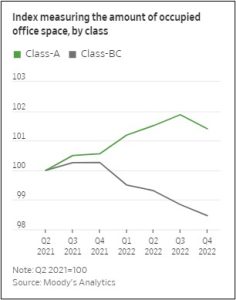 U.S. Defense Industry:  Yesterday, President Biden invoked the Defense Production Act (DPA) to spend $50 million on expanded U.S. and Canadian production facilities for printed circuit boards, which are used in missiles and radars, as well as civilian energy and healthcare electronics.  With supply chain hurdles continuing to hinder the production of key military goods, we suspect we will see further, bigger DPA orders in the future.