Daily Comment (March 28, 2022)
by Patrick Fearon-Hernandez, CFA, and Thomas Wash
[Posted: 9:30 AM EDT] | PDF
Our Comment today opens with an update on the Russia-Ukraine war, where the big stories are an apparent Russian decision to limit its war aims and President Biden's off-the-cuff remark suggesting President Putin should be removed from power.  We next review a range of international and U.S. developments with the potential to affect the financial markets today.  We wrap up with the latest news on the coronavirus pandemic.
Russia-Ukraine:  Militarily, the key development over the last few days has been Russia's apparent shift in strategy toward seizing only the Donbas region in eastern Ukraine.  Since Russian forces have been fought to a stalemate elsewhere in Ukraine, reflecting both their own military errors and the Ukrainians' unexpectedly effective resistance, they probably see such a strategy as a way to salvage what they can from their invasion.  Of course, the strategy shift doesn't mean peace in the rest of Ukraine.  The Russian invasion forces have dug into defensive positions around the capital city of Kyiv and other urban centers, and they continue to pummel Ukrainian cities, fuel depots, and food warehouses with artillery, missiles, and aerial bombs.  There are also reports that fresh Russian troops are being massed at the border, ready to be thrown into the battle.  Even if the Russians really intend to focus on the Donbas now, they'll have to keep up the military pressure elsewhere around the country to keep the Ukrainians from shifting their forces to the east.
The other key event in recent days was President Biden's trip to Europe, where he ended a major speech underlining the West's unity and dedication to democracy with an unscripted threat to topple President Putin, saying, "For God's sake, this man cannot remain in power."  U.S. officials later tried to walk back the statement, saying Biden merely meant that Putin can't be allowed to keep persecuting other countries.  Nevertheless, the perception remains that Biden was essentially calling for regime change in Russia.
After a month of Russia's brutal, unprovoked war against Ukraine, it's probably safe to say that Biden's sentiment is shared widely among global leaders and citizens alike.  Nevertheless, there are some sentiments better left unsaid.  Biden's statement was a clear gaffe for two key reasons:

First, the statement will probably confirm in Putin's mind that he has nothing to lose in continuing the war.  Now, he is even more likely to believe that the U.S. and the West are out to get him, and the only way out is to win and win big in Ukraine.  That suggests he will keep fighting, escalating, and taking ever bigger risks in order to shift his luck.
Second, Biden's statement will probably expose divisions among the U.S. and its allies.  Some European leaders, such as French President Macron, have already distanced themselves from any sense that they want regime change in Russia.  If the U.S. can't contain the transgression in the coming days, it could exacerbate the allies' differing opinions about questions like providing more lethal weaponry to Ukraine or when it might be appropriate to lift their sanctions against Russia.

Separately, Russian and Ukrainian officials are preparing for another round of ceasefire negotiations in Turkey tomorrow.  Importantly, Turkish Foreign Minister Mevlüt Çavuşoğlu hinted that President Putin and Ukrainian President Zelensky have already been in negotiations through an intermediary he didn't want to name (Russian oligarch Roman Abramovich is one possibility).  In addition, in two separate interviews over the weekend, Zelensky hinted that the concessions he is prepared to offer Russia, subject to approval by a national referendum, would include:

disavowing any intention to join NATO, subject to gaining security guarantees from other countries;
committing to never acquiring nuclear weapons; and
ensuring Ukraine's political neutrality.

Russia's adoption of more limited war aims in eastern Ukraine, Biden's show of force during his European trip, and the news of Putin-Zelensky negotiations might at first sound positive to investors, but they don't necessarily mean a near-term end to the conflict or the uncertainty it has generated.  Continued fighting and uncertainty will likely mean more headwinds for global financial markets.  Despite the rebound in global stocks these last two weeks, it's probably too early for investors to let their guard down.
China:  As we've argued previously, the Russia-Ukraine war will likely accelerate the trend toward deglobalization that had been in place for years.  As a result, the world economy and financial markets will likely break up into a U.S.-led bloc, a Chinese-led bloc, and many countries trying to remain unaligned or attempting to play one bloc off the other.
As China faces this prospect, it is trying to curry favor with dozens of less-developed countries in order to expand its bloc and make it as independent and resilient as possible.
A key question is whether the U.S. will be able to keep up with China in the competition for influence and friendship.  One big asset for China is its large, fast-growing, import-hungry economy and state-sponsored foreign investment programs.  As we've written before, the U.S. has wearied its traditional role as a global hegemon, especially the required trade deficits and the damage to its industrial base and unskilled workers.  The U.S. will soon need to figure out what it can offer to the unaligned countries to keep them in the U.S. camp.
China-Hong Kong:  Municipal Chief Executive Carrie Lam, whose current five-year term ends on June 30, hinted yesterday that she may not seek re-election.  When asked in a press conference if she would take responsibility for Hong Kong's vast new wave of coronavirus infections, Lam merely said it would be up to the next administration to conduct a full investigation into the city's handling of the pandemic.  She offered herself as an adviser to any such investigation.
With their "zero-COVID" policy, Chinese leaders in Beijing have been angered by the big, disrupted wave in Hong Kong.  Even though new infections in the city appear to be declining, the leadership may have decided to replace Lam.
Ousting Lam would signal that Beijing is bringing Hong Kong under even tighter control.  That would probably exacerbate China's current frictions with the West and prolong the regulatory risk for Chinese assets trading in the U.S.
Middle East Politics:  Following many Arab states' recognition of Israel in recent years, foreign ministers from the U.S., Israel, Egypt, Bahrain, Morocco, and the United Arab Emirates have begun an unprecedented meeting on Israeli soil in which they will discuss how to strengthen their cooperation in confronting Iran.  The meeting could set the direction of a continued mutual effort to maintain peace and the security of energy supplies from the region.
Japan:  Faced with an unwanted rise in bond yields, the Bank of Japan today said it would buy an unlimited number of 10-year Japanese government bonds at a set yield.  The move aims to demonstrate the central bank's commitment to its strategy of yield curve control, under which it promises to keep the yield on 10-year JGBs "around 0%."  In response, the yen dropped sharply to low as ¥124/dollar so far today, its weakest level since 2015.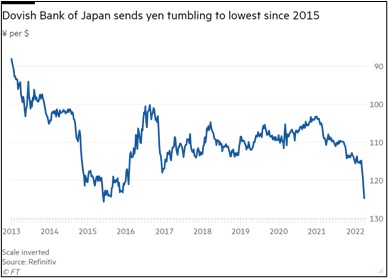 U.S. Monetary Policy:  Shorter-term bonds continue to lose value amid growing concerns that the Federal Reserve will turn to aggressive, 50-basis-point interest rate hikes to help bring down inflation.  As of this writing, the yield on the 2-year Treasury note has risen to approximately 2.32%, only about 15 basis points below the 10-year note's 2.47%.
As short-term yields continue threatening to overtake longer-term yields, creating an inversion in the yield curve, stock investors are likely to start pricing in an imminent economic slowdown or recession.
On a more positive note, however, transportation-related stocks have recently been outperforming the broader U.S. market.  That has often been a positive harbinger for the broader market, although the relationship this time around could be distorted by the easing of pandemic travel restrictions and supply disruptions.
U.S. Fiscal Policy:  The Biden administration today plans to release its proposed budget for the federal fiscal year beginning October 1.  The proposal reportedly forecasts the cumulative budget deficit over the coming decade will be $1 trillion lower than previously expected, in part because of fast economic growth touched off by the administration's pandemic-relief spending and in part because of a proposed new wealth tax on the super-rich.
COVID-19:  Official data show confirmed cases have risen to  481,009,234 worldwide, with 6,124,067 deaths.  In the U.S., confirmed cases rose to 79,954,460, with 976,704 deaths.  (For an interactive chart that allows you to compare cases and deaths among countries, scaled by population, click here.)  Meanwhile, in data on the U.S. vaccination program, the number of people who are considered fully vaccinated now totals 217,424,576, equal to 65.5% of the total population.