Daily Comment (March 21, 2022)
by Patrick Fearon-Hernandez, CFA, and Thomas Wash
[Posted: 9:30 AM EDT] | PDF
Our Comment today opens with an update on the Russia-Ukraine war, where the Battle of Mariupol is intensifying.  We next review a range of international and U.S. developments with the potential to affect the financial markets today.  We wrap up with the latest news on the coronavirus pandemic.
Russia-Ukraine:  Even though the Russian invasion force has been fought to a standstill in most of Ukraine, it managed to break into the southeastern port city of Mariupol on Saturday.  The Russian military issued an ultimatum for the city's defenders to surrender by 5:00 am local time today, but Ukraine has rejected it.  The latest reports indicate there is currently fierce urban fighting in the city.  Meanwhile, on the diplomatic front, President Biden will hold a video conference today with the leaders of Germany, France, Italy, and Britain, before attending a NATO summit in Brussels on Wednesday, participating in a European Council summit on Thursday, and traveling to Poland on Friday.
If the Russians take control of Mariupol, it will probably free up forces that could be used to reinvigorate their attacks elsewhere in Ukraine.  For the time being, however, the intense urban warfare in Mariupol will likely absorb and destroy massive amounts of Russian manpower, weaponry, and morale.
The Russian invasion force continues to suffer immense casualties, including high-ranking officers.  The deputy commander of Russia's Black Sea Fleet was killed near Mariupol over the weekend, bringing the number of top-ranking officers killed in action in Ukraine to at least six.
Other reports indicate the Russians have forcibly deported thousands of Ukrainians from Mariupol to "filtration camps" in Russia and sent them elsewhere to work as slave laborers.
As we've been warning, skyrocketing grain prices because of the war have created food shortages and higher food prices in poorer countries, particularly in the Middle East.  Fertilizer prices are also soaring (see chart below).
One of the most potentially divisive issues at the meetings will be a Polish proposal to organize an international peacekeeping mission for Ukraine. While NATO has carried out such missions in Europe before, those were done after fighting eased.  President Biden has insisted that he won't send U.S. troops into Ukraine because such a move would risk an all-out war between the U.S. and Russia.  However, increasing evidence of the Russian military's weakness and poor operating capability could lead to more calls for intervention from those who advocate for such a move.  The Russian military's continued poor performance also has the potential to push President Putin toward further escalation, perhaps to the point of using chemical or nuclear weapons in Ukraine.

Global investors appear to have become sanguine about the war in Ukraine in recent days, allowing financial markets to stabilize and even rebound.
However, it's important to remember that military, economic, and financial risks still abound.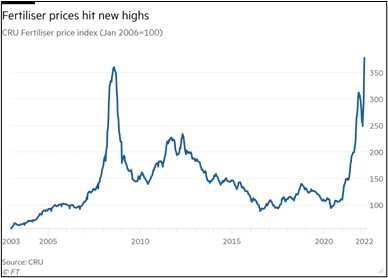 Germany-Qatar:  In a visit to Doha yesterday, German Economy Minister Robert Habeck reached an agreement with the Qatari government on a long-term natural gas supply deal to reduce Germany's reliance on Russian gas in the wake of the Ukraine war.
United Kingdom:  In what could be another major move toward European energy security, Prime Minister Johnson will lay out a plan to boost Britain's nuclear energy capacity by as much as fivefold by 2050.  The plan would imply the construction of at least half a dozen big new stations over the next 25 years.  Coupled with other European countries' new focus on energy independence, Johnson's plan underscores our optimism toward uranium and other aspects of the nuclear industry.
China:  The Hong Kong stock market has suspended trading in the shares of highly indebted property developer Evergrande (3333 HK, HKD,  1.65), pending a release of information from the company that could shed light on its restructuring and the fate of international investors.
U.S. Monetary Policy:  After dissenting to the Fed's decision last week to hike its benchmark interest-rate target by 0.25%, in favor of a larger hike of 0.50%, St. Louis FRB President Bullard said on Friday that the Fed should boost rates all the way to 3.00% this year to avoid losing credibility regarding its commitment to fighting inflation.  In contrast, the Fed policymakers' economic projects released at last week's meeting called for hiking the benchmark rate to about 1.90% by the end of 2022.
Bullard's statement underscores the extent to which some Fed policymakers want to raise interest rates to combat inflation.
As we've noted before, however, we suspect that slowing economic growth and financial fragilities will keep the Fed from hiking rates more than a few times this year.
United States-Saudi Arabia:  In an apparent effort by President Biden to spur cooperation in bringing down energy prices, his administration has transferred a significant number of Patriot antimissile interceptors to Saudi Arabia, fulfilling Riyadh's urgent request for resupply to fend off drone and missile attacks by Iran-backed Houthi rebels in neighboring Yemen.
U.S. Energy Industry:  Amid high energy prices sparked by rebounding demand and supply concerns related to the Russia-Ukraine war, the number of active U.S. oil rigs has grown by roughly one-fifth in the past six months.  However, much of the new activity is to make up for a depleted inventory of wells drilled before the pandemic and isn't expected to increase overall output enough to bring down prices significantly.
U.S. Ports:  As we've been warning, the tight labor market and this summer's expiration of the West Coast longshoremen's labor contract raises the prospect of a strike that would further disrupt supply chains and boost inflation.  To avoid the potential disruptions, some shippers are reportedly pulling forward their holiday-season orders to get them into domestic networks early, and many are diverting cargo that normally moves through the West Coast to East Coast and Gulf Coast ports.
Global Semiconductor Industry:  Even as the Fed and other central banks try to bring down inflation, the Russia-Ukraine war and other supply shocks promise to keep prices high.  The latest bad news on that front comes from ASML (ASML, USD, 679.86), the Dutch maker of lithography machines needed to produce the most advanced chips.  According to CEO Peter Wennink, it will be another two years before the company can produce all the chipmaking machines required by semiconductor firms to meet their customers' demands.
COVID-19:  Official data show confirmed cases have risen to  470,852,725 worldwide, with 6,078,361 deaths.  In the U.S., confirmed cases rose to 79,734,867, with 971,162 deaths.  (For an interactive chart that allows you to compare cases and deaths among countries, scaled by population, click here.)  Meanwhile, in data on the U.S. vaccination program, the number of people who are considered fully vaccinated now totals 217,060,180, equal to 65.4% of the total population.