Daily Comment (March 2, 2022)
by Patrick Fearon-Hernandez, CFA, and Thomas Wash
[Posted: 9:30 AM EDT] | PDF
Our Comment today opens with an update on the Russia-Ukraine war, in which Russia appears to be ratcheting up its attacks on civilians.  We next review a range of international and U.S. developments that have the potential to affect the financial markets today.  We wrap up with the latest on the coronavirus pandemic.
Russia-Ukraine:  As the Russian army continues to face obstacles to its military objectives, we see increasing evidence that it has shifted its focus toward attacks on Ukraine's civilian infrastructure and population in order to create mass terror.  For example, it killed multiple civilians yesterday in a missile attack on Kyiv's main television antenna, and today it has stepped up a fierce aerial assault on Kharkiv, Ukraine's second-biggest city.  Russia has also claimed that it has taken control of the key southeastern city of Kherson, although Ukrainian officials have denied that.  Meanwhile, Russian and Ukrainian representatives plan to meet again this afternoon on the Belarusian border to discuss peace, although we have seen no indications that would suggest those talks will be successful.  To put added economic pressure on Russia, President Biden said in his State of the Union address last night that the U.S. will join with the EU in banning Russian planes from its airspace.  Western companies also continue to announce they are ending or cutting back their business dealings in Russia, but in an effort to stop that, the Russian government said it would temporarily ban foreign firms from selling their assets in the country.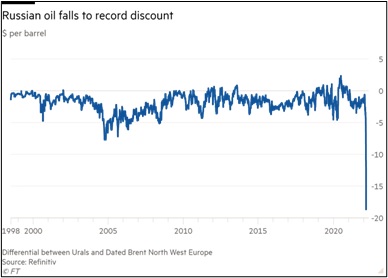 Finally, we want to follow up on the report from RIA Novosti that we cited yesterday.  As that report suggested, Russian officials believed they would be in Kyiv in short order, that the war would be over quickly, and that Ukraine would be under Russian control with a minimum of bloodshed.  The actions of Russia's military tend to confirm this notion.  Russian units moved quickly on open roads, often outrunning their logistical support.  Social media pictures of Russian tanks on the side of the road, stuck for lack of fuel, began to circulate.  It seemed the plan was to move into Kyiv quickly, arrest the political leadership, and declare victory.  Likely, the goal was to move so quickly that the West would not have time to apply significant sanctions and would be forced to accept the fall of Kyiv as a fait accompli.

Obviously, things didn't go according to plan.  The Ukrainians have put up valiant resistance.  The attacking forces, lacking logistical support, were thwarted in their aims.   The Russian military appeared disorganized and inept.  Western political leaders, impressed and emboldened by the bravery of Ukrainian President Zelensky, reacted with devastating sanctions.  Russia is isolated on the world stage, facing an economic calamity.
However, the newfound optimism about Ukraine's ability to thwart Russia is probably misplaced.  The war isn't over.  Russia now understands it is facing stiff resistance, so, if it intends to subdue the country, it will likely have to deploy "scorched earth" tactics.  If this is the case, we would expect Russian firepower to be trained on the major cities of Ukraine with devastating effects.  The loss of life could be horrific.  Russia bombed Chechnya indiscriminately in the Second Chechen War.  It would not be a huge surprise to see similar tactics deployed in the current situation.
Thus, investors should be prepared for a war of attrition against Ukraine.  We expect Russia to prevail but at an enormous cost.   The population of Ukraine will likely suffer huge losses, and Russian military casualties will also be high.  The West is already well on the way to making Russia a pariah state; if a war of attrition does result, expect sanctions to deepen and remain in place indefinitely.  Based on the ideas in this must-read assessment of President Putin's psychology, we think investors should be prepared for even more dramatic moves by the Russians.
Hong Kong:  As a reminder that China is also flexing its authoritarian muscles, though not as brutally as Russia, former Hong Kong Bar Association President Paul Harris has left the city abruptly after being questioned by national security police.  Harris had become a target for pro-Beijing politicians and state-run media, who accused him of being "anti-China" for suggesting changes to the new national security law imposed on Hong Kong by China.  The sudden departure of Harris has raised concern about a new crackdown on political dissent within the city's legal profession.
United States-China:  In its annual trade policy agenda, the Office of the U.S. Trade Representative said it would focus on a "holistic and pragmatic" approach to U.S.-China relations in order to achieve long-term benefits for American workers.  Separately, administration officials said the White House would soon announce a series of measures to confront China on its industrial subsidies and protect America's edge in new technologies.
As part of that effort, the White House is also weighing heightened scrutiny of U.S. companies' investments in China, tighter export controls on sensitive technologies, and greater cooperation with European and Asian allies and partners on subsidies and other issues.
As we've noted before, even policies aimed at protecting the U.S. economy from China's unfair competitive practices could impose at least short-term costs on some companies and investors.  Regulatory risks related to the U.S.-China geopolitical rivalry remain high.
U.S. Politics:  In his State of the Union address last night, President Biden not only called for unity on the Russia-Ukraine war and the need to keep opposing President Putin, but he also hinted that the coronavirus pandemic could be coming to an end.  He pledged to combat rising prices by boosting domestic production of automobiles and semiconductors and rebuilding the nation's roads and bridges.  Biden also called on Congress to work with him on priorities that were part of his stalled "Build Back Better" plan—though he no longer uses that term—including cutting the cost of prescription drugs, reducing energy costs, and lowering the cost of childcare.
U.S. Monetary Policy:  In testimony to be delivered to Congress today and tomorrow, Federal Reserve Chair Powell will argue that it would be appropriate for the central bank to raise its benchmark interest rate at its meeting in two weeks because of high inflation, strong economic demand, and a tight labor market.  In contrast, he'll say it is too soon to tell how Russia's invasion of Ukraine and the strict economic curbs imposed by the West against Moscow would influence the U.S. economy.
While investors have rightly been focused on the Russia-Ukraine crisis over the last two weeks, Powell's statement is a reminder that monetary policymakers have become quite hawkish on inflation and consider it urgent to hike interest rates.
All the same, the Russia-Ukraine crisis is consistent with our view that the Fed may not hike rates as far or as fast as the bond market had suggested prior to the war.  As Powell suggests, blowback from the war could weigh on the U.S. economy and financial markets, potentially precluding too many rate hikes.  Bond values have already strengthened because of the war, but if the Fed signals that its rate hikes won't go very far, it will help keep those values up.  Indeed, many investors have already begun to ratchet down their expectations for monetary tightening going forward.
COVID-19:  Official data show confirmed cases have risen to  438,870,727 worldwide, with 5,966,478 deaths.  In the U.S., confirmed cases rose to 79,092,025, with 952,509 deaths.  (For an interactive chart that allows you to compare cases and deaths among countries, scaled by population, click here.)  Meanwhile, in data on the U.S. vaccination program, the number of people who are considered fully vaccinated now totals 215,677,777, equal to 65.0% of the total population.
In the U.S., the seven-day average of people hospitalized with a confirmed or suspected COVID-19 infection fell to 47,560 yesterday, down 44% from two weeks earlier and down 70% from the all-time peak of 159,000 early this year.
More than a month after the Omicron surge peaked and began to decline, and as states are lifting pandemic restrictions, hospitals across the country are unexpectedly facing a continued shortage of nurses and other staff, leaving fewer beds available for patients.
According to a new study, the vaccine jointly developed by Pfizer (PFE, $45.75) and BioNTech (BNTX, $146.73) was highly effective at reducing the risk of severe disease in children 17 years and younger during the Omicron surge, but it didn't work as well at preventing infection.

The two-dose vaccine reduced the risk of hospitalization in children aged 5 to 11  by 74% and by 92% or higher in children aged 12 to 17.
However, the vaccine was only 51% effective at reducing the risk of infection among 5- to 11-year-olds, while Omicron was predominant, and between 34% and 45% effective in children 12 to 17 years old, depending on the age, for the first five months after the second dose.