Daily Comment (June 7, 2019)
by Bill O'Grady and Thomas Wash
[Posted: 9:30 AM EDT] It's employment Friday!  We cover the data in detail below but, in short, the data suggests economic weakness; bonds have rallied, the dollar tanked and equity futures have eased off their highs.  Although we don't expect a Fed rate cut this month, pressure to reduce rates at the late July meeting may make a move unavoidable.  It's also the Dragon Boat Festival in China, so markets are closed there today.  The G-20 meets this weekend.  Here is what we are watching today:
BREAKING: A RUSSIAN AND U.S. NAVAL VESSEL NEARLY COLLIDED IN THE PACIFIC.  EACH SIDE IS BLAMING THE OTHER. 
A deal with Mexico: Yesterday, equities rallied on reports that the U.S. may delay implementing a 5% tariff on Monday due to reported progress on border talks.  Mexico has apparently offered to increase security personnel on its southern border.  Mexico has also indicated it will take additional steps to limit the number of migrants from Central America using Mexico as a transit point.  Meanwhile, there has been a surge of asylum seekers moving to the U.S./Mexican border, likely trying to reach the U.S. before it becomes more difficult to achieve this goal.  It does look like the Mexican government is working hard to avoid the tariffs being applied, which would be a major risk to its economy.   There are two takeaways we see at this point.  First, Mexico may need to do "whatever it takes" to avoid tariffs.  Second, if President Trump finds success with this tactic with Mexico, he will likely be inclined to use it more often, leading to increased market volatility.
The G-20: This will be an unusually important meeting because it will offer a forum for U.S. and Chinese trade negotiators to meet and perhaps discuss issues.  President Trump has indicated that tariffs on China will be decided after this meeting.  Meanwhile, it does appear that Chinese officials are preparing to support their economy.  The head of the PBOC suggests there is ample room to ease if the trade conflict weakens the Chinese economy.  China is also indicating it will shift trade patterns, warning that it will expand its agricultural imports from Russia.  The impact of tariffs on the U.S. economy, so far, has not been significant.  But, we may begin to see some effects by late summer.
Oil news: Oil prices have bounced after entering a bear market earlier this week.  The primary catalyst appears to be renewed signals from Saudi Arabia that OPEC + Russia are prepared to extend their supply cuts.  In addition, the U.S. has tightened trade sanctions on Venezuela, which will likely curtail production even further.  There are also reports that Iran is threatening U.S. military assets in the Middle East.  This being said, we are also picking up reports that the U.S. and Iran are negotiating an oil-for-food deal, where Iran would export oil through Iraq in return for U.S. agricultural aid.  If true, the U.S. may be using the deal to create backchannel contacts to restart negotiations with Tehran.  Or, it could be trying to preempt similar actions by the EU.  Regardless, it does suggest there are attempts by the Trump administration to talk to the Iranians.
German growth: The Bundesbank has cut Germany's growth forecast in the wake of weak industrial production data.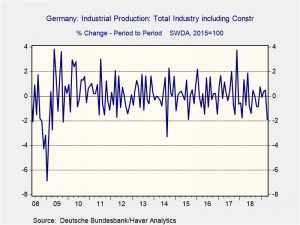 As the chart shows, this is the weakest monthly report since 2014.
The end of May: Today is PM May's last day in office, although she will stay on in a caretaker role until the new party leader is selected.  The Tory leadership contest officially gets underway on Monday.  There is growing speculation that Labour will call for a no-confidence vote soon after the new PM takes office.  The current Tory coalition partner, the DUP, is already pushing for "goodies" to support the Conservatives in a no-confidence vote.
The Japanese VAT: There is growing speculation that PM Abe will postpone a scheduled increase in the VAT.  Previous hikes have tended to adversely affect growth and Abe could use global economic weakness and uncertainty about trade as reasons to postpone the hike.  In reality, a VAT increase is boneheaded; Japan's economy suffers from under-consumption, so taxing it is exactly the wrong policy.
The problem of European defense:A major reason for Pax Americana is that the U.S. solved the German problem in Europe.  By guaranteeing the security of Europe, but especially Germany, Europe has enjoyed over seven decades without a major war.  Anyone with a cursory knowledge of European history has to be impressed by prolonged peace in a region that has seen multiple major conflicts.  But, the cost of that peace to American taxpayers has been significant and successive presidents, including the current one, have complained about free-riding by the EU.  However, new problems will arise from European nations increasing their defense spending.  If they start spending money on their own defense, they will tend to direct that spending in ways the U.S. doesn't like and conduct their own foreign policies instead of following the lead of the U.S.  Recent meetings between the U.S. and the EU have been quite tense as the U.S. fears that increased European security spending will be used as a form of industrial policy and reduce American defense exports to the EU.  The underlying problem is that if the U.S. forces the EU to spend more to defend itself, the outcome may make the region more volatile in the long run.