Daily Comment (June 5, 2018)
by Bill O'Grady and Thomas Wash
[Posted: 9:30 AM EDT] Good morning—Happy National Moonshine Day![1]  Here is what we are watching this morning:
Oil and OPEC: The Trump administration has quietly asked OPEC[2] to boost oil output by 1.0 mbpd in a bid to lower oil prices and, as a result, gasoline prices.  Undoubtedly we will hear how this move is "unprecedented" from some of the media but it isn't all that unusual.  Oil prices are a very important variable to the economy and administrations have often guided prices.  During the 1986 oil collapse, Vice President Bush nudged the Saudis into cutting output to lift prices to save the U.S. oil industry.[3]  Other presidents have boosted or reduced oil prices by adding or subtracting inventory out of the Strategic Petroleum Reserve.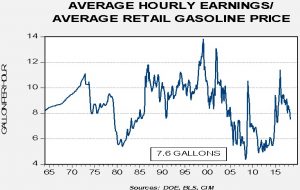 The above chart shows how many gallons of gasoline a non-supervisory worker can buy for an hour's worth of work.  Currently, it is 7.6 gallons, which is a bit below the average of 8.5 gallons.  Although not at an extreme, the direction is worrisome and thus the administration's move to bring down oil prices, and thus gasoline prices, makes sense.
We expect Russia to support the increased output, whereas Saudi Arabia will be more inclined to make a symbolic increase of 300 kbpd.  Russia will probably win out.  In any case, our analysis has been indicating that prices were running a bit above fair value, based on inventories and the dollar.  Still, these cuts may do nothing more than arrest prices around the $60 per barrel level.  Venezuelan[4] output will continue to fall and we also look for lower Iranian production.  There is also the potential for output disruptions in Iraq due to political uncertainty there after recent elections.  We have probably been seeing weaker oil prices on fears that OPEC would try to make up some of the lost output.  Now that the news is out, we would not be surprised to see prices stabilize.
Iran and uranium: Although Iran has been careful not to take actions that would directly break the nuclear agreement, the country is signaling it will take actions that will be seen as hostile.  Ayatollah Khamenei indicated today that his nation is prepared to increase uranium enrichment if the deal is ended.[5]  The head of Iran's Atomic Energy Organization, Ali Akbar Salehi, indicated today that Iran will begin building advanced centrifuges in light of recent developments.[6]  Rising tensions with Iran are a bullish factor for oil prices.
Italy: The new government is now in place.[7]  The EU is waiting to see how Euroskeptic the new government will be in practice.  There is evidence that the EU is quietly punishing Italy for its behavior; the ECB has reduced its purchases of Italian bonds, although the ECB has disputed the idea that there is any ulterior motive.  Instead, the ECB says the change in buying is technical in nature.[8]
Unwinding of the postwar order: A persistent theme in our geopolitical research has been the case that the U.S. is souring on the costs of the hegemonic role and wants to reduce its global involvement.  A tempest of comments have emerged overnight after the U.S. ambassador to Germany, Richard Grenell, made comments supporting right-wing nationalist movements in the EU.[9]  Although Grenell denied the intention to directly support parties in Europe, the U.S. has a long history of trying to shape European politics.  One of the goals of the Marshall Plan was to undermine communist parties in Europe after WWII.  However, the trend in place appears rather clear.  The U.S. has been pulling back from its hegemonic obligations since the Obama administration because the American people have concluded the costs exceed the benefits.  We disagree with this idea, but 73 years without a mass mobilization war will tend to skew the cost/benefit calculation for Americans.
That doesn't necessarily mean the U.S. goes full isolationist.[10]  Instead, the U.S. is trying to change the rules of conduct, which means forcing allies in frozen conflict zones (Europe, Middle East, Far East) to play a more active (and costly) role in their own defense and no longer easily supplying dollars to global markets through U.S. unemployment.  However, managing this change is hard because (a) if nations in the conflict zones pay for their own defense, they will also very easily want a much greater say in how security is executed (which may not be in U.S. interests), and (b) without U.S. open trade policy, globalization has probably peaked.  It should be noted that the right-wing establishment is funding a "counter-reformation" to these trade changes.[11]  However, we suspect they are on the wrong side of the trend.
Bank of India—HELP!The Bank of India has asked the Fed to slow its policy tightening after emerging markets have seen growing pressure.[12]  Although we understand the bank's concern, history shows that the Fed doesn't pay too much attention to foreign economies until a crisis develops of sufficient magnitude that it affects the U.S. economy in a significant way.  We do note the National Association of Business Economists is warning that the likelihood of recession will be elevated in 2020, mostly due to the negative impact of trade.[13]
---
[1] https://www.economist.com/the-economist-explains/2018/06/05/why-america-still-has-dry-counties
[2] https://www.bloomberg.com/news/articles/2018-06-05/u-s-said-to-ask-opec-for-1-million-barrel-a-day-oil-output-hike
[3] Yergin, D. (1991). The Prize: The Epic Quest for Oil, Money and Power. New York, New York: Simon & Schuster. (pp. 756-758.)
[4] https://www.washingtonpost.com/world/national-security/pompeo-urges-kicking-venezuela-from-oas-and-more-sanctions/2018/06/04/32fbba1e-6806-11e8-bea7-c8eb28bc52b1_story.html?utm_term=.9918b3513f82&wpisrc=nl_todayworld&wpmm=1
[5] https://www.reuters.com/article/us-usa-election-opioids/voters-in-opioid-plagued-districts-demand-solutions-from-candidates-idUSKCN1J11BE?il=0&wpisrc=nl_todayworld&wpmm=1
[6] https://www.reuters.com/article/us-iran-nuclear/iran-to-start-building-advanced-centrifuges-salehi-idUSKCN1J113Q
[7] https://www.ft.com/content/01cae2cc-68b4-11e8-b6eb-4acfcfb08c11
[8] https://www.ft.com/content/8a688786-67f8-11e8-8cf3-0c230fa67aec?utm_source=POLITICO.EU&utm_campaign=9a915e1a62-EMAIL_CAMPAIGN_2018_06_04_04_11&utm_medium=email&utm_term=0_10959edeb5-9a915e1a62-190334489
[9] https://www.ft.com/content/60bfc106-67df-11e8-8cf3-0c230fa67aec?segmentId=a7371401-027d-d8bf-8a7f-2a746e767d56 and https://www.washingtonpost.com/news/world/wp/2018/06/04/trumps-envoy-to-germany-wants-to-empower-conservatives-but-he-doesnt-appear-to-mean-merkel/?utm_term=.f6a0a5af4e95&wpisrc=nl_todayworld&wpmm=1
[10] https://www.reuters.com/article/us-usa-taiwan-military-exclusive/exclusive-at-delicate-moment-u-s-weighs-warship-passage-through-taiwan-strait-idUSKCN1J030R
[11] https://www.reuters.com/article/us-usa-trade-koch/free-trade-puts-republican-megadonors-on-collision-course-with-trump-idUSKCN1J02C0
[12] https://www.ft.com/content/a572d6fa-680f-11e8-8cf3-0c230fa67aec?segmentId=a7371401-027d-d8bf-8a7f-2a746e767d56
[13] https://abcnews.go.com/Business/wireStory/business-economists-worry-recession-2020-55625966