Daily Comment (June 27, 2018)
by Bill O'Grady and Thomas Wash
[Posted: 9:30 AM EDT] Here we are at mid-week.  Financial markets are recovering this morning after a difficult overnight session.  Here is what we are watching:
Softening on trade?  Around 7:35 AM EDT, the White House[1] announced it would not create a new regime to scrutinize Chinese investments and instead will use the current foreign investment apparatus, the Committee on Foreign Investment in the U.S. (CFIUS) to analyze Chinese investments.  Risk markets have recovered on this news, likely for a couple of reasons.  First, going this route means China isn't necessarily being targeted specifically, which does tone down tensions.  Second, using CFIUS appears to confirm Treasury Secretary Mnuchin's position that all nations are being watched for intellectual property theft, not just China.  This notion refutes comments from Peter Navarro, which followed Mnuchin's aforementioned comments by saying that no nations other than China were being investigated.
There is other evidence of softening.  Chairman Xi has instructed the Chinese media[2] to stop talking about "China 2025," the controversial program to essentially move China up the value chain.  Using CFIUS and China backing away from at least talking about China 2025 are positive developments.  On the other hand, CFIUS can still effectively block Chinese investment.  And, we doubt Xi will give up on China 2025.  Given the nearly constant shifting positions of the White House, investors are clearly looking for some kind of sign that will accurately predict the future path of policy.  However, that clear path isn't likely to emerge anytime soon.  Instead, financial markets are starting to look like the shoe scene from the Monty Python movie Life of Brian,[3] desperately searching for some indication in a cacophony of policy actions.
Meanwhile, China is clearly taking steps to protect itself from rising trade tensions.  As we noted yesterday, the PBOC cut reserve requirements.  There is talk of China subsidizing firms targeted for tariffs.[4]  We are also seeing financial authorities accepting a weaker CNY.[5]  As the chart below shows, the CNY had been appreciating from early 2017 until recently but the depreciation has accelerated over the past few days.  As we have noted before, the Trump administration appears to tolerate currency manipulation, unwilling to purposely jawbone the dollar lower to improve the U.S. trade situation.  We expect other nations to follow similar currency policies as a way to offset the impact of tariffs.  But, the bottom line is that policy-induced volatility is here to stay; from the president's perspective, uncertainty is a feature of his administration, not a bug.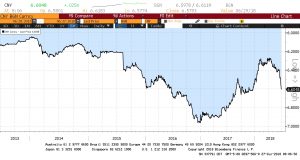 Iran sanctions: Oil prices surged yesterday after the White House warned allies that they should be prepared to cut oil imports from Iran to zero by November.[6]  Although this action was anticipated, the deadline was much quicker than expected.  Iran exports around 2.2 mbpd; we don't expect all imports to end (China will likely continue to buy Iranian oil, roughly 0.7 mbpd), but a reasonable expectation is that Iran's oil exports will fall to around 1.0 mbpd.  Saudi Arabia can absorb this lost oil but its spare capacity would fall to around 1.0 mbpd, leaving the world dangerously close to no slack in the oil markets.  Current oil prices are elevated relative to inventories and the dollar, and this geopolitical threat is keeping oil prices elevated.  The rial remains weak.[7]
About last night: There were a series of primaries last night and the net takeaway is that the political situation is becoming increasingly populist.  The headline shocker was from New York's 14th district, where Alexandria Ocasio-Cortez defeated Joe Crowley, a representative with nearly two decades of experience.  Crowley hadn't faced a primary challenge since 2004.  There was talk that Crowley could mount a leadership challenge to Nancy Pelosi (D-CA).  His money advantage was 10-1.  Ocasio-Cortez ran on a progressive platform, calling for a federal jobs guarantee and the abolition of ICE.  We view this outcome as similar to David Brat's win over Eric Cantor in 2014.  The populists on both sides (right- and left-wing) are gathering strength and establishment voters are increasingly being faced with candidates who want equality policies that will, at some point, lead to lower returns to capital and rising inflation.
---
[1] https://www.ft.com/content/a819ec8a-79f4-11e8-8e67-1e1a0846c475
[2] https://www.politico.com/story/2018/06/26/beijing-made-in-china-2025-trump-trade-651852
[3] https://www.youtube.com/watch?v=Ka9mfZbTFbk
[4] https://www.reuters.com/article/us-china-trade-usa/china-should-take-self-defense-measures-in-trade-war-global-times-idUSKBN1JN01G
[5] http://www.scmp.com/business/banking-finance/article/2152669/yuan-drops-through-660-level-beijing-signals-it-favours
[6] https://www.washingtonpost.com/world/national-security/us-pushes-allies-to-cut-oil-imports-from-iran-as-sanctions-loom/2018/06/26/c1d20e78-794f-11e8-aeee-4d04c8ac6158_story.html?utm_term=.4e682cb86412&wpisrc=nl_todayworld&wpmm=1
[7] https://www.reuters.com/article/us-iran-economy-rial/iran-rial-plunges-to-new-lows-as-us-sanctions-loom-idUSKBN1JK0HZ?wpisrc=nl_todayworld&wpmm=1