Daily Comment (June 22, 2020)
by Bill O'Grady, Thomas Wash, and Patrick Fearon-Hernandez, CFA
[Posted: 9:30 AM EDT]
Good morning and happy Monday.  U.S. equity futures are higher this morning, while Europe is lower.  Treasuries yields are lower, as well as the dollar, while gold is up. EU leaders are talking to Chairman Xi today; the new security law passed in Beijing, meaning it has become law in Hong Kong.  We recap banking data.  President Trump says he will talk to Maduro.  Our usual commentary on COVID-19 is available.   Here are the details:
China news: 
EU and Chinese leaders are scheduled to have a video conference today. European leaders have become increasingly alarmed by China's behavior.  As we have discussed before, the EU has noted Beijing's aggressive narrative control over COVID-19.  In addition, China's investment activities in Europe has raised fears that China will use the weakness caused by the pandemic to take control of European businesses.  Expectations surrounding the talks are low, suggesting that not much will come from the conference.
Although the news was no surprise, Beijing is moving to ratify the new security law for Hong Kong. The Standing Committee of the Politburo will convene a special session on June 28 and impose the new law on the former colony.  One part of the new law will establish a new agency to execute national security in Hong Kong, signaling it is taking concrete steps to apply the new legislation.  The decision to create this new bureaucracy quashes any hope that the law would be passed but implemented with a "light touch." This law will effectively end Hong Kong's "one country, two systems" approach.  We expect this decision to further undermine U.S. and U.K. relations with China.
China has had a new surge of COVID-19 cases, with the outbreak centered on food markets in Beijing. As we noted last week, Nordic salmon was said to have tested positive for the virus, although it was generally believed the virus likely came from infected workers handling the product.  Although handling or eating food that has been found to have the virus hasn't been reported as a vector for spreading the disease, blaming the outbreak on imported food does fit Beijing's narrative of the virus coming from outside China.  Over the weekend, China has banned some chicken imports coming from a Tyson (TSN, 63.22) plant with a high number of COVID-19 cases.   We would not be surprised to see China use this news as an excuse for failing to meet its obligations set in the Phase One trade agreement.
The PBOC held its loan prime rate steady, suggesting that we are probably approaching the end of the rate cutting cycle in China.
Economic news:
The Fed has updated its May data on the banking system. There were three items that are worth noting.  First, households are being very cautious.  Consumer credit fell 1.1% from last year.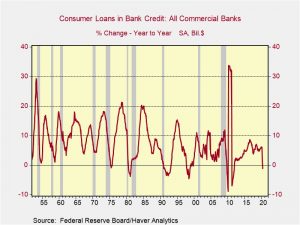 Second, deposits have soared, rising 20.7% from last year, the fastest growth for this data (which goes back to 1973.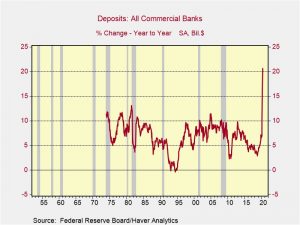 Third, business lending has soared (and partly accounts for the jump in deposits).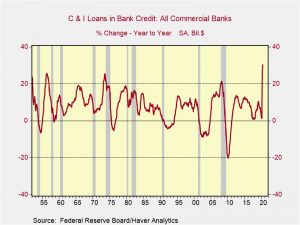 What does this tell us?  Households are cutting their borrowing and increasing their cash holdings, while businesses are tapping credit lines and gathering cash too.  There is a pile of liquidity in the financial system and where it eventually ends up will be critical for financial and commodity markets.
As firms begin to reopen, they are struggling with the mechanics of hiring. In other words, how does one conduct a virtual job fair?  Should it be done by videoconferencing?  What about "drive by" interviews?  Although bringing back furloughed workers will be the first step, some degree of mass hiring will be necessary due to the sharp drop in employment seen before; exactly how to interview and maintain social distancing will tend to reduce the ability of interviewers to use non-verbal cues to inform the hiring decision.
Policy news:
COVID-19:   The number of reported cases is 8,975,776 with 468,724 deaths and 4,448,281 recoveries.   In the U.S., there are 2,280,969 confirmed cases with 119,977 deaths and 622,133 recoveries.  For those who like to keep score at home, the FT has created a nifty interactive chart that allows one to compare cases across nations using similar scaling metrics.
Virology: