Daily Comment (June 18, 2020)
by Bill O'Grady, Thomas Wash, and Patrick Fearon-Hernandez, CFA
[Posted: 9:30 AM EDT]
Good morning!  U.S. equity futures are weaker this morning, but off the worst levels of the overnight session.  Our usual commentary on COVID-19 is available.  We cover a myriad of policy issues this morning, including global taxes and the increased scrutiny facing U.S. tech firms.  In policy, a number of central banks took action overnight.  Australia looks like it is in recession and we examine the difference between expectations and reality in the economic reports.  The Weekly Energy Update is available.  Here are the details:
COVID-19:  The number of reported cases is 8,367,894 with 449,397 deaths and 4,091,978 recoveries.  In the U.S., there are 2,163,894 confirmed cases with 117,717 deaths and 592,191 recoveries.  For those who like to keep score at home, the FT has created a nifty interactive chart that allows one to compare cases across nations using similar scaling metrics.  Additionally, we have the weekly Axios U.S. state map.
Virology:
Policy news:
China:
Markets:  Insurance companies are reviewing their exposure in collateralized loan obligations (CLOs).  CLOs are usually pooled corporate debt, originated by banks.  CLOs can be separated into different tranches by credit risk and payment priority.  In recent years, insurance companies have been avid buyers of these instruments to take advantage of their higher yield.  However, recently, there has been growing concerns about the credit quality of these instruments.
There is a rising level of delayed loan payments.  Student loans are showing the highest delinquencies.
Economy news: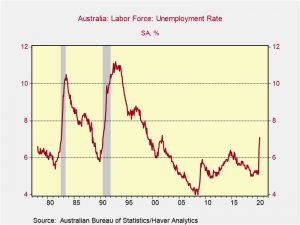 The country, which hasn't had a recession since the early 1990s, is clearly in one now.
One of the concepts a new analyst always has to learn is that the actual data matters less than the data relative to expectations. Recent data has been far better than forecast.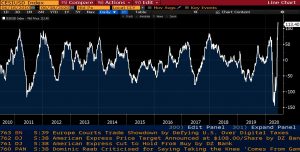 This chart shows the economic surprise index from Bloomberg. It measures the difference between the actual data and expectations; the data included are weighted based on their effects on foreign exchange behavior.  What the index is telling us now is the economic data is coming in much better than forecast.  That doesn't mean the data is good; it means that expectations are so depressed that even soft numbers are still better that deeply depressed forecasts.  What we have observed over the years is that the expectations tend to catch up in a few months and so better future data may not look as good, even with the improvement, because expectations will tend to rise even faster.  This could lead to "disappointing" economic data by autumn.
One of the consequences of the lockdowns has been that firms and workers are realizing that they probably don't need to go to the office to be effective. And, if that's the case, why would someone stay in a crowded expensive city if they can just as easily live elsewhere.  If this becomes a trend, smaller metropolitan areas may benefit from workers moving to new, smaller cities.
The massive expansion of central bank balance sheets has raised fears of inflation. Japan, which has seen ballooning government deficits, remains susceptible to deflation.