Daily Comment (June 15, 2020)
by Bill O'Grady, Thomas Wash, and Patrick Fearon-Hernandez, CFA
[Posted: 9:30 AM EDT]
Good morning and happy Monday!  It's another risk-off day as financial markets recoil from reports of rising COVID-19 infections.  Our usual commentary on COVID-19 is available.  We update on China and trade issues with the U.K./EU/U.S.  We are watching U.S./Russian relations as Paul Whelan was found guilty of espionage.  We look at the economy and policy news.  Here is what we are watching:
COVID-19:   The number of reported cases is 7,934,277 with 433,919 deaths and 3,789,462 recoveries.   In the U.S., there are 2,094,069 confirmed cases with 115,732 deaths and 561,816 recoveries.  For those who like to keep score at home, the FT has created a nifty interactive chart that allows one to compare cases across nations using similar scaling metrics.
Virology:
China:  Although the virus surge in Beijing is catching most of the attention this morning, overall economic conditions do show improvement.  Consumers continue to show caution, but are spending on big-ticket items.  Also, as usual, China is using investment spending to lift growth.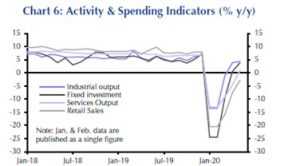 This chart shows a steady rebound in the Chinese economy.
SoS Pompeo is meeting with EU foreign ministers to craft a common policy on China.  He is getting some pushback from the EU, which wants to tie cooperation on China with an easing of the trade conflict with Washington.  Of course, Pompeo will try and insist that the issues are separate, but we doubt he will be able to make his case.
Trade:  PM Johnson and EC President von der Leyen will hold video talks today to discuss Brexit.  Johnson is hoping his personal touch will push talks forward while von der Leyen intends to reiterate the EU position on either integration, or a hard border.  At the same time, trade talks between the U.K. and the U.S. will resume today.  There is speculation that Westminster is using talks with the U.S. to extract concessions from the EU; however, Washington could just as easily insist on difficult concessions from the U.K., given its precarious position with the EU.
Russia:  Paul Whelan was found guilty of espionage and sentenced to 16 years in prison.   Although Russia accuses Whelan of spying, his background suggests he probably isn't one.  He is a corporate security official for a car parts manufacturing firm and was in Russia for a wedding.  He is a Marine, but was discharged under less than stellar circumstances.  We suspect Russia seized Whelan and intends to use him for swap purposes in the future.  We will monitor this case to see if his cause is taken up by the government.
Economy news:  There is growing evidence that the U.S. economy is improving; given how deep the initial decline was, it is almost impossible for things to not look better.  However, it is still good to see signs of life.  Nevertheless, coping with COVID-19 remains a challenge.  We note that manufacturing firms are slow to recover, due to the costs of protective measures and continued infections.
Policy news:  This week, Chair Powell will travel to Capitol Hill to give his semi-annual testimony to Congress.  Given the forecasts from the Fed, we expect him to give testimony that the economy needs additional help.  National Economic Council head Kudlow opposes extending the $600 per week boost to unemployment insurance, but does support a smaller bonus for workers returning to their jobs.  There is worry that the unemployment insurance benefit may be an impediment to returning to work.  At the same time, Peter Navarro says the president wants another stimulus program of at least $2.0 trillion.