Daily Comment (June 15, 2016)
by Bill O'Grady and Kaisa Stucke
[Posted: 9:30 AM EDT] BREAKING NEWS: Nigeria announced it is moving toward a market driven exchange rate policy, likely taking steps toward allowing its currency, the naira, to float.  Although the Central Bank of Nigeria has allowed more flexible exchange rates recently, allowing a full float will likely lead to a much weaker currency.  This action will boost inflation and import prices but will make the domestic oil industry more competitive as it pays its workers in a depreciating currency but sells oil in dollars.  To a great extent, this news reflects the tensions caused by lower oil prices.
It's Fed Day!  After six weeks of waiting and a swing in the employment data, the current fed funds futures expectations put the odds of a rate hike today at virtually zero and only 17.6% for July.  This outcome is probably too low for the Fed's liking.  Although we believe Chairwoman Yellen is generally dovish, she will likely be uncomfortable with this degree of certainty in the markets and will try to inject a bit of worry.  Thus, we expect a more hawkish tone to the statement, data expectations and "dots" from the FOMC.  At the same time, with Brexit and what will likely be a political circus through autumn, we believe that if the Fed doesn't hike in July, it probably won't move again until December.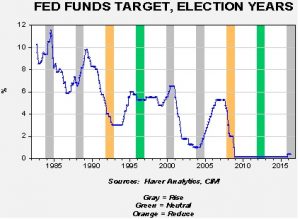 Nevertheless, the Fed has hiked rates during election years despite general market beliefs that the central bank would stay neutral.  This chart shows that since 1984, or nine election cycles, the Fed has raised rates in five, cut rates in two and stayed neutral in two.  On the other hand, these were fairly standard elections between two establishment candidates.  It isn't farfetched to expect Democrats to complain that rate hikes could toss the election to Donald Trump.  Of course, it could work the other way as well, that not cutting rates is a boost to the Democrats if the economy needs it.  Given the degree of vitriol, it would take a very compelling reason for the Fed to raise rates once campaigning escalates later this summer.
Another potential reason for today's Fed meeting to have a hawkish tilt is that Q2, despite the employment data, looks like it will be rather strong.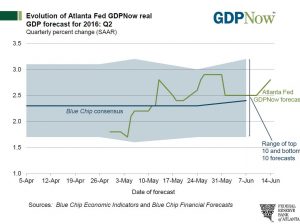 The Atlanta FRB's GDPNow report is projecting a 2.8% Q2 GDP number.  This report is above the Blue Chip Consensus and approaching the upper bound of that forecasting groups expectations.  In looking at the contributions to growth, virtually all the expansion is coming from personal consumption.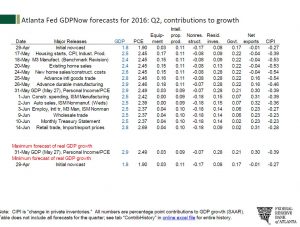 Of the 2.8% projection, 2.7% is coming from consumption.  Investment spending is negative, mostly due to a drop in inventories.  Net exports are showing an impressive recovery while government continues to disappoint.  The bottom line: the market's expectations are too dovish at this point and even if the FOMC doesn't want to raise rates until December, it will try to inject a degree of uncertainty into the markets.
MSCI denied the inclusion of China's A shares into its indices, which was something of a surprise.  MSCI rightly pointed out that the Chinese government still has an excessive degree of involvement in the markets and capital controls make it difficult for foreign investors to pull their investments quickly.  The group did say China will be considered for inclusion in 2017.  This decision is a blow of sorts to the Xi regime as it seems to like international recognition for its development.
Although this development hasn't been noted widely in the news, the U.S. Navy announced it is moving vessels from the Third Fleet, based in San Diego, to the waters in the East and South China seas.  As the map below shows, the Third Fleet's normal area of operations is mostly around the U.S.  Apparently, the Obama administration wants to beef up U.S. presence in the Seventh Fleet's area of operation to counter increasing Chinese belligerence.  This shift suggests growing tensions with China.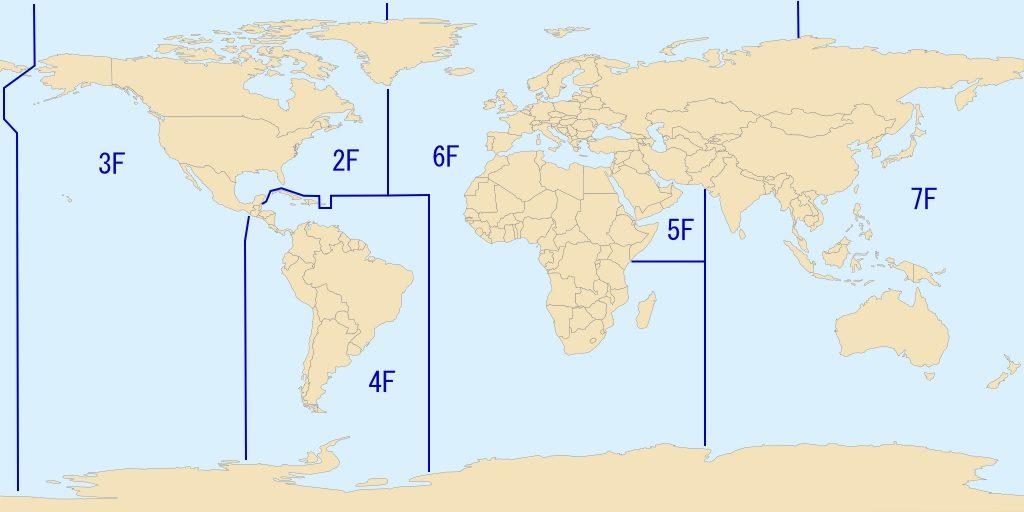 (Source: Google)
This map shows the areas of operation for six of the seven U.S. Navy Fleets.  The First Fleet, which has no designation on this map, was designated as the Third Fleet in 1973.  There is also a Tenth Fleet, which is in charge of Cyber Command.