Daily Comment (June 12, 2020)
by Bill O'Grady, Thomas Wash, and Patrick Fearon-Hernandez, CFA
[Posted: 9:30 AM EDT]
Good morning and happy Friday!  After a big drop yesterday, equities are recovering this morning.  Our take gets top billing in today's report.  Next up is tech news, followed by foreign developments.  After those sections, we offer a couple of interesting charts. There is an intensification of talks around Brexit.  Our usual commentary on COVID-19 is available, along with some reports on vaccines and immunity; in addition, we are seeing a rise in new infections, with the emerging and frontier world showing the fastest increases.  Policy updates follow and we conclude with China.  Additionally, this week's Asset Allocation Weekly (AAW) is available; it's all about silver.  Let's get to it:
Market news:  Yesterday was a clear risk-off session.  A couple of culprits have been blamed, but the reasons offered in the media always smack of post hoc.  The two most offered explanations for the drop was Chair Powell's "gloomy" economic outlook and the surge in new COVID-19 cases.  Both conditions were essentially in place before the selloff.  As we noted in the May 29 AAW, this recession will likely be short, but very deep and with a long recovery.  The Fed's forecast confirmed that expectation.  Why did this confirmation suddenly lead to a sharp selloff?  It probably didn't.  Our take is that equities rallied very far and very fast from the March lows and some degree of consolidation was likely.  On the pandemic, there is no doubt that easing the lockdown will increase infections.  The bigger issue is the ability of the medical sector to handle the increase.  We expect it will, so national or even state lockdowns are not likely.  That doesn't mean local ones won't be necessary.
The key to the rise in equities, we believe, came from two sources; first, equities anticipate and participants realized the recession may be over as soon as next month.  Second, the policy response has been epic and there is no evidence it's over.  Thus, barring something new (war with China, pandemic takes a much more deadly turn, etc.) we probably are not testing the recent cycle low.  However, it is important to note that the recoveries from recession lows often have long, sideways periods.  We would not be shocked to see a period of consolidation.
Tech news:  Twitter (TWTR, 33.03) has uncovered over 32k accounts linked to the governments of China, Russia and Turkey which the company accuses of spreading disinformation.  In addition, the company says another 174k accounts are fake and tied to China.  Social media has become a low-cost conduit for foreign actors to attempt to sow chaos, or sway U.S. public opinion; how the platforms deal with this issue is complicated and is a potential threat to their business models.  In other tech news, major name brands are getting a boost from the European Commission who is pressing tech companies to police the sale of counterfeit goods using the brand names.
Foreign news:  North Korea's rhetoric has turned hostile in recent days.  In a statement on the second anniversary of the U.S./North Korean summit, Pyongyang now says that diplomacy has failed and the country will accelerate its nuclear program.  We continue to gather information on Kim's sister, Kim Yo Jong, who has emerged as a power center in the government, and appears to be unusually hawkish, even by Kim standards.  There are reports that she was instrumental in the recent removal of communication lines between the North and South.  One interesting sideline; North Korea has been illegally selling sand, evading sanctions.  Europe is opening its borders this summer, but with restrictions.
Syrian President Assad has replaced his prime minister; Hussein Arnous is taking over for Imad Khamis.  Syria has seen its economy suffer in recent weeks, likely tied to the pandemic.  The Syrian pound fell to 3k per USD recently.  We suspect Khamis fell from grace due to the slumping economy.  The U.S. and Iraq are opening talks on the future of American troops in the country.  Immediately after the assassination of Soleimani in Iraq, there were calls for ousting U.S. troops.  However, a resurgence of IS and a new PM have led to second thoughts.  We still expect the U.S. to reduce its presence, not just in Iraq but across the Middle East. However the talks suggest that it may not be immediate.
Economic news:  The Fed released the Financial Accounts of the U.S. yesterday for Q1; it was previously known as the "flow of funds" report.  It is a wide set of data about the shape of the economy and the financial system and our first look at the impact of the pandemic.  The net worth of U.S. households fell due to the decline in equities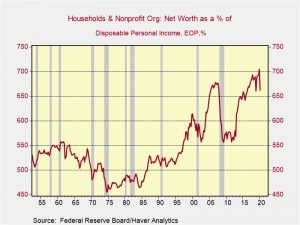 This chart shows net worth compared to after tax income.  The drop is noticeable.  Net worth is $110.8 trillion, down $6.5 trillion from Q4, which is a record.  However, scaling is important, which is why we offer the above graph.
The U.K. economy fell 20.4% in April, compared to March on a non-annualized basis.  This is a spectacular decline but is exacerbated by the short time frame.  Britain, along with Canada, are among the few nations that offer official monthly GDP reports.  In the U.S., Macroeconomic Advisors calculates monthly GDP for the U.S.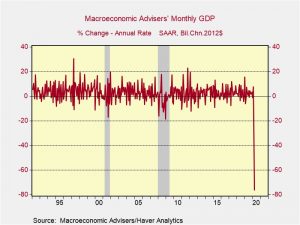 According to their data, the decline in April was -76.3% annualized, or about 11.3% from March, about half as large a decline as reported in the U.K.
One of the datapoints overlooked in the recent employment report was the decline in government employment, which fell 585k.  Virtually all of that decline was in state and local governments, with the latter accounting for 83.3% of the job losses.  Cities and counties are shedding workers are a rapid pace.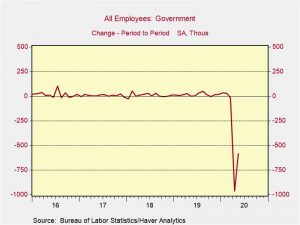 Brexit and trade:  The EU and the U.K. have announced a high-level conference with PM Johnson and Ursula von der Leyen on June 15.  Meanwhile, in deference to U.K. businesses, the Johnson government is planning on reducing border checks on the British side of the EU/U.K. trade even though the EU will likely deploy full checks in the absence of a trade deal.  However, this decision only covers the trade with the continent; the plans for the North Sea remain unsettled.
COVID-19:  The number of reported cases is 7,543,070 with 421,948 deaths and 3,561,804 recoveries.  In the U.S., there are 2,023,347 confirmed cases with 113,820 deaths and 540,292 recoveries.  For those who like to keep score at home, the FT has created a nifty interactive chart that allows one to compare cases across nations using similar scaling metrics.
Virology:
Policy news:  Although there have been signs the EU was making significant steps in creating a continental response to the pandemic, actual legislation remains a slog.  The White House is considering a second round of stimulus; Congress's recess schedule is an additional complication.  There are worries that a round of evictions may hit the economy later this summer.  Investors are beginning to calculate the impact of yield curve control.
China:  China is undertaking a $1.0 trillion campaign into technology research.  It is evident the U.S. and China are engaged in a tech race.