Daily Comment (June 6, 2023)
by Patrick Fearon-Hernandez, CFA, and Thomas Wash
[Posted: 9:30 AM EDT] | PDF
Our Comment today opens with news that a major venture-capital business, Sequoia Capital, is splitting up into components that largely reflect the global fracturing that we've been talking about for so long.  We next review a wide range of other international and U.S. developments with the potential to affect the financial markets today, including the destruction of a major dam and power station amid the war in Ukraine and new U.S. lawsuits against major cryptocurrency businesses.
Global Fracturing:  Venture-capital giant Sequoia announced that it will split into three separate geographically focused partnerships that will be distinct firms with separate brands.  The firm's U.S. and European venture-capital business will retain the name Sequoia Capital, while its Chinese business will split off and change its name from Sequoia China to HongShan, as it's currently referred to in Mandarin.  Sequoia's business in India and Southeast Asia will separate and be renamed Peak XV Partners.
We have been writing extensively about the way the world is fracturing into relatively separate geopolitical and economic blocs. The Sequoia split-up illustrates how this fracturing will have a profound impact on businesses.

Under Sequoia's new structure, the U.S. and European venture-capital business will largely focus on what we call the evolving U.S.-led bloc.
The new HongShan will cover the dominant country in what we refer to as the China-led bloc.
The new Peak XV Partners looks like it will cover many of the countries we believe will end up in either the China-leaning, neutral, or U.S.-leaning bloc.

As with overall global economic production and relationships, Sequoia's split-up will likely reduce some of the firm's efficiency, synergy, and innovation capacity. On the other hand, it will make each entity more resilient and independent as U.S.-China geopolitical tensions threaten to sever cross-bloc trades and investment.  Many other important firms are facing similar tough decisions, as shown by the grilling recently faced by the chairman of Taiwan Semiconductor Manufacturing (TSM, $98.05).
China-Hong Kong-United States:  A former California-based executive of ByteDance claims in a wrongful dismissal lawsuit that the Chinese Communist Party accessed user data from the company's hit TikTok app in order to identify democracy protesters in Hong Kong during its political unrest in 2018.  The accusation is likely to intensify U.S. government efforts to rein in TikTok or perhaps even ban it from the U.S. market.  More broadly, it will probably also heighten concerns about U.S. users' data security on Chinese apps or devices, further worsening U.S.-China tensions.
Russia-Ukraine War:  Shelling overnight has destroyed a major dam and power station in southeastern Ukraine, causing massive flooding and putting the large Zaporizhzhia nuclear power station at risk.  The Russian and Ukrainian governments have accused each other of destroying the facility, but at this point, there appears to be a good chance that the destruction was a desperate attempt by Russia to complicate Ukraine's planned counteroffensive.  Even though the flooding has reportedly washed away many of Russia's trenches and other defensive works in the region and will cause water shortages in Russia-controlled Crimea, the water and soaked ground could preclude any Ukrainian attack in that vector, allowing Russia to shift more troops to other parts of the front lines.
U.S. Cryptocurrency Regulation:  Yesterday, the Securities and Exchange Commission sued leading cryptocurrency exchange Binance for running an illegal trading platform in the U.S., misusing customer funds, and placing those funds with affiliates that had a conflict of interest.  The SEC action adds to the legal attacks on Binance that have been launched by the Commodity Futures Trading Commission and the Justice Department.  In response, key cryptocurrencies and related firms fell sharply yesterday, with Bitcoin (BTC-USD, 25,647.03) ending down 5.2%.
U.S. Artificial Intelligence:  The U.S. Air Force has stepped back from the story we mentioned in our Comment yesterday, in which an official said a drone enabled by artificial intelligence turned on its operator to retaliate for being told to hold off an attack on an enemy air defense installation.  The Air Force now says the official's comments were "taken out of context and were meant to be anecdotal."  Evidently, the story not only touches on some of the risks involved in using AI in military operations, but it also reflects how the hype around AI is encouraging over-the-top claims about the technology.
U.S. Commercial Real Estate Industry:  New analysis from data provider Trepp shows that almost $1.5 trillion of commercial real estate mortgages are maturing over the next three years, the majority of which will likely be interest-only loans.  Those loans will be difficult for borrowers to refinance because banks are currently focused on reducing their exposure to commercial real estate, especially office buildings.  The analysis further clarifies the looming risks in the financial sector as the Federal Reserve continues to hike interest rates.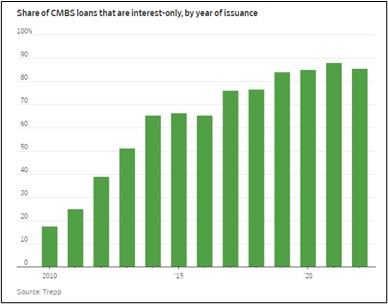 U.S. Labor Market:  Reflecting today's tight labor markets and the way bargaining power has shifted towards workers, members of the Screen Actors Guild have voted to authorize the union to call a strike if its upcoming negotiations for a new work contract with Hollywood studios falls through.  Those negotiations begin tomorrow.  A strike by SAG would add to the current work stoppage by the writers' union and the recent deal with directors that boosted their take of royalties and limited the threat that they could be replaced by artificial intelligence.