Daily Comment (June 28, 2023)
by Patrick Fearon-Hernandez, CFA, and Thomas Wash
[Posted: 9:30 AM EDT] | PDF
Our Comment today opens with some interesting new revelations on the weekend's short-lived rebellion in Russia.  We next review a wide range of other international and U.S. developments with the potential to affect the financial markets today, including signs of growing pushback against the European Central Bank's aggressive interest rate hikes and news of a potential new clampdown on the sale of artificial intelligence-related computer chips to China, which is weighing significantly on technology stocks so far today.
Russia Rebellion: Reports yesterday confirmed that Yevgeniy Prigozhin, the erstwhile ally of President Putin who led his Wagner Group mercenaries in a short-lived mutiny against the Ministry of Defense over the weekend, has landed in Belarus as agreed upon in a deal brokered by Belarusian President Lukashenko to defuse the crisis.  However, the extent to which the Wagner mercenaries will be disarmed or subsumed into the traditional armed forces remains unclear.
Separately, President Putin claims the deal that convinced Prigozhin to cease his march on Moscow involved paying off him and his fighters with billions of dollars from the Russian government.
As we have assessed previously, the incident has surely weakened Putin by undermining his popular image as a strong leader who doesn't brook dissent and doesn't back down from a fight. Putin's admission that he paid Prigozhin and the Wagner fighters billions of dollars would likely further undermine Putin's image.
At the same time, it's entirely possible that Putin is whitewashing the real deal that got Prigozhin to back down. One theory that we find compelling is that the payoff to Prigozhin and his fighters actually came from powerful Russian oligarchs who had much to lose if the country descended into civil war or if Putin were deposed.
In any case, if Prigozhin remains safely ensconced in Belarus, he will likely remain a political threat to Putin and his government for the foreseeable future.
Eurozone: Italian Prime Minister Meloni, in an impassioned speech to parliament earlier today, lashed out at the European Central Bank for its aggressive interest rate hikes.  According to Meloni, the ECB's "simplistic" approach to fighting consumer price inflation would hurt Eurozone member countries more than it would help them.  Meloni said today's high inflation was tied to the last year's energy price shock, implicitly arguing that the ECB should look past the problem.  In any case, her statement points to growing pushback against the ECB's plan to keep raising rates in the near term.
France: The suburbs surrounding Paris were wracked by rioting overnight following an incident in which police officers shot and killed a teenager during a traffic stop.  The violence was touched off after citizen video of the killing showed that police killed the driver, who was apparently unarmed, as he attempted to drive away.  Thousands of police have been deployed to control the rioting, which exacerbates the disruptions caused by this summer's frequent protests against President Macron's unpopular new retirement system reform.
United Kingdom: Senior physicians working for the National Health Service in England have voted to strike for higher pay next month.  We haven't written much about the summer of labor action in the U.K. recently, but the latest vote shows that the country (and government) continues to face increased demands from employees in both the public and private sectors.  To the extent that the strikers win higher pay, it will likely bolster the U.K.'s current high price inflation and prompt still more interest rate hikes by the Bank of England.
Japan-China: In another apparent case of Chinese technology theft, a Chinese researcher at Japan's National Institute of Advanced Industrial Science and Technology (AIST) has been arrested on suspicion of illegally sending research data obtained at the institute to a Chinese company.  The spate of these cases is likely to further worsen relations between China and the major developed countries, which we have frequently argued will likely present risks to investors.
United States-China: As the U.S. clamps down on selling advanced technology with potential military applications to China, sources say Chinese users have developed a large black market in smuggled U.S. computer chips.  The Chinese are reportedly focused on acquiring the graphics processing units (GPUs) needed to train artificial intelligence systems, such as the A100 and H100 from Nvidia (NVDA, 418.76).  The report says the black market has thousands of individual intermediaries sourcing the chips, often at a considerable premium to list prices.
U.S. Cybersecurity: Cybersecurity experts are becoming increasingly concerned about a recent, little-noticed hack of software firm Progress Software Corp. (PRGS, $54.00).  After Russian hackers broke into the company's systems and stole sensitive data from hundreds of its corporate customers, investigators expected the criminals to launch extortion scams against them.  However, now it appears the criminals are focused on sensitive personal data that could be used, in conjunction with deepfake software, to launch more lucrative extortion scams against masses of individuals.
U.S. Uranium Market: As we wrote in our Bi-Weekly Geopolitical Report from May 15, 2023, we think global uranium prices will be buoyed in the coming years by heightened U.S.-China tensions and a potential new nuclear arms race between the two countries.  As if to confirm that viewpoint, a number of nuclear-related asset prices have recently been climbing.  The latest data shows spot prices for uranium (triuranium octoxide) are up roughly 18% year-to-date, while the share price for Canadian uranium miner Cameco Corp. (CCJ, $29.58) is up 29%.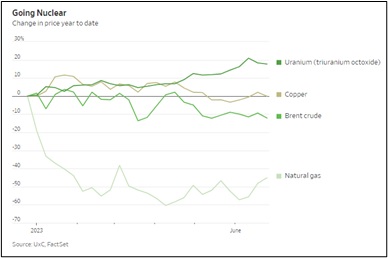 U.S. Private Credit Market: Moody's (MCO, $338.83) has issued a report warning that the young private credit industry faces its first serious challenge as tens of billions of dollars of loans underwritten at the top of the market in 2021 are strained by sharply higher interest costs and a slowing economy.  Nevertheless, the credit rater didn't downgrade its ratings or outlook for any of the major, publicly traded firms in the sector.
U.S. Supreme Court: As we noted in our Comment yesterday, investors are still bracing for the release of several key decisions over the coming days before the court ends its current term on Friday.  The expected decision with perhaps the most implications for businesses will relate to the legality of affirmative action in college admissions.  Whatever the justices rule, the decision is likely to affect affirmative-action policies in corporate settings as well.