Daily Comment (June 26, 2023)
by Patrick Fearon-Hernandez, CFA, and Thomas Wash
[Posted: 9:30 AM EDT] | PDF
Our Comment today opens, understandably, with our observations on the rebellion in Russia over the weekend.  We next review a wide range of other international and U.S. developments with the potential to affect the financial markets today, including a sharp drop in the value of the renminbi as the Chinese economy slows and expected details today on tens of billions of dollars in new subsidies for high-speed internet infrastructure in the U.S.
Russian Rebellion: The world this morning continues to digest the short-lived rebellion in Russia that was called off on Saturday.  As we have often noted in our Comment, financier and oligarch Yevgeniy Prigozhin has had considerable success wielding his Wagner Group mercenaries in support of Russia's invasion of Ukraine, but he had increasingly come into tension with the leadership of the formal Russian military, most notably Defense Minister Shoigu and Chief of the General Staff Gerasimov.  In recent weeks, President Putin appeared to throw his support more toward Shoigu and Gerasimov, leading to a presidential directive that would have brought the Wagner troops under their control starting July 1.  In an apparent preemptive strike, Prigozhin and thousands of his soldiers on Friday launched a "march for justice" toward Moscow with the professed aim of removing Shoigu and Gerasimov.  As Prigozhin and his troops took control of the headquarters of the Russian armed forces' Southern Military District, Putin denounced the march as "treason" and called for Prigozhin's arrest.  However, with the Wagner troops almost two-thirds of the way from Ukraine to Moscow, Belarussian President Lukashenko mediated an agreement in which Putin lifted the arrest warrant and agreed to let Prigozhin escape to Belarus, while Prigozhin ended his march and agreed to allow at least some Wagner troops to be absorbed into the Russian military.  The latest press reports indicate the Wagner troops are indeed returning southward.
While the crisis has apparently been defused for the moment, it is not entirely clear that it is over for good. As of this writing, it appears that Shoigu, Gerasimov, and Prigozhin have still not made any new public appearances.  It is also not entirely clear what the Putin-Prigozhin agreement entailed.  We've seen at least one report saying that Prigozhin will be paid an enormous sum of money to go away, but it's entirely possible he has merely made a tactical retreat.  Another report today suggested he still might be prosecuted for the insurrection.
In very broad terms, the rebellion weakens Russia and probably helps Ukraine by undermining Russian troop morale. Below, we take a first cut at the losers and winners in the crisis, intertwined with some investment implications:

Russian President Putin: Strong Loser. The president's quick about-face in lifting his arrest warrant for Prigozhin, and his military's inability to stop the Wagner column from advancing northward, will likely weaken Putin severely.  To the extent that the power-hungry clans around him smell blood in the water, Putin will now be more likely to face further political threats in the future.  For investors, it's important to remember that Putin could well be replaced by an even more aggressive, nationalist leader, which would be negative for global assets.
Defense Minister Shoigu and Gen. Gerasimov: Losers. The price for Prigozhin's capitulation could well be that Shoigu and/or Gerasimov will be replaced in the near future.  Whoever replaces them could notably shift Russia's approach to the war in Ukraine.
Wagner Chief Prigozhin: Modest Loser. Prigozhin's apparent cold feet and his acquiescence to allowing some of his troops to be brought under control of the formal military probably weakens him politically.  He is also now possibly at elevated risk of being poisoned, pushed out of a window, or otherwise assassinated by Putin, Shoigu, Gerasimov, or their supporters.  On the other hand, Prigozhin probably benefits if Shoigu and Gerasimov are indeed replaced.  Prigozhin also benefits in terms of popular support.  After all, it's notable that he and his troops apparently faced no popular opposition during the rebellion.  Indeed, in video of his withdrawal from the Southern Military District headquarters, local citizens mobbed him like he was a rock star – a scene that will be most uncomfortable for Putin.
Chinese President Xi: Modest Loser. As we've written many times before, Russia has become the junior partner in the evolving China-led geopolitical and economic bloc.  After declaring a "no limits" partnership, President Xi now must face facts that Putin is a problem child that reflects poorly on China and could spark instability on China's northern border.  On the other hand, a weakened Russia makes it easier for Xi to increase China's influence over the resource-rich states of Central Asia.
Ukrainian President Zelensky: Modest Winner. Putin's weakness and Prigozhin's complaint that the invasion was made under false pretenses play into the hands of Ukraine and President Zelensky.  Not only could the chaos of the rebellion offer an attractive opportunity to strike at the Russian invasion troops, but Zelensky will also be able to milk it for more political and military support from the West.
Belarussian President Lukashenko: Winner. After several years when he was especially dependent on Russian support against his domestic political foes, Lukashenko's service in brokering the truce will probably make him a bit less subservient to Putin going forward.
NATO: Winner. This new, dramatic example of Russian instability will probably further improve cohesion among the NATO members.  Importantly, President Orban of Hungary and President Erdogan of Turkey may be forced to temper their sympathetic policies toward Russia.  Erdogan could even become more inclined to lift his veto on Sweden's accession to NATO.
Oil Prices: Winner. Political chaos in a major oil producer such as Russia is likely to heighten concerns over the stability of supplies.  In turn, that's likely to boost global oil prices.  So far this morning, Brent crude is trading higher by approximately 0.5% to $74.41 per barrel.
Turkey: The central bank yesterday eased its "security maintenance requirement," which requires banks to hold lira-denominated securities to back up their foreign-currency deposits.  As one of President Erdogan's many unorthodox economic policies, the security maintenance requirement had aimed to discourage demand for foreign currencies and support the lira.  The easing of the requirement is consistent with the way Erdogan's new finance minister and central bank chief have started to shift Turkish economic policy toward a more orthodox stance to help bring down inflation and stabilize the economy.  We think the improvement in policy will be positive for Turkish assets going forward.
Greece: In parliamentary elections yesterday, the conservative New Democracy Party of Prime Minister Mitsotakis won an outright majority in parliament with 40.6% of the vote.  Preliminary results suggest the left-wing opposition party Syriza came in second with 17.8% of the vote, which will probably prompt its leader, former Prime Minister Aléxis Tsípras, to resign.  The center-left Pasok Party finished third with 11.9% of the vote.  The results confirm that right-wing parties are now in the ascendency throughout much of Europe.
Guyana-OPEC: After recent discoveries of a huge oil field under their tiny nation on the northeastern coast of South America, officials in Guyana are reportedly fending off pressure to join the Organization of the Petroleum Exporting Countries (OPEC).  The officials say their goal is to pump as much oil as quickly as possible in case electrification and green policies push down oil demand in the future.  They fear that being a member of OPEC could require them to hold back output in order to boost prices.
China: The renminbi today has fallen to a seven-month low versus the dollar, reflecting continued concerns about faltering Chinese economic growth.  Slowing growth has already prompted the People's Bank of China to cut some key interest rates, even as the major developed country central banks keep hiking rates.  So far this morning, the currency is down 0.7% to 7.2307 per dollar.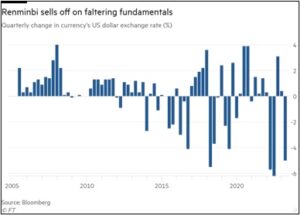 U.S. Defense Budget: In a letter to Defense Secretary Austin, several founders and investors in defense-focused technology companies warned that the Pentagon must improve how it procures high-technology systems from private firms to avoid falling behind U.S. adversaries such as China.  The signatories propose a series of recommendations, such as providing $20 billion in additional spending toward corporate research and development projects and the creation of a $250 million bridge fund to help companies further develop technology that has been proven to work.  The letter serves as a reminder that the long-term uptrend in defense budgets that we expect will benefit not only traditional defense contractors, but also software and other technology firms.
U.S. Broadband Subsidies: The White House today is expected to announce how much each state will receive out of the 2021 infrastructure bill's $42.5 billion in subsidies for broadband development.  As required by the law, the disbursement plan will be based on a new, more accurate map of where high-speed internet service is missing.  Funds are expected to start flowing to states and territories early next year and could fund projects as soon as mid-2024.