Daily Comment (June 24, 2022)
by Patrick Fearon-Hernandez, CFA, and Thomas Wash
[Posted: 9:30 AM EDT] | PDF
Good morning. Today's Comment starts with an overview of Federal Reserve Chair Jerome Powell's testimony to the House Financial Services Committee. Next, we provide an update on the latest developments regarding the Russian invasion of Ukraine. Afterward, we briefly discuss the rise in home prices, commodity-related news, and the ECB's reluctance to use its new bond purchasing tool. We conclude with our daily COVID-19 coverage.
Note:  Because COVID-19 has become more endemic and in most countries isn't disrupting the economy or politics as much as it did previously, we will drop our dedicated COVID-19 section beginning July 1.  We will continue to cover pandemic news as needed within our main text.
Jerome Speaks: Fed Chair Jerome Powell testified for the second day on Capitol Hill. Powell reiterated his testimony that his commitment to fighting inflation is "unconditional." He added the Fed would be reluctant to cut interest rates unless there was clear evidence that inflation was coming down. The current Fed projection shows that the central bank expects to raise rates between 3.25% to 3.50% by the end of 2022. The Federal Reserve benchmark rate is currently between 1.5% and 1.75%. Powell's hawkish tone has contributed to concerns the Fed will not be able to achieve a soft landing.  U.S. bond prices rallied as fears over a recession led to a flight to safety into safe-haven assets. The U.S. 10-year Treasury has dropped over 20 bps since Tuesday; investors are pricing in the possibility of a recession. Meanwhile, there was a notable shift in equities toward defensive stocks.
Russia-Ukraine update: Russian forces continue to advance throughout eastern Ukraine, but Moscow is still looking for help from its allies. On Thursday, Ukrainian officials announced its troops in Severodonetsk would retreat, and soldiers in Lysychansk also expect orders to withdraw. Ukraine does not believe its military has enough forces to maintain the regions and will probably shift troops to other areas. The outcome is a symbolic victory for Russia, as it now has significant control over the Donbas. Moscow will probably ask that Ukraine cede the region as a requirement for any peace deal. This arrangement will likely be a nonstarter for President Zelensky, who has vowed not to give up any land to Russia. That being said, Ukraine's ability to stay in the war depends on the weapons it receives from the West. The U.S. announced Thursday that it would provide Ukraine with an additional $450 million in military aid and advanced weaponry. The extra support will help Ukraine maintain its fight against Russia.
Despite its new gains, Russia would like help from Belarus because it is running low on troops and supplies. Belarusian forces have started military exercises along the Ukrainian border. The activities appear to be an intimidation tactic, but Ukrainian officials have warned the exercises could provoke a conflict. Belarusian President Alexander Lukashenko does not have the political support to intervene in the war. A survey found that only 11 percent of Belarusians support their country getting involved in the war in Ukraine. Besides the lack of support, there is uncertainty regarding whether Belarus will significantly affect the conflict. As a result, Belarus is unlikely to get involved in the conflict, making it harder for Russia to sustain its current momentum.
Rising home prices: Elevated prices and rising mortgage rates have made homes less affordable for many potential homebuyers. According to John Burns Real Estate Consulting, the cost of owning a home has now surpassed the cost to rent. However, the increase in the price of homes is due to demand far outpacing supply. The lack of materials and labor supply has made it difficult to finish projects. As a result, for the first time in at least 30 years, the number of homes completed exceeds that of homes under construction.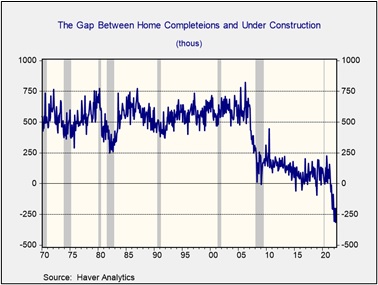 The lack of inventory has supported home prices; however, research suggests this trend will not hold for some cities. Chief Economist Mark Zandi from Moody's Analytics projects home prices in overvalued markets will fall over the next few months. This cooling has already shown up throughout the Sun Belt. Despite the possibility of a decline in home prices, Zandi does not believe the housing market will collapse. A drop in residential prices will affect consumer confidence, as most households derive their wealth from home values. We suspect a slowdown in housing will lead to lower levels of consumption and could add to recession fears
Commodities: Nuclear energy is making a comeback in the West. A push for cleaner energy sources and Western countries' desire to reduce their dependence on autocratic governments for fossil fuels has led governments to reconsider nuclear energy. The U.S. and France have already started working on developing nuclear reactors, while Germany is considering pausing its plan to close its three remaining plants. This shift toward nuclear will probably relieve some of the demand pressure for natural gas. Countries are struggling to expand their nuclear capacity because of a lack of knowledge and labor. We suspect nuclear energy will probably be a target for future investment as it is one of the most convenient options for countries looking to use clean energy.
European Central Bank: The ECB is reluctant to implement its bond-purchasing program tool as it is not sure how it will thread the needle of being transparent enough to avoid legal challenges while still being ambiguous enough to prevent speculation. The tool was designed to avert financial fragmentation as the central bank starts its tightening cycle. It will effectively prevent the spread of bond yields among Euro members by purchasing bonds from vulnerable countries like Italy. So far, the market has responded well to hearing the news that the ECB will intervene, but it isn't clear how long they can maintain this charade without actual policy action. Banks within the Eurozone region will be sensitive to this policy shift, and thus, we recommend investing with caution.
COVID-19: Official data show confirmed cases have risen to 541,972,784 worldwide, with 6,325,883 deaths. The countries currently reporting the highest rates of new infections include the U.S., Taiwan, Germany, and Brazil. (For an interactive chart that allows you to compare cases and deaths among countries, scaled by population, click here.) In the U.S., confirmed cases have risen to 86,757,627, with 1,015,342 deaths. In data on the U.S. vaccination program, the number of people considered fully vaccinated now totals 222,123,223, equal to 66.9% of the total population.