Daily Comment (June 21, 2022)
by Patrick Fearon-Hernandez, CFA, and Thomas Wash
[Posted: 9:30 AM EDT] | PDF
Our Comment today opens with an update on the Russia-Ukraine war, where Russian forces continue their creeping seizures of territory in eastern Ukraine, and President Putin keeps trying to undermine Western support for Kyiv by cutting off energy exports to Europe.  We next review other international and U.S. developments with the potential to affect the financial markets today, with a particular focus on leftist political victories and labor unrest.  We wrap up with the latest news on the coronavirus pandemic.
Note: Because COVID-19 has become more endemic and in most countries isn't disrupting the economy or politics as much as it did previously, we will drop our dedicated COVID-19 section beginning July 1.  We will continue to cover pandemic news as needed within our main text.
Russia-Ukraine:  Russian forces continue to make slow progress in seizing territory in Ukraine's northeastern Donbas region, and they have reportedly been ordered to take the entire Luhansk administrative region by next Sunday.  They now control virtually all of Severodonetsk except for its Azot industrial complex.  They are also fighting hard to keep the Ukrainians from pushing them all the way to the Russian border north of Kharkiv.  Meanwhile, the Ukrainian military over the weekend appeared to step up its artillery and missile attacks in the Donbas, presumably using new, more advanced weapons arriving from the West.  The Russians retaliated with missile attacks on cities across Ukraine.  Russian authorities continue to struggle with consolidating control of occupied territories in the face of persistent Ukrainian partisan pressure.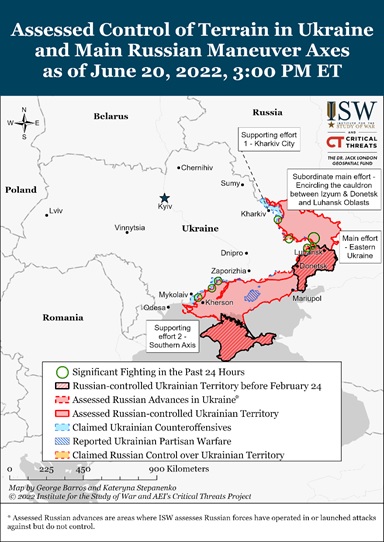 China:  On Friday, the navy launched its third aircraft carrier, christened Fujian.  The vessel will now require about two years of fitting out and sea trials before entering service around 2024.
Fujian will bring China a step closer to its goal of being able to project carrier air power in both the western Pacific Ocean and the Indian Ocean.

As a rule of thumb, an aircraft carrier can only be on station about one-third of the time.  It would spend another third of the time in port undergoing maintenance and a final third in transit and training.
To meet its goal of being able to project power in both oceans simultaneously and continuously implies China will ultimately try to build out at least six modern carriers, along with their battle groups.  (For comparison, the U.S. currently has 11 carriers in service to protect its interests globally.)
Since China's currently deployed carriers, Shandong and the Liaoning, are much less modern and capable than Fujian, they probably wouldn't be included in the target of six carriers.  That implies China will likely build at least five more carriers in the coming years.

Although Fujian is somewhat smaller than the latest U.S. carriers, she marks a step-up in capability from Shandong and Liaoning.  Notably, Fujian sports three electromagnetic catapults in her bow, allowing her to launch a wider variety of aircraft and get those assets in the air at a much faster cadence than China's older carriers, which rely on an un-catapulted "ski jump" launch system.
Global Left-Wing Populism:  While the military developments described above are important, electoral victories by left-wing populists in Europe and Latin America over the weekend could be just as consequential.
In France, a new coalition of left, far-left, and green parties known as NUPES surged to win enough districts in run-off legislative elections to deprive President Macron's centrist alliance of its majority in the National Assembly.  Of the 577 seats in parliament's lower house, Macron's coalition will have 245, the NUPES alliance will have 131, the far-right National Rally will have 89, and the center-right Les Républicains will have 61.
Meanwhile, in traditionally conservative Colombia, former Marxist rebel and Bogotá mayor Gustavo Petro handily won the presidential election over right-wing populist and real estate tycoon Rodolfo Hernández.  As his country's first leftist president, Petro has vowed to provide greater support for lower-income Colombians by hiking taxes on the rich, boosting spending on health and other public services, and implementing other wealth-redistribution policies.  Petro's other stated priorities include strengthening Colombia's environmental protection regulations (including a ban on new oil and gas developments) and building closer relationships with Chile, Venezuela, and other leftist-led countries in the region.
We have long argued that politics today can't be divided simplistically between left and right.  Each wing is now riven between elites and populists.  Right-wing populists have been ascendent in recent years, but one could argue that's only because of "elite capture," in which wealthy, well-educated, professional politicians have molded their rhetoric to the anger and anxieties of working-class conservatives, even though their true focus is on promoting elite interests like low taxes on capital and minimal regulation.  One could also argue that other elites have hijacked the concerns of many working-class liberals, say, by embracing identity politics.

The new left-wing populist victories in Europe and throughout Latin America are a reminder that either flavor of elite capture could leave working-class voters deeply disappointed and disrespected.
Those voters could remain susceptible to shifting their allegiance to the other wing so long as economic inequality and lack of opportunity are unaddressed.
Global Labor Unrest:  Along with the resurgence in left-wing populist political movements, we are also seeing a resurgence in labor unrest.
In the U.K., some 40,000 workers at 13 separate railroad companies have gone out on strike after failing to secure a new contract granting higher wages, better working conditions, and protection from layoffs.  The strikers plan to shut down the nation's railways today, Thursday, and Saturday, while workers at London's subway system plan to strike today as well.  The action, which will be Britain's biggest rail strike in a generation, could continue indefinitely and may spread to other industries.
In Canada, signal and communications workers at Canadian National Railway (CNI, $108.11) on Saturday went on strike after they rejected a company offer to raise wages by 10% and improve other benefits in a new three-year contract.
In the U.S., workers at an Apple (AAPL, $131.56) retail store in Baltimore became the company's first to vote to unionize.  Just as important, there is a risk that West Coast longshoremen will strike when their contract expires next month.
Global Cryptocurrency Market:  In South Korea, prosecutors have banned Terraform Labs employees from leaving the country amid an investigation into the company and its co-founders following the late-May collapse of its TerraUSD stablecoin.
The criminal investigation in South Korea is just one of many legal actions launched in response to the TerraUSD debacle.
The collapse has helped drive down the value of other digital assets.  Over the weekend, Bitcoin (BTC-USD, $21,035.50) fell as low as $17,744.90 before recovering modestly.
Israel:  Prime Minister Bennett, whose fragile coalition has recently started to splinter, said he would dissolve parliament and call for new elections.  Polls show Former Prime Minister Netanyahu's Likud party is currently the most popular, but not so popular that it could win an outright majority in parliament when the elections are held sometime in the coming months.
U.S. Monetary Policy:  Over the weekend, two Federal Reserve officials signaled the central bank would continue to hike interest rates aggressively at its next policy meeting in July.  After the Fed's big 75-basis-point hike in the benchmark fed funds rate last week, board member Christopher Waller said he would support a similar-sized move in July so long as economic data continues to show strong growth and high inflation.  Separately, St. Louis FRB President Bullard said the Fed has to meet investors' expectations for continued big rate hikes.  Cleveland FRB President Mester said it would take a couple of years to return consumer price inflation to the Fed's target of 2%.
U.S. Fiscal Policy:  President Biden said he hopes to decide by the end of this week whether to ask Congress to suspend the federal gasoline tax temporarily to help bring down the cost of fuel.  The federal tax of 18.4 cents per gallon amounts to 3.7% of today's average retail price of $4.98 per gallon.
U.S. Economy:  Economists surveyed by the Wall Street Journal have dramatically raised their estimate of the probability of recession, now putting it at 44% in the next 12 months.  A recession likelihood at that level usually is seen only on the brink of or during actual recessions.  The increased probability reflects pressures ranging from the Fed's ongoing rate hikes to high energy prices, the economic slowdown in China, and the war in Ukraine.
COVID-19:  Official data show confirmed cases have risen to  539,783,312 worldwide, with 6,320,517 deaths.  The countries currently reporting the highest rates of new infections include the U.S., Taiwan, Germany, and Brazil.  (For an interactive chart that allows you to compare cases and deaths among countries, scaled by population, click here.)  In the U.S., confirmed cases have risen to 86,297,195, with 1,013,493 deaths.  In data on the U.S. vaccination program, the number of people considered fully vaccinated now totals 221,924,152, equal to 66.8% of the total population.
Virology
In the U.S., the latest wave of infections appears to be topping out, but hospitalizations are still accelerating with their usual lag.  The seven-day average of newly reported cases stands at 96,417, down 3% from two weeks ago.  The seven-day average of people hospitalized with confirmed or suspected COVID-19 came in at 30,076 yesterday, up 3% from two weeks earlier.  New COVID-19 deaths are now averaging 311 per day, up 17% from two weeks earlier.
China remains the key outlier in terms of global pandemic responses with its draconian "zero-COVID" policies.  Over the weekend, hundreds of guests at a casino in Macau were put under lockdown after a mass testing program revealed numerous infections.
Economic and Financial Market Impacts