Daily Comment (June 13, 2022)
by Patrick Fearon-Hernandez, CFA, and Thomas Wash
[Posted: 9:30 AM EDT] | PDF
Our Comment opens with an update on the Russia-Ukraine war; Russian forces continue to make some plodding progress in seizing territory in eastern Ukraine, while the Ukrainian forces look like they're facing more problems with ammunition shortages.  We next review other international and U.S. developments with the potential to affect the financial markets today.  We wrap up with the latest news on the coronavirus pandemic.
Russia-Ukraine:  Russian forces continue to attack and seize small areas of Ukraine's eastern region of Donbas while maintaining defensive lines in the areas it has seized in the south of the country.  In the Luhansk and Donetsk oblasts in the Donbas region, the Russians continue trying to encircle Ukrainian forces and take control of the strategically important city of Severodonetsk.  Ukrainian troops continue to repel many of the Russian attacks.  However, officials in Kyiv say the Ukrainian military is running low on ammunition for its Soviet-era artillery and has not received enough supplies from its allies to keep the Russians at bay.  The shortage of ammunition has put Ukrainian troops at a growing disadvantage in the artillery-driven war of attrition in the country's east, with Russia's batteries now firing several times as many rounds as Ukraine's.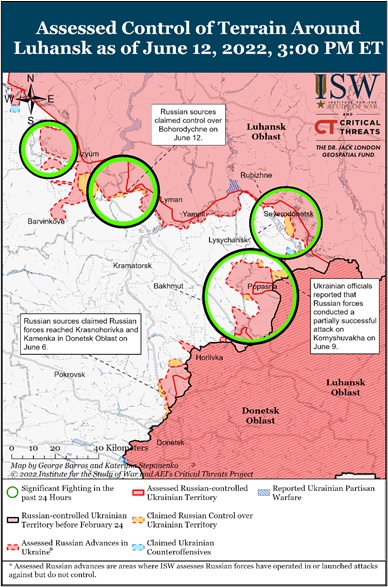 Global Market Rout:  Global investors are selling off a wide range of assets today as they respond to Friday's report of accelerating consumer price inflation in the U.S. and weekend news of new COVID-19 cases in China.  At least one survey showing a large majority of academic economists now expect rising interest rates and high inflation to push the U.S. into a recession by next year, along with higher unemployment.  Major stock price indexes around the world are down sharply, with futures on the S&P 500 suggesting U.S. stocks will open in bear market territory.  Bitcoin and other major cryptocurrencies have fallen especially sharply after $12 billion crypto lender Celsius Network halted customer withdrawals in the latest sign of intensifying strains across the digital assets industry.  The value of Bitcoin (BTC-USD, 23,789.58) is now down almost 20% since Friday.
Now that the stage seems set for the Federal Reserve and other major central banks to hike interest rates even more aggressively, government bonds are also selling off.  At this writing, the yield on the 10-year Treasury note has risen to an 11-year high of 3.238%, compared with 3.156% on Friday.
In contrast, the dollar continues to strengthen, especially against the yen, which continues to be hammered by the Bank of Japan's commitment to yield curve control.  As of this writing, the yen is trading at approximately 135 per dollar, its weakest level since 1998.  The BoJ today made its biggest daily fixed-rate purchase of government bonds since July 2018 to keep Japanese 10-year yields at or below the bank's 0.25% ceiling.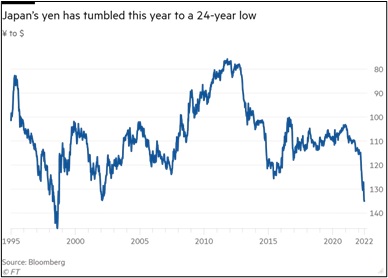 China:  Securities regulators and industry associations have instructed local and foreign banks to rein in executive pay levels, despite recent signs that President Xi Jinping was moderating his drive to promote "common prosperity" in other key sectors, especially high technology.  The news could be another reason for today's rout in global risk markets.
Japan-South Korea:  In another important signal that Japan and South Korea are set to bury the hatchet on some other their outstanding grievances against each other, South Korean Defense Minister Lee Jong-sup said at the big Shangri-La Dialogue in Singapore that his country plans to step up cooperation with Japan over regional security threats.  Lee specifically mentioned working with Japan to counter North Korea's missile threats, but the cooperation would also be useful to counter China's growing assertiveness in the region.
United Kingdom-European Union:  Prime Minister Johnson's government today plans to unveil a proposed law that would rewrite the Brexit agreement's Northern Ireland protocol by ending the oversight role of the European Court of Justice as well as EU control over state aid and value-added tax in the region.  EU leaders have fiercely criticized the plan, which would likely worsen trade ties between the two economies and potentially feed into the global supply disruptions that are helping boost inflation.
France:  In the first round of legislative elections over the weekend, Jean-Luc Mélenchon's leftist alliance gained strong support, although probably not enough to give it a majority in the National Assembly in the final-round voting next weekend.
COVID-19:  Official data show confirmed cases have risen to  535,316,609 worldwide, with 6,309,612 deaths.  The countries currently reporting the highest rates of new infections include the U.S., Taiwan, Germany, and Australia.  (For an interactive chart that allows you to compare cases and deaths among countries, scaled by population, click here.)  In the U.S., confirmed cases have risen to 85,515,980, with 1,011,277 deaths.  In data on the U.S. vaccination program, the number of people considered fully vaccinated now totals 221,714,657, equal to 66.8% of the total population.
In the U.S., the latest wave of infections already appears to be topping out, although hospitalizations are still accelerating with their usual lag.  The seven-day average of newly reported cases now stands at 103,193, down 6% from two weeks ago.  The seven-day average of people hospitalized in the U.S. with confirmed or suspected COVID-19 came in at 29,672 yesterday, up 10% from two weeks earlier.  New COVID-19 deaths are now averaging 331 per day, down 11% from two weeks earlier.
In both mainland China and Hong Kong, cases are starting to rise again, raising the risk of further strict lockdowns that could disrupt factory production, exacerbate global supply disruptions and inflation, and further encourage some firms to relocate production to other countries.  Under President Xi's draconian "zero-COVID" policies, the problem isn't just lockdowns but an onerous system that requires people to undergo constant testing and to have testing certificates before accessing many public services or going to public venues.  That increases the chance that the Chinese population will eventually push back against Xi and his policies.
Taiwan is also seeing a rebound in cases, raising the prospect of further disruptions in its globally important semiconductor factories.