Daily Comment (June 9, 2022)
by Patrick Fearon-Hernandez, CFA, and Thomas Wash
[Posted: 9:30 AM EDT] | PDF
In today's report, we examine the recent weakness in the yen. Up next, we review the latest developments in the Russia-Ukraine war. We briefly discuss some international and U.S. news stories and close with our COVID-19 coverage.
 Dovish BOJ: The yen depreciated to a 20-year low against the dollar following concerns that the Bank of Japan will maintain its accommodative monetary policy while other central banks tighten. The sell-off in the currency was ignited after BOJ Governor Haruhiko Kuroda stated consumers have become more tolerant of higher price rises. Although Kuroda issued a retraction, the remark was viewed as a signal that the central bank may not remove policy accommodation to rein in rising inflation. The latest CPI report showed prices rose 2.4% in April, the fastest pace in over eight years.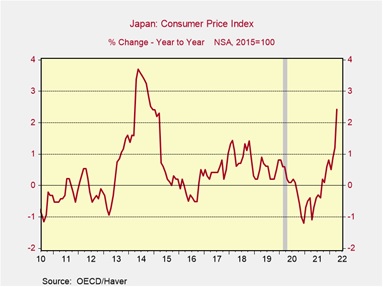 Japan's high debt burden and reliance on exports for growth likely contributed to the country's hesitancy to raise rates. Earlier this month, Prime Minister Fumio Kishida walked back an audacious pledge to balance the government's budget by 2025. The change in tone suggests Tokyo would like to reduce its debt burden without hurting the economy. Japan has the highest government debt among advanced economies, so raising rates would complicate government efforts to reduce its debt burden. Moreover, Japan's reluctance to raise rates along with other countries would also allow its currency to depreciate against other countries, therefore making its exports relatively more competitive. Delaying monetary tightening could potentially backfire. Japan imports over 90% of its energy resources. As a result, a declining yen would worsen the inflationary impact of rising commodity prices, therefore hurting business profitability, household budgets, and possibly slowing economic growth. That being said, the yen could strengthen if the U.S. were to slow down significantly or contract.
 Russia-Ukraine update:  Russian forces continue focusing on taking over the Donetsk and Luhansk oblasts in Eastern Ukraine. There have been reports that Russia has seized control over Severodonetsk; however, Ukrainian officials have maintained that fighting is still taking place in the city. Ukrainian forces have focused their strategy on increasing the number of casualties rather than controlling the entire city. Meanwhile, Russia has engaged in informational warfare through social media and text on personal devices. Russia has used these platforms to threaten to harm Ukrainian soldiers or their family members if they do not surrender. The messages are intended to dent Ukrainian troops' confidence, so they will not keep up the fight. Russia has been able to make substantial gains within Severdonetsk.
Other Russia-Ukraine news:
The West appears to be less committed to isolating Russia. Former German Chancellor Angela Merkel warned that isolating Russia cannot be sustained in the long run. Her comments contrasted starkly with President Biden, who stated he wanted Russia to be a pariah state as long as Putin was in charge. The difference in viewpoint suggests the West, particularly the U.S. and EU, are not on the same page regarding how to deal with Russia, particularly as the war continues indefinitely. The divide over how to proceed with Russia could lead to further disagreements further down the road.
The UN warns that the war in Ukraine will increase the risk of world hunger. Talks to help end the blockade of the Black Sea have stalled due to Russia's refusal to allow ships to leave the main port of Odesa and Ukraine's reluctance to open itself up to more attacks. Food shortages have been associated with rising instability in developing countries, particularly in the Middle East and Sub-Saharan Africa. We could see political turmoil spread in other parts of the world due to food shortages.
Russian inflation decelerated at a faster than expected pace in May. The slowdown in price increases suggests households may be adjusting to the sanctions. Inflation remains elevated, rising 17.1% from the prior year in May.

The Russian Central Bank is expected to reduce interest rates at its next meeting on Friday. The move is designed to encourage lending and stimulate economic growth.
International news:
 Chinese regulatory crackdown on its tech sector appears to be easing. This week, authorities ended their probe of the Chinese ride-sharing app Didi (DIDI, $2.51), cleared several video games for release, and there are rumors of a potential revival of the ANT Group Co. IPO[1]. The change in sentiment appears to be driven by Beijing's desire to encourage more investment. It may be too soon to say whether the crackdown is ending, but the recent activity provides a favorable outlook for Chinese tech stocks.
U.S. Economic and Policy news:
The SEC is looking into overhauling the equity market to increase competition among traders. One potential rule change would require firms to route individual investors' orders into auctions. The proposed measures appear to be in response to last year's meme stock trading bonanza and suggest retail brokerages are coming under increased scrutiny from regulators.
The Biden administration is looking to "reconfigure" tariffs imposed under President Trump to reduce price pressures. Treasury Secretary Janet Yellen stated that even though removing tariffs could help ease inflation, it is not the remedy.
The U.S. is actively discussing with its European allies about forming a buyer's cartel and setting a cap on Russian oil. The goal would be to keep Russian oil on the market to satisfy the demand from India and China while limiting the amount of revenue Moscow can generate from sales. Buyers' cartels have existed in the past; however, they have not lasted long due to conflicting interests among members.
COVID-19:  Official data show confirmed cases have risen to 533,761,253 worldwide, with 6,305,225 deaths. The countries currently reporting the highest rates of new infections include the U.S., Taiwan, Australia, and Germany. (For an interactive chart that allows you to compare cases and deaths among countries, scaled by population, click here.) In the U.S., confirmed cases have risen to 85,214,036, with 1,010,520 deaths. In data on the U.S. vaccination program, the number of people considered fully vaccinated now totals 221,567,092, equal to 66.7% of the total population.
---
[1] Officials have stated that these rumors were false.