Daily Comment (June 8, 2022)
by Patrick Fearon-Hernandez, CFA, and Thomas Wash
[Posted: 9:30 AM EDT] | PDF
Our Comment today begins with an update on the Russia-Ukraine war, where it appears neither side achieved any substantial territorial gains over the last day.  The more important news from the war is that we are seeing the first signs of significant insurgency attacks by Ukrainian partisans in areas controlled by the Russians.  We next review other international and U.S. developments with the potential to affect the financial markets, including an important revelation that China is apparently developing its second overseas military base in Cambodia.  We wrap up with the latest news on the coronavirus pandemic.
Russia-Ukraine:  In contrast with their recent modest gains, Russian forces yesterday appeared to take no new ground in Ukraine.  Although they staged attacks in several areas, they appeared to be concentrating on repositioning to support future offensives.  There were also no reports of significant new Ukrainian advances.  Meanwhile, Russian military bloggers have accused Ukrainians of artillery strikes against civilian areas far behind Russian lines, probably to discourage NATO countries from sending new, more advanced artillery and missile systems.  Separately, the Kremlin has intensified its effort to hide the scale of Russian casualties in the war.  According to the Institute for the Study of War, the Kremlin is threatening to nullify financial compensation to the families of Moskva crew members if they publicly discuss the sinking of the cruiser.  Some relatives, to protest, have refused to meet with Black Sea Fleet commanders in Sevastopol.
 China-Cambodia:  Western officials have revealed that China is secretly building its second overseas navy base in Cambodia, next to that country's Ream Naval Base (see map below).  Like China's first foreign base, on the eastern coast of Africa in Djibouti, the Cambodian base would be for the exclusive use of China and would be able to berth the largest Chinese warships.  Separately, new satellite imagery shows that China's third aircraft carrier is nearing completion at a shipyard north of Shanghai and could be launched soon, although it likely wouldn't enter service until 2024.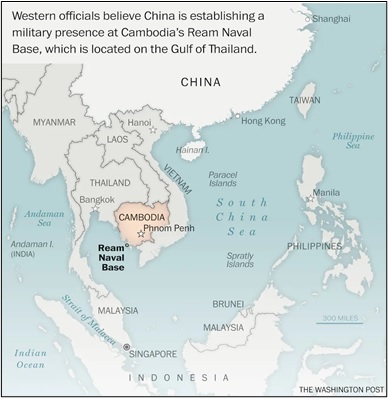 Together, the bases in Djibouti and Cambodia would complement China's suspected extensive network of secret military-use agreements at port facilities it has financed around the world under its Belt and Road Initiative.

U.S. officials suspect China was secretly trying to develop a similar naval base on the Persian Gulf in the United Arab Emirates until it was discovered last year.
Responding to U.S. protests, the UAE has apparently put that project on ice.

Having a facility capable of hosting large naval vessels west of the South China Sea would be an important element of China's ambition to expand its influence in the region and strengthen its presence near key Southeast Asia sea lanes.
The Chinese government denies that it is building an exclusive naval base in Cambodia, consistent with its habit of developing such facilities in secret and then presenting them to the world as a fait accompli.  The Cambodian government also denies the report, probably because the country's constitution doesn't permit foreign military bases or presence on Cambodian soil.  Cambodia's secrecy about the project also appears to reflect its effort to straddle the fence between the U.S. and China as they struggle for geopolitical supremacy.

In our recent Bi-Weekly Geopolitical Report, we classified Cambodia not in the "China" political and economic bloc but in the "Leaning Toward China" camp.
Consistent with that, the Cambodians continue trying to maintain some ties with the U.S. and its allies, even voting at the UN to condemn Russia's invasion of Ukraine and supporting the Biden administration's special U.S.-ASEAN summit last month.
Of course, those pro-U.S. moves could simply aim to cover up Cambodia's growing ties with China.

China's aggressive, non-transparent expansion of its military presence will further raise tensions with the West.  Now that Russia's aggression against Ukraine has taught the U.S. and its allies to coalesce in the face of danger, China's military development will likely do the same, further fracturing the world into rival geopolitical and economic blocs.  The result will be a greater risk of war, shortened supply chains, higher costs and inflation, lower profits, and fewer good investment opportunities in the future.
China Tech Stocks:  Chinese internet stocks today jumped to a three-month high after regulators cleared dozens of videogames for release, a move investors welcomed as a new sign that Beijing is softening its stance on the technology sector.  Hong Kong's Hang Seng Tech Index advanced 4.8% to close at its highest level since early March.
Sri Lanka:  Despite months of street protests against him, President Gotabaya Rajapaksa said he would not resign, although he did promise not to run again when his current term in office expires in two years.  The statement likely means that the country's political unrest will continue for the time being.
Turkey:  President Erdogan has once again vowed to keep cutting interest rates despite the country's spiraling inflation, prompting yet another big drop in the lira.  At this writing, the currency is trading at approximately 17 per dollar, down 21.6% from the end of 2021.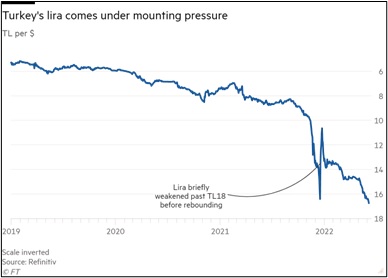 U.S. Fiscal Policy:  In testimony before Congress yesterday, Treasury Secretary Yellen admitted that high consumer price inflation has been more persistent than she expected.  However, she also tried to shift some of the blame to Congress, saying lawmakers could help moderate the problem by passing measures to reduce prescription drug prices, improve access to affordable housing, and bolster investments in renewable energy.
U.S. Bond Market:  According to one of its top investment officers, hedge fund giant Bridgewater is betting that inflation in the U.S. and Europe will prove far stickier than expected, prompting central bankers to hike interest rates so aggressively that they produce a major economic slowdown and a sell-off in corporate bonds.
We share some concerns that Bridgewater has.  Against the backdrop of today's higher bond yields, we have recently increased our allocations to fixed income in our asset allocation strategies that seek yield, but we have emphasized government bonds over corporates.
We see an elevated risk that the Federal Reserve and/or other major central banks might tighten monetary policy too quickly or aggressively, causing problems not only for corporate bonds but also for equities.
We note that municipal bonds have recently staged a modest rebound after their sell-off earlier in the year.
U.S. Cryptocurrency Regulation:  Two U.S. senators are reportedly set to introduce a bill that would lightly regulate the digital currency markets while trying to keep alive opportunities for innovation in the space.  However, Congressional aides said the bill has little chance of advancing through the Senate this year. Similar legislation introduced by crypto-friendly lawmakers in the House has languished.
COVID-19:  Official data show confirmed cases have risen to  533,134,707 worldwide, with 6,302,551 deaths.  The countries currently reporting the highest rates of new infections include the U.S., Taiwan, Australia, and Germany.  (For an interactive chart that allows you to compare cases and deaths among countries, scaled by population, click here.)  In the U.S., confirmed cases have risen to 85,008,228, with 1,009,338 deaths.  In data on the U.S. vaccination program, the number of people considered fully vaccinated now totals 221,559,553, equal to 66.7% of the total population.