Daily Comment (June 7, 2022)
by Patrick Fearon-Hernandez, CFA, and Thomas Wash
[Posted: 9:30 AM EDT] | PDF
We open our Comment today with an update on the Russia-Ukraine war, where the Russians continue to gain small amounts of territory in eastern Ukraine while the Ukrainians stage modestly successful counterattacks.  We next review a range of international and U.S. developments with the potential to affect the financial markets today, and we close with the latest news on the coronavirus pandemic.
Russia-Ukraine:  The Russian military continues to make slow, plodding progress toward its scaled-down goal of seizing Ukraine's eastern Donbas region and southern coast, but because of continued leadership and operational errors, it also continues to take heavy losses in terms of commanders, troops, and equipment.  In fact, new reporting suggests that not one but two Russian generals were killed in the Donbas region last week, bringing the total number of Russian generals killed in the war to 12.  Meanwhile, Ukraine's smaller but highly motivated and well-led military continues to carry out successful counteroffensives as it receives more advanced weapons from the West.  As an example of the weapons shipments, reports yesterday said the Spanish government is working to send German-made Leopard tanks and anti-aircraft missiles to Ukraine and help train Ukrainian soldiers to use them.  Separately, it appears Western anti-ship missiles have allowed the Ukrainians to force the Russian navy away from Ukraine's coast.  According to the Institute for the Study of War, "Ukraine will likely attempt to leverage these successes to alleviate the economic pressure of the Russian blockade on Ukraine's ports and seek additional economic support from the west, including possibly opening up new routes for international aid to Ukraine."
In an interview with the Financial Times, Ukrainian President Zelensky said he could not accept a stalemate in the battle with Russia.  Instead, he reiterated that his war aim is for Ukraine to regain full control of its territory.
On a less positive note, new reporting suggests the Ukrainians have retaken less of the strategic eastern city of Severodonetsk than was reported yesterday.  Heavy street fighting continues there today.
In Sweden, the ruling Social Democratic Party managed to defeat a right-wing effort in parliament to dislodge the country's justice minister, but only after pledging support for Kurdish groups in Syria in order to secure the pivotal vote of a Kurdish legislator.  Given Turkish President Erdogan's anger at Sweden for its support of the Kurds, the move will likely prolong Ankara's stonewalling of Sweden's bid to join NATO.
Russia's Foreign Ministry said it would impose sanctions on dozens of U.S. nationals in response to U.S. sanctions on Russians. The list of 61 Americans published by the ministry includes government officials and current and former executives at a range of large U.S. corporations. The ministry didn't specify what the sanctions would involve.
 Australia:  The Reserve Bank of Australia hiked its benchmark short-term interest rate by an unexpectedly aggressive 50 basis points, lifting the official cash rate to 0.85% from 0.35% previously.  The hike was the RBA's biggest since February 2000.  After a 25-basis-point hike in May, it also marked the institution's first back-to-back rate increase since 2010.
Nevertheless, the policymakers signaled further rate hikes would follow if necessary to tame inflation.  After a period of relatively muted price hikes, inflation in Australia has started to accelerate in response to factors like supply disruptions from the pandemic, the Russia-Ukraine war, and excess demand from pandemic stimulus measures.
It appears the RBA's move has given pause to risk markets around the world today, as it serves as a reminder that some central banks could move with unexpected aggressiveness to rein in inflation.  The move is a reminder that unexpectedly big rate hikes and balance sheet reductions could be in the cards, raising the risk of recession.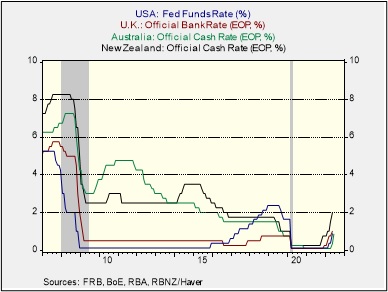 Japan:  Today, the Cabinet approved Prime Minister Kishida's first full-year fiscal and economic policy guidelines, but the plans have one glaring omission: they omit previous government pledges to eliminate the country's fiscal deficit by 2025 and start bringing down its massive debt, which is now more than 200% of Japan's gross domestic product.
The plan reflects the influence of important officials largely aligned with former Prime Minister Shinzo Abe.  Some of those officials have also adopted Modern Monetary Theory, which says countries that issue debt denominated in their own currency won't ever need to default because they can simply print more currency to pay it back.
Along with the Bank of Japan's commitment to keep monetary policy extremely loose and cap the Japanese yield curve, the lack of any deficit or debt reduction targets may be contributing to further weakness in the yen so far today.  At this writing, the currency is trading at 132.79 per dollar, its weakest level since early 2002.
United Kingdom:  Prime Minister Johnson survived his party's confidence vote yesterday, with 211 of the Conservative Party's members of parliament voting to support him and 148 voting against him.  Under party rules, Johnson now cannot be challenged for another year.
All the same, the vote was worse than expected for Johnson, leaving him wounded politically for at least the time being.
The result provides some policy stability for the U.K. for the near term; it also means some contentious issues will not go away soon, particularly his government's threat to pull out of the Brexit trade deal with the European Union.
Israel:  Prime Minister Bennett's broad coalition lost a crucial vote in parliament, putting it on the verge of collapse.  The vote, instigated by right-wing former Prime Minister Netanyahu, could set the stage for yet another election in the coming months.
Mexico:  The country's ruling leftist party, Morena, is on track to win four of the six state governorships contested in elections last Sunday.   The results upset the center-right opposition parties' recent momentum against left-wing populist President Andrés Manuel López Obrador and will complicate their path to victory in the 2024 elections.
Egypt:  In an example of the inefficiencies likely to arise from deglobalization and the fracturing of the world into rival geopolitical and economic blocs, the Egyptian government is trying to cope with the cut-off of Ukrainian wheat supplies by encouraging more domestic production.  The problem is that agricultural land reclaimed from the Egyptian desert isn't necessarily that productive.
Middle East-India:  Officials in Saudi Arabia, Qatar, Kuwait, and other Muslim countries in the Middle East have expressed outrage after Indian Prime Minister Modi's spokeswoman insulted the Prophet Mohammed last week.  Besides raising political tensions, some companies and private citizens have begun boycotts against Indian imports.  The statement has also sparked unrest among India's own Muslim citizens.
U.S. Real Estate Market:  According to MSCI Real Assets, April commercial real estate sales were down 16% from the same period one year earlier, marking a sharp reversal after 13 straight months of year-over-year increases.
Hotels, office buildings, senior housing, and industrial properties all recorded significant drops in sales during April.
Sales of other property types, such as retail and apartments, rose, but analysts and brokers said activity may now be slowing in those sectors, too, as rising interest rates keep some investors from making competitive offers.
COVID-19:  Official data show confirmed cases have risen to  532,444,602 worldwide, with 6,300,269 deaths.  The countries currently reporting the highest rates of new infections include the U.S., Taiwan, Australia, and Germany.  (For an interactive chart that allows you to compare cases and deaths among countries, scaled by population, click here.)  In the U.S., confirmed cases have risen to 84,882,382, with 1,008,858 deaths.  In data on the U.S. vaccination program, the number of people considered fully vaccinated now totals 221,506,997, equal to 66.7% of the total population.
n the U.S., the latest wave of infections already looks to be topping out, although hospitalizations are still accelerating with their usual lag.  The seven-day average of newly reported cases has reached 98,867, down 8% from two weeks ago.  The seven-day average of people hospitalized with confirmed or suspected COVID-19 in the U.S. came in at 29,229 yesterday, up 15% from two weeks earlier.  New COVID-19 deaths are now averaging 266 per day, down 15% from two weeks earlier.
In China, both Beijing and Shanghai have now started to relax their latest tough lockdowns against the pandemic, but a new breakout in the Inner Mongolia city of Erenhot has prompted a lockdown there.  Most businesses except supermarkets, pharmacies, and medical centers have been told to suspend operations, and travel in and out of the area has been restricted.
To overcome the pushback against vaccination by many of China's elderly citizens, dozens of cities across the country have begun offering people aged 60 and older free insurance that pays out up to $75,000 if they fall ill—or worse—because of vaccine side effects.