Daily Comment (June 6, 2022)
by Patrick Fearon-Hernandez, CFA, and Thomas Wash
[Posted: 9:30 AM EDT] | PDF
Our Comment today opens with an update on the Russia-Ukraine war.  Russian troops continue to make some progress in seizing territory in Ukraine's eastern Donbas region, but the Ukrainians are also launching some small but successful counterattacks.  We next review a range of in7ternational and U.S. developments with the potential to affect the financial markets today.  We wrap up with the latest news on the coronavirus pandemic.
Russia-Ukraine:  Although Russian forces continue to make some slow, plodding progress in seizing territory in Ukraine's eastern Donbas region, Ukrainian forces have staged a number of small but successful counterattacks.  For example, Ukrainian troops have reportedly retaken much of the key city of Severodonetsk after Russian forces had seized most of it last week.  Reports also suggest the Ukrainians have been able to kill yet another Russian general in the Donbas region.  Meanwhile, Russian air strikes hit Kyiv over the weekend, after more than a month of relative calm in the capital. The Kremlin claimed it was targeting tanks donated by the West, but the Ukrainian government said the strike actually targeted railroad infrastructure. Finally, Ukrainian President Zelensky yesterday staged a daring visit to his troops in the Donbas.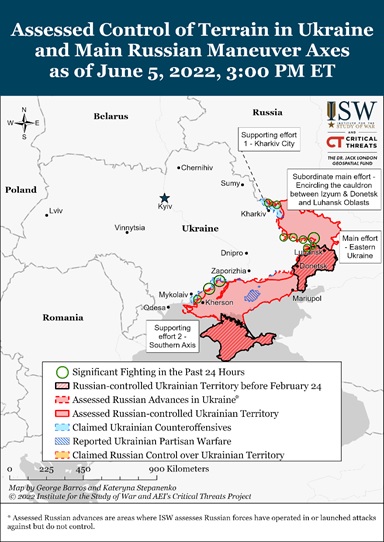 United Kingdom:  Members of parliament from the Conservative Party today will vote on whether to keep Prime Minister Johnson as their leader after dozens of them submitted letters of no confidence to a special party committee.  The letters mostly reflect anger at Johnson over the "partygate" scandal, in which he allowed parties in leadership offices in violation of the government's own pandemic rules.  The pound is trading modestly higher today, perhaps on prospects for an end to the scandal, but it's important to remember that a destabilizing change in leadership would still be a risk in the coming months even if Johnson wins the vote.
China-Australia:  In a move possibly aimed at intimidating Australia's new prime minister, a Chinese jet fighter over the weekend flew close to an Australian maritime surveillance plane over the South China Sea and released anti-missile chaff, which was then sucked into the Australian plane's engines.  The Australian government lodged a complaint with the Chinese over the dangerous incident, which took place just five days after Prime Minister Anthony Albanese was elected and confirmed in office.
North Korea-South Korea-United States:  In a rare tit-for-tat response after North Korea launched a bevy of missiles on Sunday, the U.S. and South Korea today fired off eight precision surface-to-surface missiles into the Sea of Japan.  In a statement, the U.S. military command in South Korea said the exercise was meant to "demonstrate the ability of the combined U.S.-ROK force to respond quickly to crisis events.
Eurozone Monetary Policy:  As ECB officials prepare to meet this week, they are expected to begin fleshing out a new program that will purchase bonds from the Eurozone's less financially stable countries if needed to quell market volatility.  The program would act as a kind of insurance policy as the ECB prepares to hike interest rates and cut its overall bond purchases beginning in July.
Germany:  The German government is reportedly making rapid progress in drawing up plans to wean itself off Russian natural gas in the wake of the Russia-Ukraine war.  The government has identified three potential sites for major liquified natural gas terminals.
Even if those terminals get built, finding available supplies of foreign gas will remain a major challenge.
Stepping back from Russian gas and scrambling for alternative supplies will contribute to the fracturing of the world into different geopolitical and economic blocs, and it will tend to boost energy prices for the U.S.-led bloc in the coming years.
U.S. Inflation:  In a televised interview yesterday, Commerce Secretary Raimondo said President Biden has ordered his administration to analyze whether it would make sense to cut some of the Trump administration's tariffs on consumer goods from China to help bring down inflation. Separately, Biden today is expected to announce that he will not impose any new tariffs on Asian solar panels.  However, Raimondo suggested Biden would still keep many of the Trump tariffs on steel and aluminum to protect U.S. factory jobs.
U.S. Corporate Pay:  So far this year, many more large companies are struggling to win shareholder "say on pay" votes.  If votes fail to rein in high executive compensation, some shareholder activists are also voting against directors heading up the companies' compensation committee.
U.S. Inventories:  As we have long anticipated, consumer purchasing patterns have begun to normalize, leaving many retail companies with excess inventories.  As pandemic lockdowns end and people go back to the office and start traveling again, consumers are shifting more toward formal clothing and service experiences, leaving many firms saddled with excess leisure wear and other goods.  The excess inventories are expected to weigh on retailers' profits at least through the current quarter.
Global Nickel Market:  A major U.S. hedge fund is suing the London Metal Exchange for more than $456 million over its March decision to cancel nickel trades after a short squeeze produced an unprecedented surge in the price of the metal.  The suit accuses the LME of acting unlawfully "in that it exceeded its powers when it cancelled those trades, or that it exercised the powers that it did have unreasonably and irrationally."
COVID-19:  Official data show confirmed cases have risen to  532,018,824 worldwide, with 6,299,291 deaths.  The countries currently reporting the highest rates of new infections include the U.S., Taiwan, Germany, and Australia.  (For an interactive chart that allows you to compare cases and deaths among countries, scaled by population, click here.)  In the U.S., confirmed cases have risen to 84,762,171, with 1,008,586 deaths.  In data on the U.S. vaccination program, the number of people considered fully vaccinated now totals 221,492,058, equal to 66.7% of the total population.
In the U.S., the latest wave of infections already appears to be topping out, although hospitalizations are still accelerating with their usual lag.  The seven-day average of newly reported cases has now reached 100,982, down 7% from two weeks ago.  The seven-day average of people hospitalized with confirmed or suspected COVID-19 in the U.S. came in at 28,970 yesterday, up 16% from two weeks earlier.  New COVID-19 deaths are now averaging 267 per day, down 14% from two weeks earlier.
The latest wave in the U.S. has shifted westward, hitting places like the San Francisco area, while recent pressure eases in Northeast hot spots.
In China, falling cases in Beijing have prompted local authorities to announce the relaxation of most lockdown requirements.  Starting today, for example, employees can go back to their offices, students will start returning to their schools, and people can start eating at restaurants again.  However, new infections in other key cities serve as a reminder that tough restrictions could again be imposed at any time and in any place.