Daily Comment (June 3, 2022)
by Patrick Fearon-Hernandez, CFA, and Thomas Wash
[Posted: 9:30 AM EDT] | PDF
Good morning! Today's report begins with an update on the Russian invasion of Ukraine. Next, we discuss the latest economic and policy news, including our thoughts on recent Fed comments. Afterward, we review some international stories that could impact markets today and close with our COVID-19 coverage.
Russia-Ukraine update: As the war enters its 100th day, Moscow has more military success, but it appears to be coming at a high cost. According to Ukraine President Volodymyr Zelensky, Russian forces now control one-fifth of Ukraine and continue to make incremental gains in the eastern region. In addition, Russian troops are closer to capturing Severodonetsk and Lysychansk, two major cities in the Russian stronghold Luhansk. Despite Russian gains, Ukrainian troops have recovered much of the region it lost and still pose a significant threat in northern parts of the country. Additionally, Russian military leaders have expressed concern over the lack of forces and the low morale of many of its troops. As a result, it isn't clear whether or not Russia will be able to sustain the current momentum.
Off the battlefield, Moscow is also finding more hardship. On Thursday, the U.S. expanded its sanctions list to include individuals with ties to Russian President Vladimir Putin. Meanwhile, Russia struggles to find outside backing for its invasion of Ukraine. In the run-up to its attack, Moscow appeared confident that Beijing would support its ambitions to limit the expansion of NATO into Ukraine. However, China has been reluctant to offer any support that could make it a target of U.S. sanctions. Russian shortcomings in the war have led some members of the Chinese elite to push Beijing to abandon Moscow altogether.
It should be noted that the relationship between China and Russia is one of convenience as opposed to one of kinship. The two sides are united in their desire to limit U.S. influence worldwide but have different views on how a new world should look. China would like the international system to remain in place but with reforms. Russia would like the system replaced altogether. The difference in views stems from the fact that China has benefited from the rise in globalization while Russia has not. For example, China's GDP growth accelerated following its admission into the WTO in 2001, while Russia's has seen only a modest rise within that same time frame.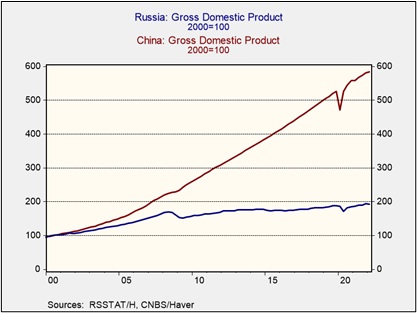 Although both China and Russia dislike when the U.S. meddles in their respective affairs (Taiwan, Ukraine, etc.), their strategies to address these issues are different. Russia would prefer to cause chaos to tear the system down. China, on the other hand, prefers to make incremental gains, hoping it will be able to take it over. This conflicting view has become more apparent after the invasion of Ukraine. Beijing supported Russia because it believed Putin when he said it would be quick. However, since the war has gone longer and with higher costs than either side initially thought, Beijing has been reluctant to offer the support Russia desires. As a result, we do not expect China to provide any significant support in the future. If we are correct, this could mean that this war may not be as costly, which should be favorable for the global economy and financial markets.
 Other Ukraine-Russia news 
Russia announced it would service its debt payments in rubles. The decision could pave the way for default, as the country is due to make a $100 billion foreign bond payment on Friday. On Wednesday, the treasury officially ended the waiver that allowed U.S. banks and individuals to receive debt payments from Russia. There is no sign that a Russian default could adversely impact the international financial system, and we are closely monitoring the situation.
Russian natural gas supply to Europe remains stable, and there were concerns that the Ukraine war may have damaged one of the gas routes.
U.S. economic and policy news 
Federal Reserve Vice Chair Lael Brainard has dampened expectations of a possible pause in rate hikes. In an interview with MSNBC, Brainard warned that inflation would need to decelerate and demands need to cool before the Fed considers moderating its current monetary policy. Cleveland Fed President Loretta Mester, a voting member, voiced similar views in a speech. Although the Fed could pause rate hikes this year, it is unlikely to happen unless there is a recession. Rising energy and food prices will likely keep inflation above the Fed's inflation target of 2% in 2022. Furthermore, it is becoming clear the Fed is looking to see a looser job market, which may mean an unemployment rate above 4%.
 International news 
China is close to developing its most advanced aircraft carrier. The new ship will make it easier for China to expand military operations by sea. The development of these carriers suggests Beijing plans to expand its military presence throughout the Pacific.
Interesting facts
 To keep menu prices down, restaurants have started adding new surcharges to bills to cope with rising input and labor costs.
 COVID-19: The number of reported cases is 530,898,846, with 6,296,311 fatalities. In the U.S., there are 84,545,537 confirmed cases with 1,008,031 deaths. For illustration purposes, the FT has created an interactive chart that allows one to compare cases across nations using similar scaling metrics. The CDC reports that 749,151,955 doses of the vaccine have been distributed, with 588,223,208 doses injected. The number receiving at least one dose is 258,685,370, the number of second doses is 221,406,167, the number receiving the first booster is 103,641,912, and the number receiving the second booster is 14,264,775. The FT has a page on global vaccine distribution.