Daily Comment (July 7, 2023)
by Patrick Fearon-Hernandez, CFA, and Thomas Wash
[Posted: 9:30 AM EDT] | PDF
Today's Comment begins with the latest development from Treasury Secretary Yellen's trip to Beijing. Next, we discuss the heightened risk of unrest in Russia. Lastly, we examine why tech companies are looking to take greater control of access to consumer data.
Back to China: While the Biden administration may be willing to make some concessions in order to improve relations with China, it is unlikely to abandon its attempt to pivot away from the world's second largest economy.
U.S. Treasury Secretary Janet Yellen called out China for its mistreatment of U.S. firms over the last few months. On her first day in the country, she criticized recent crackdowns on U.S. firms headquartered in China as well as Beijing's decision to restrict exports of critical minerals needed to make semiconductors. Beijing's harshness is seen as retaliation for U.S. attempts to limit China's ability to grow its own semiconductor industry. Although Yellen mentioned that the U.S. is not looking for a winner-take-all approach, it is unlikely that the feud will end in the near future.
China continues to flex its military muscles in an attempt to show that it is now capable of taking on the U.S. in a direct conflict. Last month, a Beijing think tank released a paper claiming that China's military is capable of sinking the U.S. Navy's most advanced aircraft carrier strike group. This claim has largely been dismissed as propaganda, designed to convince Taiwan that China is capable of taking over the region whenever it sees fit. Furthermore, it is still highly doubtful that China is preparing to take over Taiwan anytime soon. Nevertheless, the recent military exercises and propaganda efforts do show that annexing Taiwan remains part of China's long-term agenda.
The ongoing meetings between the U.S. and China are unlikely to deter the Biden administration from promoting reshoring efforts. The White House believes that it is in the country's best interest to "de-risk" from China due to national security concerns. This broader shift will likely lead to a new industrial push in the U.S. On the one hand, reindustrialization can help reduce U.S. reliance on China and other countries for critical goods and services. This shift could improve national security and make the U.S. economy more resilient to disruptions in the global supply chain. On the other hand, reshoring could lead to higher prices for consumers and businesses.
Something Brewing: There are mounting concerns of an imminent armed rebellion in Russia as the Wagner Group does not seem inclined to follow Moscow's orders to disband.
Yevgeny Prigozhin, the leader of the Wagner Group, is back in Russia despite agreeing to a peace deal in which he would relocate to Belarus. This report comes from Belarusian President Alexander Lukashenko, who was a key figure in brokering the deal following last month's failed mutiny. Prigozhin's presence in Russia is likely to call into question Vladimir Putin's authority. Although Prigozhin's whereabouts are unknown, state-run television has shown that his offices and home were raided on Thursday. Despite Putin's best efforts, the Wagner Group is still a force to be reckoned with and thus the possibility of a civil war cannot be ruled out.
The controversy may incentivize efforts from the White House to create a potential off-ramp for Russian government officials looking to escape a possible takeover attempt. Last week, CIA officials argued that disarray in Russia has created a massive recruitment opportunity. Additionally, there have been reports that former U.S. officials held informal talks with officials in the Kremlin in April regarding a peace deal, suggesting there is backchannel communication between the two sides. The Russian ruble has declined 12% against the U.S. dollar since Ukraine's counteroffensive began on June 4, and it is now hovering near a 15-month low. At the same time, Ukrainian dollar bonds have rallied to pre-war levels, further supporting the case that the tide has turned against the Kremlin.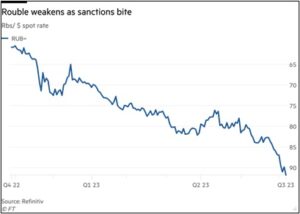 Putin is running out of time and options. He vastly underestimated the West's support for Ukraine as well as his own military's ability to secure a quick victory. More than a year after the conflict began, he is now facing his most serious threat to hold onto power since taking office 23 years ago. The next few weeks will likely be crucial in determining whether he will be able to maintain control of the country. If Putin is removed from office, it is not clear who would replace him. As a result, there is the risk of a power vacuum or even a civil war. This could lead to a sudden spike in commodity prices and a rush to safe haven assets.
Tech Wars: Competition between social media companies is heating up as the major players battle for social media supremacy.
The rivalry between tech billionaires Elon Musk and Mark Zuckerberg escalated this week as Instagram released its new Threads app in an attempt to provide users with an alternative to Twitter. The app added 30 million new users since Thursday, which still pales in comparison to Twitter's 300 million subscribers. Musk's social media company has come under much scrutiny after establishing rules that limit users' access to the website. Threads, on the other hand, appears to offer similar features with none of the same restrictions. The launch of Threads shows how tech firms that alter their services too quickly may open themselves up to unwelcome competition.
That said, Musk's decision to limit access to Twitter's website may be a way to prepare for a world built around artificial intelligence (AI). Tech companies have been able to use a method known as "scraping" to grab data needed to improve machine-learning algorithms. Scraping can be a valuable tool for AI research as it allows programmers to gather information about Twitter users free of charge. Hence, by protecting the data, Musk is ensuring that he keeps a valuable revenue stream open for future use.
We are now entering the era of Big Data. This new period will be defined by companies buying and selling information as if it were a commodity. This changing dynamic will be particularly important as companies start to integrate AI into their business processes. Social media companies will likely try to compete in the space to ensure they can offer premium data for these models. Additionally, control over the access of data may be critical for companies looking to profit from the AI craze.