Daily Comment (July 6, 2021)
by Bill O'Grady, Thomas Wash, and Patrick Fearon-Hernandez, CFA
[Posted: 9:30 AM EDT] | PDF
In today's Comment, we open with a lengthy discussion of the Chinese government's latest clampdown on its technology firms.  Importantly, we discuss the move's implications for a range of geopolitical and economic issues.  We next turn to general international news, ranging from recent OPEC developments to rising protests against the Brazilian president.  We close with the latest news on the coronavirus pandemic.
China:  According to reports over the weekend, Chinese regulators are investigating the security of customer data at ride-hailing company Didi Global, Inc. (DIDI, $15.53) and have shut down the firm's app just days after its U.S. IPO last Wednesday.  Subsequently, they also launched probes into data security at two other U.S.-listed companies that run truck-hailing and recruiting apps.  The regulators' concerns ostensibly center on the possibility that troves of customer data at the firm could potentially fall into foreign hands as a result of greater public disclosure associated with a U.S. listing.  In fact, the reports indicate the regulators pressured the company not to go through with its IPO, although, with the absence of a formal order not to proceed, the company went ahead with it.  Given the regulatory threat to the company, we would expect its shares to face tough sledding when U.S. markets open on Tuesday.  At the same time, we would emphasize a number of broader, longer-term implications of the move:
Chinese regulators may have legitimate concerns about Didi's customer data being captured by foreign competitors or intelligence agencies.  If the concern is about foreign intelligence agencies, it could indicate that China has become aware of foreign spying operations making use of such data.  The regulatory crackdown could also aim at signaling that China will fight back against U.S. and allied moves to crack down on data capture by China.  One recent example of that has been the Chinese accusations that Tesla (TSLA, $678.90) and the autonomous driving system in its cars could transfer information about Chinese users to the U.S.; this may have been a kind of retaliation against the continuing U.S. clampdown on technology and information flows to China.
The clampdown on Didi, just days after its U.S. listing, also shows that Chinese regulators are willing to crimp the global ambitions of high-profile Chinese companies in the interest of cybersecurity.  In other words, Beijing is unlikely to hold fire even if its regulatory moves risk the ability of Chinese firms to court international investors.  In fact, just this morning, China said it would tighten rules for companies seeking to list overseas and change its approval process for initial public offerings.  These are moves that could hinder attempts by homegrown firms to raise money from stock sales in the U.S.
The clampdowns also point to a further severing of data flows between China and the rest of the world, which will further erode and reverse the globalization of the last several decades, thereby threatening to make the global economy less efficient and innovative.
The move against Didi may also be a part of President Xi's effort to cut technology power centers down to size, both in terms of their market power and their potential political influence.  Before the latest regulatory troubles, Didi was already facing a separate government investigation into whether the company—which boasts hundreds of millions of users in China—inappropriately muscled out smaller competitors by using big data. Agents from government agencies, including the country's top antitrust watchdog, the cyber police, and tax authorities, have paid surprise visits to its office.
In any case, the Didi situation underlines our oft-stated view that the growing U.S.-China rivalry and President Xi's own clampdown on China present a risk that investors could be caught in the crossfire.  This isn't to say that investors should steer clear of Chinese assets, at least not yet.  However, it suggests that we should all pay heightened attention to the growing risks.
China-Taiwan-Japan-United States:  Japanese Deputy Prime Minister Aso said that if China invaded Taiwan in order to reunify the island with the mainland, it could create a situation that threatened Japan's survival and would require it to defend Taiwan along with the U.S.  Under Japan's constitution, such a "survival threatening" situation would allow Japan to exercise its right of collective self-defense and come to the aid of an ally under attack.  As might be expected, the Chinese government has condemned the statement.
OPEC+:  OPEC and its Russia-led allies were forced to call off a Monday meeting that would have finalized a plan for the group to boost oil production after the United Arab Emirates balked at its quota.  In response, global crude prices have risen to fresh multi-year highs.  We note that if the deal falls apart completely, the UAE could unilaterally boost its output.
Global Supply Chain Management:  For the first time, Toyota (TM, $176.03) sold slightly more cars in the U.S. than General Motors (GM, $58.96), in large part because it abandoned its previous strict adherence to just-in-time inventory management.  In particular, the company's earlier decision to stockpile several months' worth of computer chips allowed it to out-produce GM earlier this year despite the global chip shortage.  Although Toyota may not be able to retain its lead when supply chains normalize, its victory in the second quarter is further evidence that companies are starting to understand the risks inherent in just-in-time systems, even if they are more efficient.  If more firms turn toward higher inventories, greater production redundancies, and the like, the world's supply chains could become more robust, but costs and inflation could be higher.
Global Cybersecurity:  Suspected Russian cybercriminals launched a massive ransomware attack over the weekend against mostly small and medium-sized firms in at least 17 countries.  The attackers have demanded $70 million in Bitcoin in exchange for a decryption tool to restore the thousands of computers affected.  Companies and security experts continue to assess the extent of the damage.
United Kingdom:  British companies are facing a wave of buyouts by private-equity firms, and the buyout firms are staffing up to increase the pace of deals even further.  Consistent with our belief, the firms see new trade opportunities in post-Brexit Britain, even as company valuations remain in the doldrums because of Brexit and the coronavirus pandemic.
Mexico:  In another blow to the country's private sector and its 2013 energy market reform, the government awarded control over the 700-million barrel Zama field to state-owned oil company Pemex despite the fact that it was discovered by private firms, which have invested hundreds of millions of dollars into the field's development.
Brazil:  Thousands of protesters across Brazil demonstrated against President Bolsonaro over the weekend as pressure mounted on the populist leader over allegations of potential corruption in the procurement of COVID-19 vaccines.  The rallies, which took place in at least 13 state capital cities, came a day after the Supreme Court authorized a criminal investigation into whether Bolsonaro engaged in the crime of "prevarication," the dereliction of public duty for reasons of personal interest.
Turkey:  The June consumer price index was up 17.5% year-over-year, surpassing expectations and marking the worst inflation in more than two years.  The jump in inflation came after the easing of pandemic restrictions last month boosted consumer spending, complicating efforts by the central bank to comply with President Erdogan's demand to cut interest rates.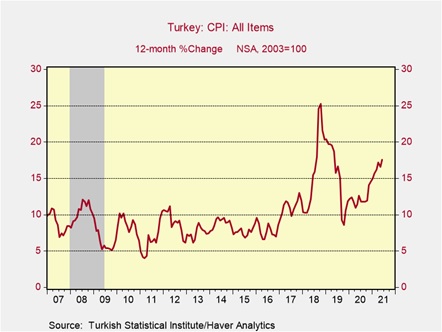 COVID-19:  Official data show confirmed cases have risen to 184,252,078 worldwide, with 3,986,701 deaths.  In the United States, confirmed cases rose to 33,723,804 with 605,567 deaths.  Vaccine doses delivered in the U.S. now total 383,068,740, while the number of people who have received at least their first shot totals 182,412,776.  Finally, here is the interactive chart from the Financial Times that allows you to compare cases and deaths among countries, scaled by population.
Virology
According to the latest CDC data, 54.9% of the U.S. population has now received at least one dose of a vaccine, and 47.4% of the population is fully vaccinated.
In Britain, Prime Minister Johnson said England is on track to lift almost all pandemic restrictions, as planned, on July 19, even as the highly transmissible Delta variant of coronavirus drives a new surge in infections.  Health Secretary Javid warned that new cases could quadruple to 100,000 per day from their current 25,000 per day once the restrictions end.  However, he insisted that the U.K.'s high vaccination rate will allow for much less stringent measures to deal with any such infection burst.
In Japan, daily new infections in the Tokyo area have increased to about 600 from 400 in mid-June.  The increase is putting intense pressure on officials to reverse course and ban spectators from the Summer Olympic Games scheduled to start in the city in just three weeks.  The latest surge reflects both the presence of the Delta mutation and the fact that only about 24% of Japan's population has had even one dose of a vaccine.
In Russia, the government announced that new infections have hit their highest level since January, primarily because of the fast spread of the Delta variant.  Russia has now reported record numbers of coronavirus deaths for five days in a row.
The fast-spreading Delta variant is also driving up infections in developing countries that are dangerously short on vaccines to battle deadly surges, putting increased pressure on their healthcare systems.
In India, in particular, there is mounting concern about a potential third wave of infections driven by Delta Plus.  This variant has now been found in the prosperous state of Maharashtra, home to the country's financial capital Mumbai, and in at least two other states.  Maharashtra has already reimposed tougher pandemic restrictions.
A study by Israel's health ministry found that the vaccine from Pfizer (PFE, $39.73) is 93% effective in preventing serious illness and hospitalization from the Delta mutation, but its effectiveness in preventing infection is only 64% compared with 94% for earlier variants of the virus.
 Economic and Financial Market Impacts