Daily Comment (July 26, 2023)
by Patrick Fearon-Hernandez, CFA, and Thomas Wash
[Posted: 9:30 AM EDT] | PDF
Our Comment today opens with news that China is making new progress toward developing a network of naval facilities in the waters of the Indo-Pacific region.  We next review a range of other international and U.S. developments with the potential to affect the financial markets today, including continued political unrest in Israel and a discussion of today's upcoming decision on U.S. interest rates from the Federal Reserve.
China-Cambodia:  New commercial satellite imagery shows China has made considerable progress in its construction of naval facilities at Cambodia's Ream Naval Base.  The imagery shows the Chinese have now nearly completed a pier that is strikingly similar in size and design to one the Chinese military already uses at its only official overseas naval base in Djibouti.  Importantly, both piers are big enough to berth Chinese aircraft carriers.
The report provides more evidence of China's large-scale, if secret, effort to build a network of dual civilian-military port facilities it could access in time of international conflict. Other such Chinese facilities include the Port of Hambantota in Sri Lanka and the Port of Gwadar in Pakistan.
China continues trying to hide the extent of its military build-up, including by masking the military potential of the ostensibly civilian infrastructure it is helping to build. All the same, as Western leaders increasingly appreciate the scale of the Chinese build-up, we suspect it will worsen China's tensions with the West and make it even harder to maintain trade, investment, and technology flows.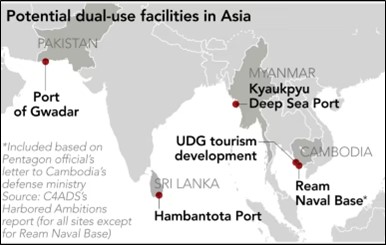 Russia-Ukraine-European Union:  Following Russia's pullout from the deal in which it allowed Ukraine to export grain from its southeastern ports, both Poland and Hungary are threatening to block Ukrainian shipments to the West unless the European Union extends restrictions on selling the Ukrainian products in their territory.  The actions threaten to weaken Ukraine's economic resilience in the face of Russia's invasion and further complicate the EU's effort to support Ukraine.
Spain:  As expected, Alberto Núñez Feijóo and his center-right Popular Party have been left with no apparent route to forming a government after two key regional parties rejected his invitation to form a coalition.  Even though the PP won the most seats in Sunday's elections, and even though it has the support of the controversial hard-right Vox Party, it looks like it will be unable to control parliament.  The most likely scenarios now would be for incumbent Prime Minister Sánchez and his Socialist Party to form a government with left-wing and regional parties, or for Spain to hold new elections in August.
Israel:  Protests and strikes continue to disrupt the economy and push stock prices lower following this week's passage of a measure that would limit the supreme court's ability to block Knesset legislation.  Ironically, the supreme court itself said today that it would hear a case challenging the constitutionality of the law.  Obviously, the optics of the court striking down a law limiting its powers would not be good, so it's unclear whether the court would really do so.  In any case, the political and social instability in Israel looks set to continue in the near term.
U.S. Monetary Policy:  Officials at the Federal Reserve will wrap up their latest two-day policy meeting today, with their decision due to be released at 2:00 PM EDT.  Fed Chairman Powell will also hold a news conference at 2:30 PM EDT.  Along with most other analysts, we suspect that continued strong wage gains and price pressures will prompt the officials to hike their benchmark fed funds interest rate further after pausing last month.  All the same, some other analysts think recent signs of modest economic slowing could convince them to hold rates steady again and simply signal the potential for more rate hikes later.
U.S. Labor Market:  Yesterday, United Parcel Service (UPS, $184.69) and the Teamsters Union reached a tentative deal on a new contract.  If approved by the firm's 340,000 union workers in a vote on August 3, the agreement will avert a massive strike that could have noticeably affected the economy.
Under the deal:

Full-time workers will get wage increases that will bring their average top rate to $49 per hour, making them the highest-paid delivery drivers in the U.S.
New part-time hires would start at $21 per hour, up from $15 in the previous contract.
A much-hated two-tier worker classification system, where some were paid less for doing essentially the same work, will be ended.
For the first time, union workers would get Martin Luther King Day off as a paid holiday.

The agreement is likely to encourage other unions to strike a hard bargain in their negotiations with employers, potentially increasing average wages across the economy and helping boost consumer price inflation.
U.S. Artificial Intelligence Market:  New reporting indicates investors are snapping up shares of small biotechnology companies that are using artificial intelligence to aid in drug discovery.  Some of those stocks have doubled or even tripled in value this year, even as the broad healthcare sector has lagged the overall market.  For investors who worry they've missed the initial run-up in AI stocks, this development is a reminder that specialized, proprietary AI models and tools for specific industries or uses could well be the source of huge value creation in the coming years.