Daily Comment (July 23, 2021)
by Bill O'Grady, Thomas Wash, and Patrick Fearon-Hernandez, CFA
[Posted: 9:30 AM EDT] | PDF
Good morning and happy Friday! The Olympics officially open today (although the competition has already started).  Sadly, for the organizers, things are not going all that well.  The pandemic has led to empty arenas, the opening music has been scrapped over a scandal, and the opening ceremony director has been fired.  In the financial markets, U.S. equity futures continue to move higher, while bond yields are up a bit as well.  In today's report, we update a few things from yesterday, including the ECB announcement, more on the fallout from the Nord Stream 2, and a few comments on home prices.  The coverage begins with economics and policy, with the international roundup next.  China news follows, and we close with pandemic coverage.
Economics and policy:  The ECB and home prices are today's focus.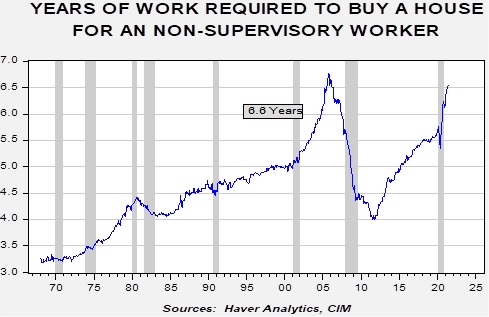 This chart divides the seasonally adjusted median existing home price by the hourly wage and calculates how many years of work a person would need to buy that house.  We are currently at 6.6 years, just below the high of 6.8 years set in May 2005.  However, we do not see the type of risky behavior seen in the last bubble.  For example, 61.5% of refinancing is done at the same loan amount; in 2005, that percentage was 9.4%.  The median credit score on new mortgages is 787, a record high; in Q4 2006 it was 709.  In Q1 2007, $113 billion of mortgages were originated with a credit score of less than 620; currently, that is $17 billion.  So, the signs of froth are not evident.
International roundup:  Nord Stream 2 problems continue, and U.S. forces look to leave Iraq soon.
China:  Hong Kongers look to leave, and Wendy Sherman spends the weekend in China.
In April, the Hong Kong legislature passed several bills restricting the right to protest and leave the former colony. The exit ban goes into effect next month, and Hong Kongers are scrambling to leave.  According to reports, the police have watch lists and will arrest anyone on these lists who tries to leave.  The lists, though secret, are said to be populated with activists and journalists who are currently out on bail and awaiting trial.  On cue, Senate bill S.295, the Hong Kong Safe Harbor Act, has been introduced by Sen. Rubio (R-FL).  It has 13 co-sponsors, nine Democrats, and 4 Republicans.  Although this bill offers hope, it probably won't pass fast enough to offer a path for Hong Kongers affected by this travel ban.
Wendy Sherman goes to Beijing over the weekend. Expect a frosty reception.
The death toll from recent flooding continues to rise.
COVID-19:  The number of reported cases is 192,699,963 with 4,138,605 fatalities.  In the U.S., there are 34,284,455 confirmed cases with 610,192 deaths.  For illustration purposes, the FT has created an interactive chart that allows one to compare cases across nations using similar scaling metrics.  The FT has also issued an economic tracker that looks across countries with high-frequency data on various factors.  The CDC reports that 391,998,625 doses of the vaccine have been distributed, with 339,763,765 doses injected.  The number receiving at least one dose is 187,216,168, while the number of second doses, which would grant the highest level of immunity, is 162,174,165.  The FT has a page on global vaccine distribution.