Daily Comment (July 22, 2021)
by Bill O'Grady, Thomas Wash, and Patrick Fearon-Hernandez, CFA
[Posted: 9:30 AM EDT] | PDF
Good morning, all!  U.S. equity futures were higher, and long-duration interest rates were rising overnight, but comments from the ECB (see below) have pushed equity futures into the red and have lifted bond prices.  We are also seeing lots of volatility in grain prices; this time of the summer is important.  Corn pollinates from July into August, so temperature and rain matter.  Prices can swing violently on hourly weather forecasts.  Since the May FOMC meeting, expectations surrounding monetary policy have been in flux.  Complicating matters is that there could be some personnel changes on the Board of Governors this fall and winter.  We begin today with comments on the odds of Chair Powell's reappointment and other Fed matters.  The ECB comes next.  Like a bad penny, Brexit has returned to the headlines.  And, the U.S. and Germany have come to an agreement on Nord Stream 2.  Our usual coverage begins with economics and policy, with China news up next.  The pandemic update follows, and we close with the international roundup.
Powell:  It appears that Chair Powell is getting enough support to probably be reappointed to a second term as Fed Chair.  Aides to President Biden have indicated that they generally support his reappointment, which will be in February.  Randal Quarles, the vice-chair for regulation, has been a target of LWP criticism.  His term in his current role ends October 13, but he could stay as a governor until 2032.  Although it is customary for vice-chairs to resign when their leadership term ends, there are indications that Quarles may stay on.  Vice-Chair Clarida's term expires in January.  Currently, there is one vacancy on the Board of Governors.  The end of Clarida's term would give the president two positions to fill on the FOMC.  Although the LWP is pining for a heterodox appointment (Stephanie Kelton perhaps?), the Trump years proved that out-of-the-box governor appointments can't get through the Senate.  Look for Biden to nominate mainstream left-of-center types.  However, we do note that some research does suggest age matters; younger FOMC members tend to be dovish, likely because they missed out on the 1970s.  Therefore, even a mainstream younger candidate could be a reliable dovish vote.
The ECB:  ECB President Lagarde has been making comments this morning about policy and the new inflation targeting regime.  Although the policy comments suggest that accommodation will continue for the foreseeable future, financial markets are taking the news as bearish.  It is possible that financial markets were hoping for even more policy support (given current levels, that looks like a long shot).  It is also possible that we are seeing position squaring during her comments on worries about an unexpected surprise.  If this is the case, look for a recovery when the statements end.
Brexit returns:  The situation in Northern Ireland has remained a sore spot with Brexit.  The current agreement has established a trade checkpoint in the Irish Sea, meaning Northern Ireland is, for purposes of trade, still in the EU.  The Tories have never been comfortable with this arrangement since the unionist parties tend to affiliate with Johnson's party.  David Frost, a member of Johnson's cabinet, wants to reopen negotiations that would create a mixed border.  Essentially, goods destined from Britain, Scotland, or Wales to Northern Ireland alone would no longer need to pass customs, whereas goods exported or imported from the U.K. for the EU would need special customs arrangements.  The EU has already rejected this proposal, as it will create a hard border on the frontier with Ireland.  In addition, it will be nearly impossible to prevent U.K. goods from ending up in the EU via Ireland.  The Johnson government is taking a risk here; the return of a hard border with Ireland will almost certainly lead to a rise in civil unrest, and the U.S. has indicated it won't tolerate such a development.  We will be watching to see how hard the U.K. pushes on this issue, but there is a risk of serious turmoil that might adversely affect U.K. assets.
Nord Stream 2:  The Biden administration has made it official; the U.S. will go along with the German/Russian Nord Stream 2 project.  We must admit this is a head scratcher for us.  The administration is arguing that the pipeline was nearly done, so it was counterproductive to try to stop it, but the approval rewards Russia and allows Germany to adversely affect nations east of it which earn transit fees from existing pipelines.  It's hard to see how being nice with Russia will reap rewards, and Merkel will be out of office in less than two months.  This is giving out favors and seemingly getting little in return, although the U.S. did make an agreement on climate investment with Germany.  The president of Ukraine, Volodymyr Zelensky, is scheduled to visit Washington in August.  Reports indicate the U.S. has told Ukraine to be quiet about the deal.  This is going to be an awkward meeting.  Meanwhile, criticism, both foreign and domestic, is pouring in.  Governments do, at times, make pacts that can be hard to accept, but usually, it's to get something important in return.  This one seems to get the U.S. little of substance and will drain some of the president's political capital.
Economics and policy:  The debt ceiling is looming, the infrastructure debate continues, and house supply is still tight.
China:  China is struggling with flooding, Sherman will go to Beijing after all, and tensions between Washington and Beijing are elevated.
COVID-19:  The number of reported cases is 192,149,552 with 4,129,954 fatalities.  In the U.S., there are 34,229,841 confirmed cases with 609,870 deaths For illustration purposes, the FT has created an interactive chart that allows one to compare cases across nations using similar scaling metrics.  The FT has also issued an economic tracker that looks across countries with high-frequency data on various factors.  The CDC reports that 391,248,955 doses of the vaccine have been distributed, with 339,102,867 doses injected.  The number receiving at least one dose is 186,819,440, while the number of second doses, which would grant the highest level of immunity, is 161,895,045.  The FT has a page on global vaccine distribution.  The Axios map shows rising cases in most of the U.S.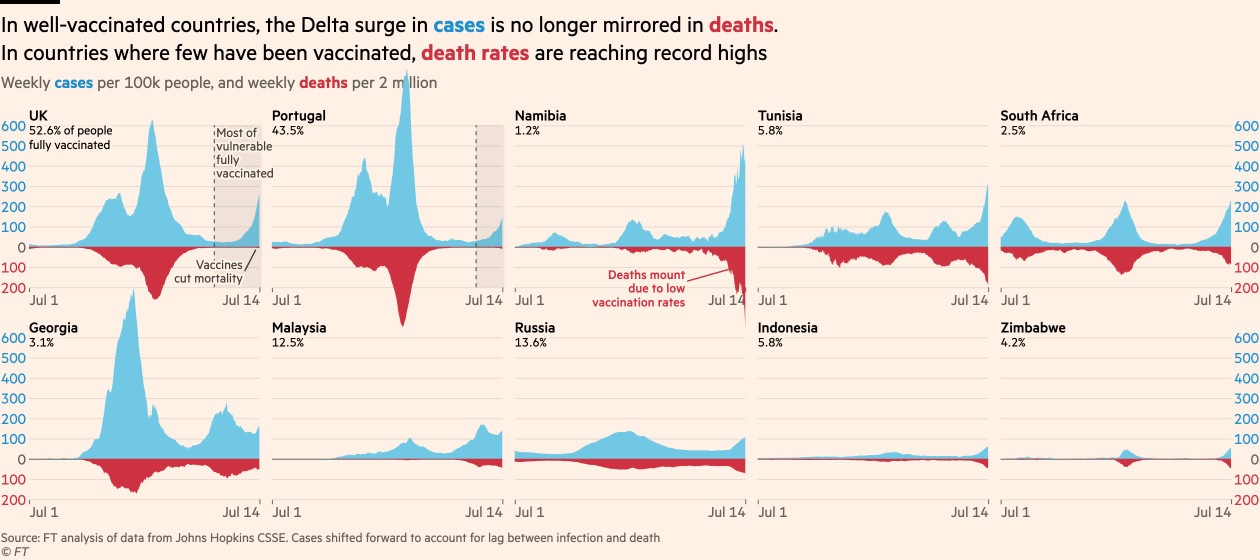 International roundup:  Central Asia is in turmoil, and Cyprus might be next for unrest.
Earlier this week, we noted that flooding in Germany might lead to gains for the Greens.  However, so far, no party seems to have an advantage from the disaster.