Daily Comment (July 19, 2023)
by Patrick Fearon-Hernandez, CFA, and Thomas Wash
[Posted: 9:30 AM EDT] | PDF
Our Comment today opens with good news on consumer price inflation in the United Kingdom, which has helped push down bond yields so far this morning.  We next review a wide range of other international and U.S. developments with the potential to affect the financial markets today, including news that Russian President Putin is handing control of expropriated Western assets to his cronies and a discussion of new antitrust policies issued yesterday in the U.S.
United Kingdom:  The June consumer price index was up just 7.9% from the same month one year earlier, much cooler than expected after the rise of 8.7% in the year to May.  Obviously, the U.K. inflation rate remains very high, but it now appears it could be on the verge of falling more rapidly, as the U.S. inflation rate has.
The moderation in inflation has sparked hopes that the Bank of England might respond by slowing or stopping its aggressive interest rate hikes.
That hope has sparked a furious rally in U.K. government bond prices so far today, driving yields lower. Currently, the yield on the benchmark two-year Gilt has fallen sharply to 4.858%, while the yield on the 10-year Gilt has declined to 4.185%.  The yield on 10-year U.S. Treasury notes has fallen only modestly to 3.763%.
The sharp decline in U.K. yields has also pushed down the value of the pound so far today. At this writing, the GBP is trading down 1.0% versus the dollar, to $1.2910.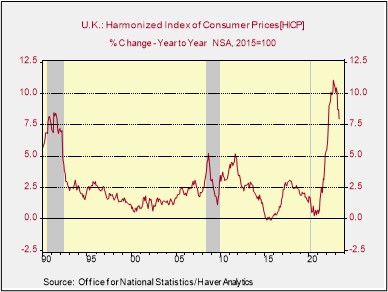 Japan:  In contrast with the pound's fall today, the yen (JPY) continues to rally in response to investor expectations that the Bank of Japan will soon loosen its policy of yield curve control and allow longer-term bond yields to rise.  So far this morning, the JPY is trading up 0.8% to 139.94 per dollar ($0.0071 per JPY).  That translates to an increase of approximately 4.0% just in July.
China:  Foreign Minister Qin Gang has not been seen in public now for almost a full month, and with government spokesmen unable to give a consistent explanation of his whereabouts, rumors are swirling about what might have happened.  The rumors range from a health issue to the possibility that he has been caught up in some kind of scandal.
Of course, Communist Party Foreign Affairs Chief Wang Yi remains very much in the public's view. Therefore, no matter what has happened to Qin, it wouldn't necessarily mean a substantial change in China's foreign policy.
All the same, Qin's mysterious absence raises questions about Chinese leadership politics and policy disputes.
Russia:  Days after the government "temporarily" seized the Russian assets of French dairy firm Danone (DANOY, $12.42) and Danish brewer Carlsberg (CABGY, $30.63), new reporting says President Putin ordered the expropriations after businessmen close to the Kremlin expressed an interest in the businesses.  The key allies of Putin were named to lead the companies yesterday.  The transfers are being widely seen as a sign that other seized Western assets in Russia will be transferred to Putin loyalists.
Thailand:  The constitutional court yesterday temporarily suspended the parliamentary duties of Pita Limjaroenrat, leader of the progressive Move Forward Party that won May's elections.  The suspension gave conservatives in the senate an opening to declare Pita ineligible to serve as prime minister, adding to their moves against his premiership last week.
The maneuvers involving the constitutional court and senate illustrate how Thailand's conservative establishment of generals, oligarchs, and royal officials are determined to keep Pita out of power.
Some of Pita's supporters have called for mass protests in the streets, creating a risk of political instability in what we consider a member of the evolving U.S. geopolitical and economic bloc. Indeed, Thailand has been benefiting as global businesses and investors shift away from the China/Russia bloc.
Kenya:  Opposition leaders, including the former prime minister and five-time presidential candidate Raila Odinga, have called for three days of mass protests against new taxes signed into law last month by President William Ruto.  Previous violent demonstrations in recent weeks have already killed dozens, despite widespread beliefs that the conflict is really a personal feud fed by Odinga's frustration at never having won the presidency.
United States-North Korea:  A low-ranking U.S. soldier stationed in South Korea yesterday crossed into North Korea and was taken into custody, apparently in a willful effort to escape prosecution for an assault charge south of the border.  The soldier is now the only known U.S. citizen in North Korean custody, potentially creating more tensions between the two countries.
U.S. Antitrust Policy:  In an announcement yesterday, the Justice Department and the Federal Trade Commission jointly issued draft guidelines on how they will police proposed mergers.  According to the agencies, the new guidelines have been designed to reflect current business practices and recent court rulings on company combinations.
For the first time, the guidelines explicitly address problems that can result from deals involving dominant technology companies and private-equity firms.
In another first, the guidelines say the agencies will examine whether a merger will leave the combined company so dominant in a local labor market that it reduces the competition for workers, potentially pushing down their wages.
U.S. Stock Market:  New research from S&P Global (SPGI, $421.85) found that nonfinancial investment-grade companies in the S&P 500 stock index cut their total operating expenses by 5.3% in the first quarter.  The figures illustrate the way firms turned their attention to cost cutting as wages and interest rates rose and sales growth slowed in the period.  Nevertheless, the cost cuts were mostly offset by a 3.9% fall in sales, leaving only a small rise in operating profits.