Daily Comment (July 17, 2023)
by Patrick Fearon-Hernandez, CFA, and Thomas Wash
[Posted: 9:30 AM EDT] | PDF
Our Comment today opens with several items related to China.  As usual, the trend remains negative.  We next review a wide range of other international and U.S. developments with the potential to affect the financial markets today, including further efforts by the Turkish government to improve its economic policy and a discussion of the unexpectedly low yields on longer-term U.S. bonds.
United States-China:  At a Group of 20 meeting of finance ministers, U.S. Treasury Secretary Yellen warned it would be premature to relax the tariffs imposed on Chinese imports by President Trump in 2018, despite the Biden administration's current effort to cool tensions.
According to Yellen, "The tariffs were put in place because we had concern with unfair trade practices on China's side, and our concerns with those practices remain. They really have not been addressed, and China put in place retaliatory tariffs of its own."
Yellen's statement underscores our view that U.S.-China relations remain on a downward trajectory, even if there are temporary efforts to slow the descent from time to time. The result will be continued risks for investors.
Taiwan-China:  Taiwanese Vice President Lai Ching-teh, the ruling party candidate in January's presidential elections, announced he plans to make two stops in the U.S. on a trip to South America next month.  Such visits by high-level Taiwanese politicians to the U.S. typically spark sharp anger and retaliatory measures by Beijing, so we would expect the trip to further worsen U.S.-China tensions.
Japan-China:  Japan's deepening defense alliance with the U.S. remains the main source of today's Japan-China tensions, but Tokyo's plan to release treated radioactive wastewater from the disabled Fukushima nuclear reactor into the ocean has become another simmering feud.  Over the weekend, high-level Japanese officials were forced to cancel their plans to visit China at the last minute.  Even though the International Atomic Energy Agency has approved the water release as safe, some Chinese officials have even called for boycotting Japanese seafood.
China:  Data today showed China's second-quarter gross domestic product was up just 0.8% from the previous quarter, decelerating sharply from the 2.2% increase in the first quarter.  A separate report today showed that tepid hiring in the face of the economic slowdown helped push youth unemployment to a new record high of 21.3% in June.  Still another report over the weekend showed June resale home prices in major cities were down 0.7% from the prior month, after a slide of 0.4% in May and an increase of 0.2% in April.  The report showed similar depreciation for newly built homes and for housing units in lower-tier cities.
Taken together, the reports illustrate just how badly China's economic growth is faltering these days, due to factors ranging from weakening export growth, excessive debt, and government intrusion into the economy. The reports are weighing on global risk assets so far this morning.
The reports will likely bolster expectations for more fiscal and monetary stimulus from the government.
All the same, those expectations could be dashed because of President Xi's apparent desire to de-emphasize economic growth and rein in China's problematic excess capacity and high debt levels.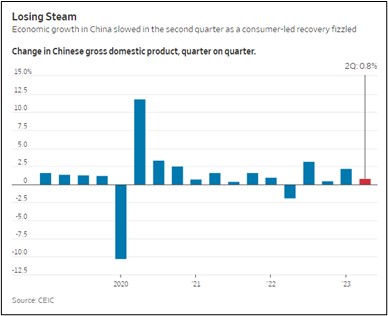 Russia-Ukraine War:  The Russian government today said it would no longer honor its deal allowing Ukraine to keep exporting grain through its southern ports.  The Russians said they would once again allow safe passage of Ukrainian grain through the Black Sea if Western countries would facilitate Russia's own exports of food and fertilizers, but that appears to be unlikely.  Now that Ukrainian exports are again at risk because of the war, grain prices are rising so far this morning, with nearby corn futures up 1.0% to $5.19 per bushel and wheat up 2.9% to $6.81 per bushel.
Turkey:  The government yesterday tripled its tax on gasoline and also hiked duties on other key fuels.  The tax hikes were an apparent effort to cover the cost of the government's huge giveaways ahead of May's election and to fund the $100-billion reconstruction bill from February's devastating earthquake.  President Erdoğan's new, post-election economic team has also hiked the country's value-added tax and taken other steps to bring policy into balance.  Taken together, the policies mark at least a partial return to economic orthodoxy, although they could exacerbate inflation and weigh on economic growth.
U.S. Bond Market:  New analysis shows that long-term bond yields are currently trading with a "term premium" of -0.75%, far below the average premium of +1.50% since 1961.  The figures suggest investors are demanding an unusually low yield premium to hold longer-maturity obligations (i.e., they're valuing long bonds too richly).  The analysis is consistent with our often-expressed concern that long yields are too low, and that those investors who own long bonds are at risk as worries about long-lasting inflation and high interest rates spread.
U.S. Weather Disruptions:  Heavy rains continue in the Northeast.  In addition to causing mass floods that have killed multiple people, the rains have prompted the cancellation of at least 1,000 airline flights, which will probably require several days to unsnarl.  The worst-hit airport has been Newark Liberty International in New Jersey.