Daily Comment (July 11, 2018)
by Bill O'Grady and Thomas Wash
[Posted: 9:30 AM EDT] Equity markets are lower due to concerns of global trade tensions. Below are the issues that we are paying close attention to today:
NATO summit: In the opening hours of the NATO summit, President Trump sparked controversy by criticizing Germany's relationship with Russia and its unwillingness to increase spending on defense. In a meeting with NATO Secretary General Jens Stoltenberg, President Trump accused Germany of being held captive by Russia due to its support of the Nord Stream 2 gas pipeline it is constructing with Russia. In the past, the construction of the pipeline was criticized as undermining U.S. efforts to punish Russia for its annexation of the Crimea as it would make it easier for Russia to cut off Ukraine's gas supply by siphoning the gas that is bound for the EU. Germany has been pressed to secure the deal due to its strict renewable energy goals which prompted it to close its coal and nuclear plants despite criticisms that the country is putting its own national interests above the European alliance. Although the timing and manner of the president's comments were a bit odd, they were not all that surprising. That being said, his comments will further feed speculation that he prefers closer ties with Russia over Europe.
Oil supply: During the NATO summit, Secretary of State Mike Pompeo set up meetings with NATO members to assist them in finding alternatives to Iranian oil. Last month, the U.S. requested that all countries stop purchasing Iranian oil before November 4 as a way to force Iran to end its nuclear program. Since the request has been made, countries have struggled to find alternative sources due to unrest in both Libya and Venezuela as well as OPEC's inability to come to an agreement to significantly increase oil production. As a result, there is growing speculation that the U.S. may be forced to push back the deadline or offer sanction waivers to certain countries. Recent developments in Libya may ease some of those concerns but at this point it is unclear – today, ports in eastern Libya were able to resume shipments after the state energy producer regained control of the terminals. We will continue to monitor that situation.
Chinese Middle East Police: Yesterday, Chinese President Xi Jinping told members of the Arab League that China would like to "become the keeper of peace and stability" within the region. In addition, China pledged $25 billion in loans and aid to Middle Eastern countries as part of its Belt and Road infrastructure initiative. China's push to boost economic and security ties is likely due to its desire to become less dependent on the West for its exports, increase its access to natural resources and build additional military bases throughout the world. Currently, the Belt and Road initiative covers two-thirds of the world's population and involves three-quarters of its energy resources.[1]
New tariffs: Yesterday, President Trump initiated the process of imposing additional tariffs on $200 billion of Chinese goods. The response was over China's decision to impose tariffs on $34 billion of American exports. The market reacted negatively to the news; as a result, Chinese equities and renminbi have fallen. According to the June Federal Reserve minutes, rising trade tensions have deterred businesses from making future investments. We will continue to monitor this situation.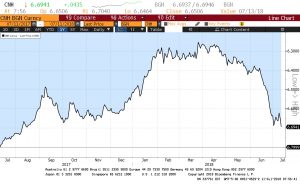 ---
[1] https://worldview.stratfor.com/article/how-development-finance-changing-geopolitics