Daily Comment (July 10, 2019)
by Bill O'Grady, Thomas Wash, and Patrick Fearon-Hernandez, CFA
[Posted: 9:30 AM EDT] Good morning!  Other than oil, most markets were lower this morning in front of Powell's testimony.  However, in the wake of his prepared remarks, U.S. equity futures have rallied.  Precious metals are up, the dollar is down and Treasuries are flat.  Here is what we are watching today:
Powell: The Fed has released the chair's prepared remarks.  There were no major surprises; it looks like the FOMC will likely cut rates at the end of July.  The path of policy from that point is still uncertain but we can safely say this tightening cycle is probably about done.  Financial and commodity markets are taking the tone as dovish.
The only new twist we have to the testimony today is an ominous signal coming from the New York FRB.  It has a recession indicator based on the yield curve and its most recent number is signaling recession.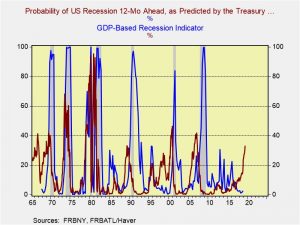 In the past, a reading above 30 has correctly signaled recession.  We like to pair this indicator with another recession indicator from the Atlanta FRB based on GDP.  The latter acts to confirm the signal from the New York index.  We have not gotten confirmation yet, but the New York indicator on its own should give the FOMC enough evidence to at least make an "insurance cut."
Although the administration continues to be critical of Powell's conduct of monetary policy, he has rather firm support on Capitol Hill, likely because of Powell's good relations with members.  Thus, the White House may face strong opposition to any moves to fire the Fed chair.
Mexico's finance minister resigns: Finance Minister Carlos Urzúa resigned unexpectedly yesterday, citing "many disagreements over economic policy" between himself and President López Obrador and accusing the left-wing, nationalist president of making economic decisions based on extremist ideology.  In a press conference this morning, President López Obrador said he can't rule out further resignations from his cabinet, but that his government would continue to work toward its goals.  Although Mexican equities and the peso fell on the news, the damage was limited by the president's decision to replace him with Deputy Finance Minister Arturo Herrera, a respected NYU economist with experience in both the government and the World Bank.  All the same, the episode has rekindled investor concerns that Mexican economic policy could become more radical in the coming years.
U.K. news: The two leading Tory candidates held a debate last night.  Jeremy Hunt needed a "knockout" to seriously threaten Johnson's candidacy, but it doesn't look like he landed any major blows to the front-runner.  Worries about a no-deal Brexit continue to rise, leading to a steady decline in the GBP.  Acting Deputy PM Lidington warns that a no-deal Brexit could lead to a breakup of the United Kingdom.
Meanwhile, Britain's ambassador to the United States, Kim Darroch, submitted his resignation today amidst a dustup surrounding leaked diplomatic cables in which he referred to the Trump administration as "inept."  Sources say Darroch's decision came after he watched a televised debate between the Conservative Party's two remaining candidates for prime minister, Jeremy Hunt and Boris Johnson.  In that debate, Hunt offered a robust defense of Darroch, promised to keep him in place if he became prime minister and demanded that President Trump treat the U.K. with respect.  In contrast, front-runner Boris Johnson equivocated on Darroch's future.  While the incident may seem like largely an internal issue for the British government, it offers strong evidence that Johnson would prioritize good relations with the Trump administration if he wins the prime minister's job as expected.
U.S.-China trade talks: There are reports that President Trump has toned down his support for Hong Kong protestors in order to support trade talks.  That move is consistent with a report this week that the departing U.S. consul general in Hong Kong was told to tone down several critical comments about China in his final speech in the city.  Coupled with the fact that Hong Kong's government still refuses to definitively withdraw an unpopular bill that would allow extradition from Hong Kong to China, and that protestors continue to agitate for Hong Kong Chief Executive Lam to resign, we suspect a U.S. promise to look the other way will help encourage President Xi and the Chinese leadership to keep a Hong Kong crackdown on the table for now.
Meanwhile, the Chinese are claiming that General Secretary Xi did not make a firm pledge to buy U.S. agricultural products.  In a concession to China arising from the Trump-Xi meeting at the G-20 summit, U.S. Commerce Secretary Wilbur Ross announced yesterday that licenses would be issued to U.S. firms seeking to sell any products to Chinese telecom firm Huawei (002502.SZ, $4.41) that do not present a "threat to national security."  Both sides are trying to suggest the other has a greater need to capitulate.  Although China is putting on a brave face, there is growing evidence that China is starting to show signs of trouble from the trade conflict.
Other China news: Despite continued increases in food prices (up 8.3% from last year), overall CPI rose 2.7%.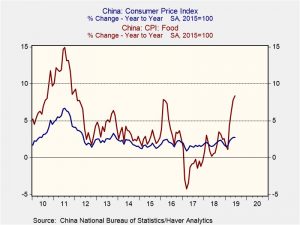 Due to the African Swine Fever crisis, we do expect the trajectory of food prices to continue higher but the PBOC will likely view these price hikes as transitory and maintain easy policy.
Iran: In yet another sore point between Iran and the West, Iranian President Rouhani warned that the U.K. will face unspecified consequences for its seizure last week of an Iranian oil tanker that was purportedly carrying crude to Syria in violation of European Union sanctions.  Hardliners in Iranian media have called for the government to retaliate by stopping British tankers from operating in the Strait of Hormuz.  In a sign that at least some shipping officials are taking that threat seriously, reports yesterday said at least one British tanker sought shelter in a Saudi port yesterday in order to avoid transiting the passage.
European Union: In updated economic projections, the European Commission maintained its forecast that Eurozone gross domestic product (GDP) would grow a tepid 1.2% in 2019 as the stronger than expected growth in the first half would be offset by weakening momentum in the second half.  The forecast for 2020 was unchanged at 1.4%.
The European refugee crisis:As Italy and Greece harden their borders against refugee flows from North Africa, vessels bearing these souls are finding their way to other European island nations in the Mediterranean.  Cyprus and Malta have become new waystations.  However, both are small nations with limited resources so they are trying to manage the crisis in an ad hoc manner.  Malta usually only accepts seaborne refugees if other EU nations agree to take them in.  Cyprus's handling of the situation is even more convoluted given the divided status of the country.  The northern part of the island, controlled by Turkey, mostly allows refugees easy access from Turkey.  Turkey does have an agreement with the EU to control the flow of refugees from the Turkish mainland but doesn't enforce it in Northern Cyprus.  Once in Northern Cyprus, the refugees cross into the southern part of the island which is part of the EU.  Because Cyprus doesn't have the resources to manage the influx, it is also trying to get other EU nations to voluntarily accept new refugees.