Daily Comment (July 10, 2018)
by Bill O'Grady and Thomas Wash
[Posted: 9:30 AM EDT]
Leadership challenge in the U.K.? Yesterday's resignations of both Boris Johnson and David Davis have raised concerns of a possible Tory leadership challenge against U.K. Prime Minister Theresa May. Tory Eurosceptics have criticized PM May's handling of Brexit negotiations for not doing enough to cut ties between the U.K. and Europe. Although the Eurosceptics have enough support to muster a challenge, they are expected to struggle to get the votes needed to oust May. At this point, it may be in May's best interests to force a leadership election while she still has the leverage. A win in the election would ensure she remains in power for the remainder of negotiations as the rules stipulate the leadership cannot be challenged for another 12 months. Negotiations are expected to finish in March 2019.
Trump goes to Europe: Today, the president is expected to land in Brussels for the NATO Summit. He is expected to chide NATO members for not spending enough on defense. According to NATO guidelines, each country should spend 2% of GDP on defense expenditures; currently, only four countries exceed that guideline.[1] Preempting President Trump's visit, European Council President Donald Tusk stated that Europe spends more than Russia and as much as China on defense. Markets will pay close attention to how President Trump treats his European counterparts as the U.S.-European alliance seems to be on shaky ground after his outburst during the G-7 summit. Furthermore, there is growing speculation that the president favors building closer relations with Russia as opposed to Europe, whereas others believe the president is using defense spending as leverage in U.S. trade negotiations.
Supreme Court choice: Yesterday, President Trump nominated Brett Kavanaugh to fill the Supreme Court seat vacated by Anthony Kennedy's retirement. If confirmed, many believe Kavanaugh will make the Supreme Court the most conservative in decades.[2] Although Kennedy is viewed as moderate, he generally favored conservative causes. This can be seen in the latest Supreme Court rulings in which Kennedy voted against government unions and in favor of the president's travel ban. Moreover, Kavanaugh's place on the Supreme Court would be significant as his nomination could also impact Mueller's Russia investigation. In the past, Kavanaugh has argued that sitting presidents should effectively be given immunity from prosecution and questioning while in office, stating it could cripple the federal government.[3] Democrats are expected to push for the confirmation hearing to occur after the mid-terms, but that is unlikely to happen.
Erdogan appointee: Yesterday, Turkish President Recep Tayyip Erdogan appointed his son-in-law, Berat Albarak, to lead the Treasury and Finance ministries. Fears that the independence of the central bank is in jeopardy as well as pessimism about the health of the Turkish economy led to a sharp sell-off in the Turkish lira. There has been growing speculation that President Erdogan might pressure the central bank to lower rates despite the Turkish economy showing signs of overheating. The chart below shows the immediate market reaction to the news. We will continue to monitor this situation closely.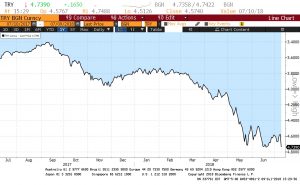 ---
[1] https://www.washingtonpost.com/news/fact-checker/wp/2016/03/30/trumps-claim-that-the-u-s-pays-the-lions-share-for-nato/?noredirect=on&utm_term=.e0e42bb04557
[2] https://fivethirtyeight.com/features/justice-kennedy-wasnt-a-moderate/
[3] https://www.ft.com/content/f05b46bc-83de-11e8-96dd-fa565ec55929