Daily Comment (July 29, 2022)
by Patrick Fearon-Hernandez, CFA, and Thomas Wash
[Posted: 9:30 AM EDT] | PDF
Good morning! Today's Comment will begin with a discussion of a broad macroeconomic outlook focusing on the central bank transition away from forward guidance, the U.S. GDP contraction in Q2, and a surge in Eurozone inflation. Next, we discuss U.S.-China relations. Finally, we examine how the Russia-Ukraine war has led to greater cooperation among Western countries.
Macroeconomic Outlook: The U.S. economy has contracted two quarters in a row, but it is still too soon to call it a recession. Calls for the end of the Fed's tightening cycle may be premature as the lack of forward guidance raises the likelihood of a market surprise, and elevated inflation in the Eurozone pressures the European Central Bank to raise rates more aggressively.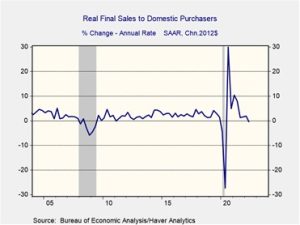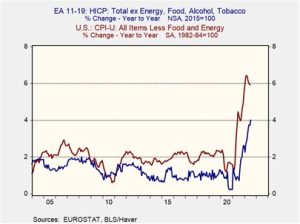 In short, the unpredictability of economic data has made it difficult for central bankers to make predictions about upcoming monetary policy. Therefore, the lack of guidance may mean the ECB and Federal Reserve could surprise markets in their next meeting depending on the latest inflation data. Although it is tempting to view a decline in GDP as a sign that the Fed could implement a pause, it is worth noting that the ECB and the Fed are mandated to maintain price stability. As a result, inflation will likely be their top focus when determining future monetary policy. When the central banks hold their respective meetings in September, they will be determining policy based on the August inflation numbers, so investors should take the July reports with a grain of salt.
China: President Biden and Chinese President Xi discussed Taiwan on Thursday, China hints at a possible slowdown in its economy, and Beijing tries to use TikTok to send propaganda to the West.
As we have warned in our 2022 Mid-Year Geopolitical Outlook, China is likely to push its narrative of a "rising China, falling West" going into the 20th National Congress of the Chinese Communist Party. Therefore, it will likely view any move by the U.S. to recognize Taiwan as an independent nation as a direct threat to its national sovereignty.
Russia-Ukraine Update: The war in Ukraine continues to force the West to build closer ties with each other as it looks to respond to Russian aggression.
As the war continues, we believe the world will begin to break into regional blocs. Thus, the recent moves by the European Union to diversify away from Russia reflect the West's need not to rely too heavily on a single country outside of its bloc.