Daily Comment (July 21, 2022)
by Patrick Fearon-Hernandez, CFA, and Thomas Wash
[Posted: 9:30 AM EDT] | PDF
Today's Comment begins with a discussion about the European Central Bank's decision to raise rates by 50 bps. Next, we examine changes in governments in the U.K. and Italy, followed by an update on the Russia-Ukraine war. The report ends with a review of the warning signs of a possible downturn in the U.S. economy.
 Central Bank News:  Under pressure due to rising energy prices, central banks are being forced to choose whether they will prioritize economic growth or price stability as they set their monetary policy.
Moving away from negative rates will be difficult for both the ECB and BOJ to navigate. The BOJ's burgeoning debt burden limits its ability to raise rates. Meanwhile, the ECB needs to ensure that borrowing costs remain close among EU members to prevent a break-up of the bloc. That said, it is unlikely that the moves by either central bank will calm market concerns as rising inflation threatens both countries' economic outlooks. At this time, we view the investing environment for Japan and Europe as risky.
Shake Up in Europe:  Leadership changes in Italy and the U.K. will likely not have an impact on the Ukraine war but could lead to more friction within the western alliance.
The change in government in the U.K. should be favorable to British equities as it may provide some political calm. However, the rise of eurosceptics in both U.K. and Italy could lead to renewed clashes with the European Union.
Russia-Ukraine: Russia's push for more territory and the West's continued backing of Ukraine suggest that the geopolitical risks from the war will likely persist.
Warning Signs:  Growing reports of a slowdown in hiring, a cooling housing market, and weaker consumer spending suggest the economy may be headed toward a downturn.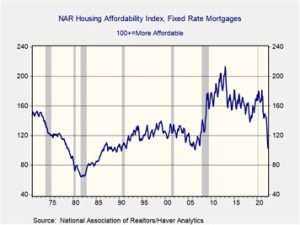 As the economy begins to slow, we believe that real estate may be a good place to hide. Although there is a decline in demand, the lack of supply will be likely to keep property prices relatively elevated.