Daily Comment (July 18, 2022)
by Patrick Fearon-Hernandez, CFA, and Thomas Wash
[Posted: 9:30 AM EDT] | PDF
Our Comment today opens with an update on the Russia-Ukraine war, where Russia appears to be ramping up its ground attacks and missile barrages again after a partial operational pause.  We next review a wide range of other international and U.S. developments with the potential to affect the financial markets today, including the latest on the U.K.'s Conservative Party leadership election and signs of thawing China-Australia relations.
Russia-Ukraine:  Russian forces appear to be ramping up their ground attacks in Ukraine's eastern province of Donetsk again, following a partial operational pause in recent weeks.  However, we suspect that troop and equipment shortages will prevent them from launching major new offensives.  Indeed, Moscow did not claim any new seizures of territory yesterday.  Meanwhile, Russian forces have not only stepped up their missile attacks across Ukraine, but several reports say they have moved additional troops and equipment into the Kherson region to defend it from a planned counteroffensive that Kyiv has signaled.  Importantly, those troop and equipment moves could weaken Russia's attacks around Donetsk, perhaps as Kyiv intended when it publicized its counteroffensive against Kherson.  Finally, we note that Russian Defense Minister Shoigu has ordered Russian troops to prioritize attacks on long-range artillery systems provided to Ukraine by its Western supporters.  The order underlines the importance those systems have had in bolstering Ukraine's military capabilities.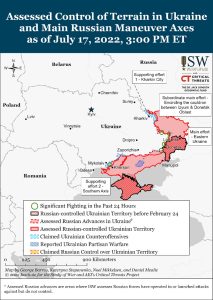 European Union:  Most of Western Europe this week is suffering through a record-breaking heatwave and wildfire outbreak, which is already starting to threaten economic activity.  What's less publicized is that the Continent is also suffering through a major drought.  One consequence of the dry weather is that hydroelectric power generation is falling, worsening Europe's wartime energy shortages.
United Kingdom:  In the race to succeed Prime Minister Johnson as Conservative Party leader and prime minister, the latest poll of parliament members has whittled the field down to just five.  Former Chancellor Rishi Sunak remains the frontrunner, followed by Foreign Minister Liz Truss, Trade Minister Penny Mordaunt, Foreign Affairs Committee Chairman Tom Tugendhat, and Former Equities Minister Kemi Badenoch.
Despite Sunak's strength, he remains under threat from candidates to his right.
After garnering a surge of support last week, Mordaunt's star seems to be fading, and a poll of grassroots' party members has revealed a strong preference for Badenoch.
After a nasty televised debate last night, Sunak and Truss pulled out of a debate scheduled for Tuesday on concern that the divisiveness is damaging the party's image.  That debate has now been cancelled.
Another ballot is scheduled for today when the candidate with the lowest total of votes will be eliminated.
China:  As the highly transmissible BA.5 Omicron mutation of the coronavirus continues to spread, a Japanese investment bank estimates that 41 cities in China are now under full or partial lockdowns or district-based controls, covering 264 million people in regions that account for about 18.7% of the country's economic activity.  More ominous is that major production centers including Shanghai and Tianjin have ordered mass testing in response to new cases, raising the prospect of renewed lockdowns in those cities.  The news highlights the continuing negative economic impact of President Xi's strict Zero-COVID policies.
China-Australia:  After Chinese officials last week indicated they may resume importing coal from "down under," Australian Treasurer Jim Chalmers said such a move would help restore ties between the two countries.  He also encouraged China to remove its restrictions on other imports from Australia, such as wine and barley.
Beijing began blocking Australian imports in late 2020 to retaliate for former Australian Prime Minister Morrison's call to investigate China's role in the coronavirus pandemic.
The potential loosening in Chinese policy stems in part from the fact that Morrison is no longer prime minister, and that the new government in Canberra has made a concerted effort to re-engage with China.  Just as important, Beijing's interest in resuming Australian coal imports reflects a general tightening in the global energy market, as war-related disruptions to Russian supplies force many European countries to scramble for alternative energy sources.
Thawing bilateral ties could potentially be a boon for Australia, although China's economic slowdown would likely reduce the benefit for Australian companies.
Pakistan:  Former Prime Minister Imran Khan's party won a critical by-election in Pakistan's most populous province, putting him on track to force early parliamentary polls just months after he was ousted from office.  Khan's victory is being ascribed to voter anger over high inflation and the painful belt-tightening measures current Prime Minister Sharif has imposed to restart lending under a $7-billion IMF program.  Without that program, Pakistan would be at even greater risk of defaulting on its foreign debt, as Sri Lanka recently has.
Sri Lanka:  Although President Gotabaya Rajapaksa resigned and fled into exile last week, protestors are now demanding that Acting President Ranil Wickremesinghe resign as well.  Wickremesinghe is seen as a close ally of the Rajapaksa clan that has dominated Sri Lanka's government for decades.  The continuing political and economic turmoil bodes poorly for other emerging markets, some of which are facing challenges similar to those in Sri Lanka, including high debt service costs, rising interest rates, and a strong dollar.
United States-Saudi Arabia:  On Saturday, President Biden completed his visit to Saudi Arabia with no concrete deliverables in terms of Saudi commitments to increase oil production and bring down prices.  On its face, the outcome is a significant disappointment for Biden, especially given that he has been strongly criticized for the trip by progressives looking for stronger U.S. action on human rights and policies to combat global warming.
Despite Biden's failure to win big, definitive concessions from the Saudis, it's important to remember that the trip further advanced what could be called the "Biden Doctrine," i.e., a concerted effort to rebuild U.S. influence and ties with key allies.
For more than a decade, U.S. leaders have been trying to disengage from the messy politics and security issues in the Middle East to focus on the rising geopolitical threat from China.  Now that global politics and energy disruptions are drawing Biden back into the region, albeit kicking and screaming, U.S. re-engagement could ultimately help improve global security and economic stability, at least for as long as it lasts.