Daily Comment (July 11, 2022)
by Patrick Fearon-Hernandez, CFA, and Thomas Wash
[Posted: 9:30 AM EDT] | PDF
Our Comment today opens with an update on the Russia-Ukraine war, although there is relatively little to report since both sides remain in an operational pause.  We next review a wide range of other international and U.S. developments with the potential to affect the financial markets today.  In particular, we note that a resurgence in COVID-19 infections in China and beyond has left many investors concerned about new lockdowns and further headwinds for the global economy and financial markets.
Russia-Ukraine:  Both Russian and Ukrainian forces remain in an operational pause to rest, resupply, and regroup for future fighting.  However, that doesn't mean all fighting has stopped. In particular, both sides continue to engage in savage long-range artillery duels, with the Ukrainians saying they are already reaping big benefits from the recent delivery of advanced long-range systems from the West.  Meanwhile, the Russian government continues to take extraordinary steps to bolster its limited troop numbers, including forming ad-hoc volunteer units, and private military company combat organizations partly comprised of older men and criminals to support operations in Ukraine.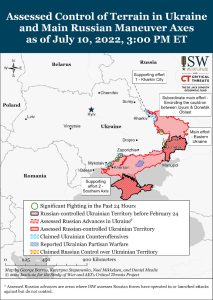 United Kingdom:  Following fast on Prime Minister Johnson's resignation last week, almost ten Conservative Party parliament members have said they will compete to succeed him as party leader and head of government.  The process will involve a series of party votes designed to whittle down the candidates to just two top contenders by July 20.  So far, the announced candidates' promises have focused on reversing or softening a recent hike in health insurance premiums and scrapping a planned hike in corporate income taxes.
Top candidates who have announced their intent to compete so far include:

Former Chancellor Rishi Sunak
Incumbent Chancellor Nadhim Zahawi
Former Health Secretary Sajid Javid
Former Health Secretary Jeremy Hunt
Former Defense Secretary Penny Mordaunt
Attorney General Suella Braverman

As early as today, a few other top candidates are also expected to announce, including:

Foreign Secretary Liz Truss
Incumbent Defense Secretary Ben Wallace
France:  STMicroelectronics (STM, $31.24) and GlobalFoundries (GFS, $45.27) are teaming up to build a semiconductor manufacturing factory in France; a multibillion-euro project that will receive significant government support as part of Europe's effort to boost its independence in critical technologies.
Japan:  In weekend elections for the upper house of parliament, Prime Minister Kishida's coalition won most of the seats being contested.  Importantly, the coalition also may have won enough seats to push through constitutional revisions.
In response, Kishida called for accelerated discussions on an amendment that would affirm the legality of Japan's military forces and grant the government new authority to deal with national emergencies—ideas long advocated by Former Prime Minister Abe before he was assassinated last week.
The amendment would require a two-thirds vote in both houses of the Diet, but following the concern about Chinese aggression and the Kishida coalition's strong majority, the amendment may have a better chance of passing than when Abe failed to push it through.
Shifting the constitution away from its current pacifist orientation would complement other initiatives Japan is making to boost its defense capability, including a planned hike in its defense budget, the development of new offensive missiles, and closer military cooperation with the U.S. and other allies.  These changes will likely make Japan a more important player in the evolving U.S.-led geopolitical bloc.
Chinese Technology Sector:  The State Administration for Market Regulation over the weekend fined some of the country's largest internet companies for failing to make proper antitrust declarations on previous deals.  The regulator also warned it would gradually publish more penalty decisions on other cases.  The news is weighing heavily on Chinese technology stocks so far today, as it suggests the government is not yet finished with its effort to rein in the sector.
Chinese COVID-19 Cases:  Officials reported more than 3,300 new, locally transmitted COVID-19 cases over the weekend, and Shanghai reported its first case of the BA.5 Omicron subvariant.  The resurgence in infections has raised concern about yet another wave of strict lockdowns in and around the country.  In fact, Macau has already set a weeklong shutdown of casinos and other businesses to combat its surge in cases.
Sri Lanka:  President Rajapaksa and Prime Minister Wickremesinghe said they would resign this week after antigovernment protesters stormed and occupied the president's residence and office on Saturday.  The resignations reflect popular anger over an economic crisis that has seen the country deplete its foreign reserves, default on its debt, and lose its ability to import needed food, fuel, and medicines.
Iran-Venezuela:  The Venezuelan government has agreed to make one million hectares (about 2.5 million acres) of agricultural land available to Iran so it can grow soybeans, corn, and other crops there.  The deal aims to improve Iran's food security and get around the country's chronic shortage of fresh water.  It reportedly follows a similar agreement in which Russia provided 100,000 hectares of land for Iranian agriculture.
After Western countries effectively seized Russian foreign reserves at the outbreak of the Ukraine war, the Iranian deals offer more evidence that countries concerned about the security of their reserves may channel more of their resources into commodities, land, and other physical resources.
If such a shift of foreign reserves becomes widespread, we think it could help buoy prices for those resources.
Global Shipping Rates:  In additional evidence that slowing demand is starting to bring down prices, maritime and over-the-road shipping rates are starting to come down, although they remain higher than they were before the pandemic.  Weakening demand has also started to push down some commodity prices, including oil and copper.
United States – COVID-19:  Hospital admissions are rising across Europe and the U.S. as highly transmissible COVID-19 variants like BA. 5 Omicron drive infections.  However, the resulting illness is proving to be less likely to be severe or cause death than in previous waves.
United States – Baby Formula Market:  Abbott Labs (ABT, $109.26) has reopened its key baby formula plant in Sturgis, Michigan, following a nearly three-week closure stemming from severe thunderstorms that blew through the state. The company has restarted production of its EleCare formula for babies with digestive issues and will begin shipping it in the next few weeks.  The development may soon alleviate a supply shortage that proved politically damaging to President Biden and led to the U.S. easing rules to boost imports of foreign formula.
United States – Commodity Markets:  Exchange operator CME Group (CME, $208.90) said it will revamp its lumber contract and give it the new ticker of "LBR" beginning next month.  To boost trading in 2×4 derivatives and improve liquidity, the new contract will be fulfilled with a truckload of boards instead of a railcar full (which is about one-quarter the volume of wood) delivered to Chicago rather than a remote Canadian rail junction. The specifications will allow for eastern species of spruce, pine, and fir, instead of only varieties that grow in the West.  The current contract that expires in May 2023 will be the last listed under existing specifications.