Daily Comment (January 7, 2019)
by Bill O'Grady and Thomas Wash
[Posted: 9:30 AM EDT] U.S. equity futures are flat this morning after a strong rally on Friday.  Here is what we are watching this morning:
Powell the dove: Chair Powell participated in a panel discussion on Friday that included former Fed Chairs Bernanke and Yellen.  He pretty much said everything the market wanted to hear.  He indicated that there is "no preset path" for policy, including raising rates and adjusting the balance sheet.  The financial markets interpreted these comments as an indication that the FOMC is taking financial market action seriously and that a pause is possible.  As we noted last week, the implied LIBOR rate from the two-year deferred Eurodollar futures suggest the Fed should stop raising rates now.  The Fed seems to have taken that news to heart.[1]  We have been favorable to the idea that the Fed would manage a soft landing, a tightening that doesn't bring a recession.[2]  Our research suggests the Fed is now at the point where further tightening increases the risk of a policy error.  Powell's comments suggest he is aware of the risks.
The Syria withdrawal…nevermind:[3] After President Trump ordered the withdrawal of U.S. troops from Syria, Defense Secretary Mattis left the administration.  Op-eds argued the move was leaving the field to Iran.  However, the hawks in the administration, at least for now, appear to have reversed this move.  National Security Advisor Bolton has placed conditions on fulfilling the action, which could delay the actual withdrawal for a long time.[4]  The two primary conditions are that IS must be destroyed and the Kurds' safety must be guaranteed.[5]  Although American troop presence in the region is part of the U.S. superpower role, President Trump, consistent with his Jacksonian archetype, wants to reduce this role to only direct threats to the U.S. and any nation that besmirches American honor.  Will Bolton (and, to some extent, Pompeo) be successful in reversing the president on Syria?  We will be watching for two items; first, does the right-wing pundit class start criticizing the decision, and second, does Trump see Bolton's actions as a direct refusal?  With regard to the first, it should be noted that the president was prepared to avoid a government shutdown over the wall until the pundits began to criticize his decision.  We doubt the Syria issue will raise the same degree of ire but, if it does, look for the president to push for withdrawal.  Second, Bolton has been smart to not openly defy the president but to put conditions in place that essentially mean the troops will be there for a long time.  Kurdish safety alone likely requires American troop presence.  So, for now, the U.S. will be maintaining its role in Syria.
Another split in Ukraine: The Eastern Orthodox Church has formally split by recognizing the independence of the Orthodox Church of Ukraine as separate from the Russian Orthodox Church.[6]  The church in Ukraine has been under the jurisdiction of the Russian church since 1686 when the Russian Church split from the Eastern Orthodox Church, which was centered in Constantinople.  What will make its break difficult is that there are church members in Ukraine who maintain their allegiance to Moscow.  This fact could further undermine Ukrainian unity.  We would look for the Kremlin to use this dissention to further weaken the government in Kiev.
Trade talks: China and the U.S. will begin trade talks in Beijing today.  Discussions will last two days and are designed to lead to further negotiations.[7]  In the short run, we expect an agreement that will reduce trade tensions.  China's economy has been slumping and Xi needs to reduce trade pressure.  The U.S. economy, though in much better shape than China's, is showing some signs of weakness in the pivotal political year, the year before the election year.  President Trump needs to avoid recession in 2019 at all costs or his reelection chances are doomed.  However, the long-run situation remains difficult.  The U.S. and China are strategic competitors, with China attempting to exclude the U.S. from its sphere of influence.  This long-run condition means that, over time, the odds of a full-scale military confrontation are growing and the interconnectedness between the two economies will likely break down.  Although that condition is not supportive for either economy, we expect a hiatus in 2019.
Hard Brexit looming?  We have generally expected the U.K. and the EU to eventually reach a settlement that would not result in a sudden disruption of trade relations.  However, as time passes, we are becoming increasingly concerned about the odds of a sudden break.  PM May's plan will go to a vote in Parliament on the 15th after a debate is held this week.[8]  May is trying to sway MPs to her plan, but it doesn't look like it has much chance of passage.  May is hoping she can take this failure to the EU for concessions.  However, here is the rub—the EU needs a unanimous vote to approve changes and the EU isn't united on what it wants from Brexit.  If Merkel were still powerful, she may have been able to bring enough influence to bear to give May some help.  But, with Merkel on her way out, there really isn't anyone on the EU side that could make concessions in short order.
If the EU can't adjust, the U.K. could hold a second referendum.  However, that option is fraught with risk.  Structuring a vote that will reflect the will of the people will be hard.  If the vote is between hard Brexit and remain, we would expect remain to narrowly win because the public won't want the economic disruption that follows.  But, that isn't the only option.  A different relationship with the EU is probably what most British voters want, but what exactly that entails is impossible to divine in a simple vote.  It's pretty clear that what May negotiated wasn't it.  The constant talk, even from the Labour Party, is that a different deal is wanted.  Unfortunately, there isn't any evidence that new negotiations would yield a deal better than what May got.  If the referendum is simply hard Brexit or remain, and remain wins, then markets will rejoice but there will be a significant minority of U.K. voters who will believe their decision to exit the EU was stolen from them.  The Tory party will likely split over this issue, ushering in Labour Party dominance for years.  A Corbyn-led Labour government would have sharply negative connotations for U.K. financial markets.  In general, the GBP has held up rather well throughout this turmoil, mostly because the dollar is overvalued versus the pound.  Nevertheless, a hard Brexit and a Labour government would severely undermine investor confidence and send both the GBP and British equities lower.  We are beginning to worry that we, and the markets, have been underestimating the odds of a bad outcome.
China's reserves: China's foreign reserves rose $11 bn in December, pretty much in line with expectations.  The modest change suggests there was little selling pressure on the CNY in December.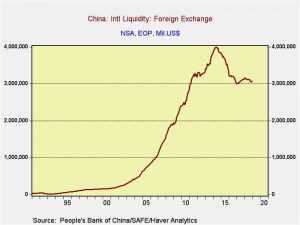 As this chart shows, China has managed reserve stability for the past few years.  The lack of pressure on the CNY likely reflects success in restraining capital flight.  Although capital flight is always difficult to track down (by design—if I am trying to secretly move my assets out of the country, it should be difficult to figure out what I am doing), the Net Errors and Omissions account in the balance of payments is probably the best measure available.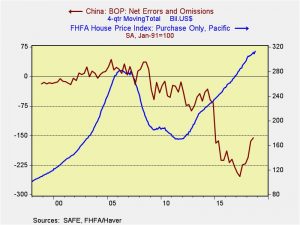 This chart shows the rolling four-quarter sum of the Errors and Omissions Account.  Note that it declined rapidly in 2015, suggesting a rapid increase in capital flight.  For illustration purposes, we have included the FHFA Home Price Index for the Pacific region.  Although home prices began to recover in 2013 in this region, they accelerated rapidly in 2015 and have remained strong, rising about 7.5% per year.  Anecdotal evidence has indicated for some time that at least some of Chinese capital flight was ending up in West Coast real estate markets.  The home price data would tend to support this notion.[9]
---
[1] https://www.cnbc.com/2019/01/04/powell-says-fed-will-be-patient-with-monetary-policy-as-they-watch-how-economy-does.html
[2] https://www.wsj.com/articles/fed-faces-a-fresh-test-engineering-a-soft-economic-landing-11546822609
[3] https://www.youtube.com/watch?v=OjYoNL4g5Vg
[4] https://www.nytimes.com/2019/01/06/world/middleeast/bolton-syria-pullout.html?utm_source=newsletter&utm_medium=email&utm_campaign=newsletter_axiosam&stream=top
[5] https://www.washingtonpost.com/world/national-security/bolton-promises-no-troop-withdrawal-from-syria-until-isis-contained-kurds-safety-guaranteed/2019/01/06/ee219bba-11c5-11e9-b6ad-9cfd62dbb0a8_story.html?utm_term=.6c457663d5de&wpisrc=nl_todayworld&wpmm=1
[6] https://www.nytimes.com/2019/01/06/world/europe/orthodox-church-ukraine-russia.html?emc=edit_mbe_20190107&nl=morning-briefing-europe&nlid=567726720190107&te=1
[7] https://www.ft.com/content/1e242378-1158-11e9-a581-4ff78404524e?emailId=5c32cc6b103e78000488abb0&segmentId=22011ee7-896a-8c4c-22a0-7603348b7f22
[8] https://www.ft.com/content/1859237a-11a9-11e9-a581-4ff78404524e?emailId=5c32cc6b103e78000488abb0&segmentId=22011ee7-896a-8c4c-22a0-7603348b7f22
[9] Although not shown, on a yearly change basis, Pacific region home prices rose faster than any other area of the country except the Mountain region, which may have also garnered some benefit from the capital flight.